LA CROSSE — The Menomonie wrestling team placed first as a team at the La Crosse Invitational on Saturday.
The Mustangs combined for a team score of 257.5 to edge La Crosse Aquinas (251) at the top of the leaderboard.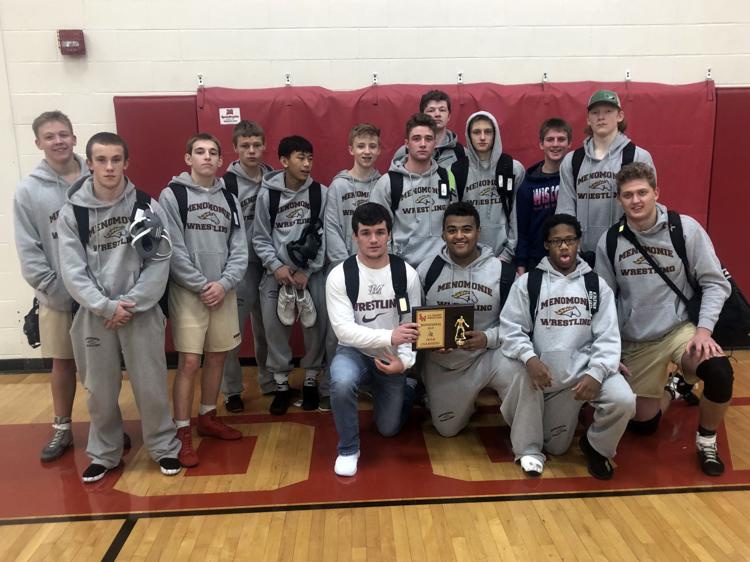 Three Mustangs won their weight classes as Kellan Aure took first at the 126-pound weight class, Caleb Macke won at 170 and Jaylen Wright finished first at 220.
Aure got a 17-2 technical fall in round one and a 16-1 tech fall in round two. The freshman then won by fall (one minute, six seconds) to advance to the semifinals where Aure defeated La Crosse Logan/Central's Nolan Niemann by fall (3:09).
Aure won by forfeit over teammate Jacob Holle in the 126-pound first-place match.
Macke got pins in his first two matches before winning a 4-0 decision in the semifinals and 11-7 victory over Saint Croix Central's Jacob Berends in the title match.
Wright dominated competition as he got pins in all five of his matches. Wright defeated De Soto's Cezar Garcia in the championship bout in 1:37. The senior is an honorable mention in the latest Division 1 Wisconsin Wrestling Online rankings at 220.
Finishing second was Evan Harper (120), Holle (126) and Josh Boyette (182). Harper got a pin in the first three rounds before falling by a 9-2 decision to Daylin Haney of La Crosse Logan/Central. Holle came in second after advancing to the championship match following pins in each of his four previous matches. Boyette won by fall, then earned a 10-2 major decision before collecting two more pins to advance to the title match. He then lost to Braeden Bloom of Saint Croix Central by a 14-5 major decision.
In third was Minkus Vang (113), Zach Evenson (120), Nick Haviland (132), Will Otto (195) and Girard Jones (285).
Hunter Deutsch (160) took fourth and Blane Keyes (138) was fifth.
Menomonie is back on the mat on Thursday when the Mustangs host Rice Lake.
Bloomer/Colfax's Best wins title at Husky Invite
At Eau Claire, Bloomer/Colfax's Sawyer Best won the Eau Claire North Husky Invite tournament title at 132 pounds, winning four of his five matches by pinfall.
Best beat Prescott's Sam Murphy by a pinfall in exactly one minute to take the championship. Best advanced to the Division 2 state tournament last season at 132 and checked in at fifth in the latest Division 2 rankings at that weight.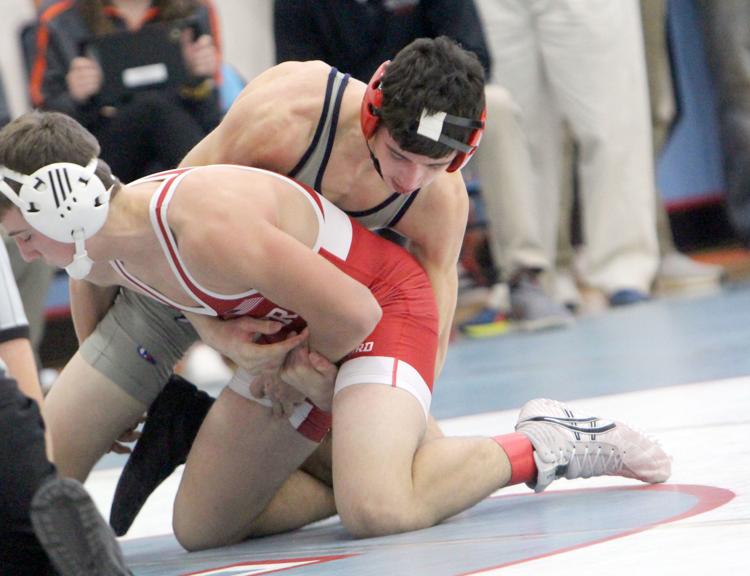 Luke Blanchard came home with a second-place finish for Bloomer/Colfax at 113 pounds, using three pinfall wins and a tight 7-6 decision victory over Baldwin-Woodville's Tyler Fink to advance to the championship match where Spencer/Columbus' Ashton Ackman scored a major decision win. The sophomore Blanchard was 12th in the latest state poll at 113.
Bowen Rothbauer added another strong finish for Bloomer/Colfax when he finished in third place at 152. Rothbauer used pinfall wins to advance to the semifinals before Arrowhead's Noah Mulvaney scored a 5-0 decision win. Rothbauer bounced back to earn a 7-0 decision victory over Medford's Emett Grunwald to cap a successful performance for the grappler ranked 11th in the latest 160 poll. The Raptors were 12th in team scoring with 158 points.
Bloomer/Colfax hosts Northwestern on Tuesday in Bloomer.
Boyceville 3-2 at Devil Duals
At Wisconsin Dells, the Bulldogs earned three dual victories at the Devil Duals hosted by Adams-Friendship.
Boyceville dropped its first dual to Wisconsin Dells 45-30 before winning against Oshkosh North (42-29), Lomira (39-36) and Iowa Grant/Highland (42-37).
The Bulldogs lost 48-28 to Whitnall/Greendale in the first place match of the consolation bracket.
Trett Joles and Josiah Berg each earned five wins on the day. Peyton Ponath won four matches and Josh Marzofka, Nate Stuart, Tyler Dormanen and Bash Nielson each picked up three win.
The Bulldogs had five wrestlers ranked in the latest Division 3 ranking with Joles first at 195, Berg fifth at 120, Ira Bialzik ranked ninth at 138, Stuart 11th at 145 and Dormanen an honorable mention at 152.
Boyceville will compete at the Osceola Duals next Saturday.
Friday
Boys Basketball

River Falls 55, Menomonie 52
At Menomonie, the Mustangs dropped a close Big Rivers Conference contest to the Wildcats.
Davis Barthen had a team-high 21 points for the Mustangs (1-3, 1-2). Ethan Wurtzel added 13 while Brock Thornton had eight and Noah Feddersen six.
You have free articles remaining.
Zac Johnson had a game-high 23 points for River Falls (2-1, 1-1).
The Wildcats had a 29-23 advantage at halftime.
Menomonie hosts La Crosse Logan on Tuesday before a home game against Eau Claire Memorial on Friday.
Girls Basketball
River Falls 50, Menomonie 36
At River Falls, the Mustangs had a first half lead slip away in a conference loss to the Wildcats.
Menomonie (2-5, 1-2) held a 25-21 advantage at the break but River Falls (5-2, 3-0) held the Mustangs to just 11 points after halftime.
Helen Chen had a team-high 15 points as Shelby Thornton scored 10 and Olivia Steinmetz added six.
Taylor Weick led River Falls with 17 points.
Menomonie plays at Eau Claire North on Tuesday before a game at Eau Claire Memorial on Thursday.
Elk Mound 53, Elmwood/Plum City 15
At Elk Mound, the Mounders had no trouble dispelling of the Wolves in a Dunn-St. Croix Conference contest.
Elk Mound (4-1, 2-1) jumped out to a 32-4 lead at the break and then added on in the second half.
Hailey Blaskowski lead all scorers with 23 points. Taya Schaefer added 13 and Tori Blaskowski scored eight.
Kendra Kern led Elmwood/Plum City (2-3, 1-2) with five points.
Elk Mound is back on the court Thursday at Glenwood City.
Colfax 70, Glenwood City 21
At Colfax, Kameri Meredith scored a game-high 26 points to lead the Vikings in a rout of Glenwood City.
Rachel Scharlau added nine while Jayna Bowe scored six.
Maddie Oehlke led the Hilltoppers (3-3, 1-2) with nine points.
Colfax (5-1, 3-0) plays at Hayward on Monday before hosting Mondovi on Thursday.
Mondovi 72, Boyceville 54
At Boyceville, the Buffaloes pulled away from the Bulldogs in a conference matchup.
Emma Ouellette led the Bulldogs (1-4, 0-3) with 12 points. Tyra Kostman added 10 and Megan Hintzman nine.
Morgan Clarek had a game-high 20 points for Mondovi (3-3, 2-1).
Boyceville plays at Durand on Thursday.
Girls Hockey
Western Wisconsin 5, Chippewa Falls/Menomonie 1
At Chippewa Falls, the Sabers fell in a nonconference matchup.
Joey Schemenauer scored to start the game for the Sabers (2-3) before Western Wisconsin (3-2-1) scored the final five goals of the game.
Chippewa Falls/Menomonie hosts Hayward on Tuesday in Menomonie before playing Central Wisconsin on Thursday in Chippewa Falls.