COLFAX — The Colfax girls basketball team wrapped up a  Dunn-St. Croix Conference championship with 52-45 victory over Durand on Tuesday.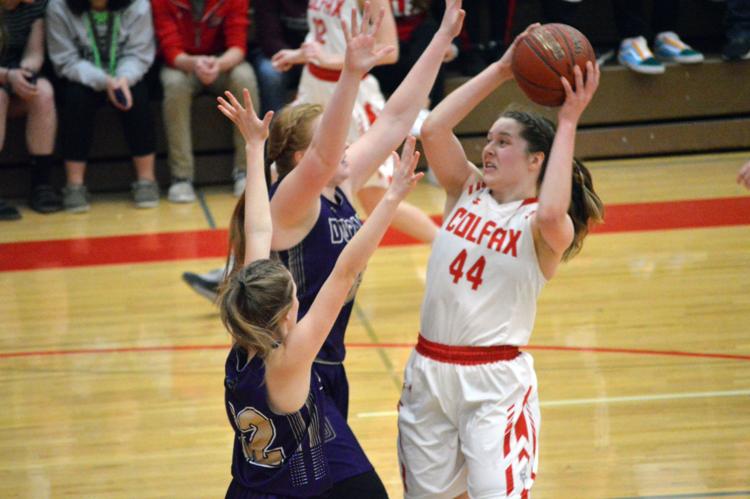 The Vikings (17-2, 12-0) jumped out 28-18 halftime lead on their way to their second straight conference title. Colfax shared the title with Durand last season.
Kameri Meredith led all scorers with 23 points as Rachel Scharlau joined her in double figures with 12. Morgan Schleusner added nine.
Durand (12-7, 9-3) was led by 10 points apiece from Madison Sand and Madisyn Kilboten.
Colfax plays at Boyceville on Friday.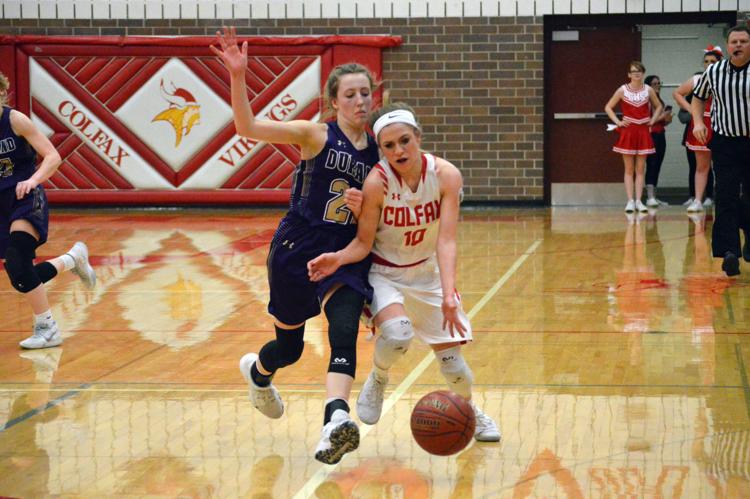 At Mondovi, the Mounders won a low-scoring affair over the the Buffaloes in a Dunn-St. Croix contest.
Taya Schaefer led Elk Mound (14-5, 9-3) with 14 points. Tori Blaskowski scored 10 and Sophie Cedarblade added seven.
Mondovi (9-11, 7-5) was led by Morgan Clark's 14 points.
Elk Mound plays at Durand on Friday.
Boyceville 66, Spring Valley 40
At Spring Valley, the Bulldogs routed the Cardinals in a conference matchup.
Boyceville (7-12, 4-8) led by eight at the break but a 40-22 advantage after halftime allowed the Bulldogs to pull away.
Jensine Boesl led all scorers with 17 points with Emma Ouellette adding 16. Ana Evenson scored 10.
You have free articles remaining.
Spring Valley (2-16, 1-11) was led by 11 points from Morgan Rustad.
The Bulldogs host Colfax on Friday.
Boys Hockey
Menomonie 9, Black River Falls 5
At Menomonie, Kaleb Miller led the way as the Mustangs three goal apiece in every period in a nonconference victory over the Tigers.
Miller recorded four goals and an assist in the win.
Menomonie jumped ahead 3-0 after the first period as Colby Lee, Miller and Grant Imsande each tallied goals. Miller added his second goal about two minutes into the second and Tanner DeMarce found the back of the net at the five minute mark of the period to lead 5-0. After Black River Falls got on the board Miller added to his night with his third score halfway through the period.
Black River Falls (8-14) scored four times in the third but goals from Miller, Zach DeMarce and Sedric Yukel helped end the threat.
Yukel and Zach DeMarce each added two assists for a three-point games for Menomonie (5-17). Jackson Card also had two assists.
Goalie Justice Szotkowski made 29 saves for the Mustangs. Menomonie held a 53-34 advantage on shots on goal.
Menomonie concludes the regular season Thursday at Rice Lake. The Mustangs will open Division 2 postseason play with a trip to West Salem/Bangor next Thursday, Feb. 20.
Boys Basketball
At Menomonie, the Mustangs earned a nonconference win over the Vikings.
The Mustangs received balanced scoring throughout the victory, racing out to a 23-14 advantage at the break.
Noah Feddersen, Ethan Wurtzel and Brock Thornton each scored 11 points to lead the way for Menomonie (8-10). Davis Barthen added nine points.
Holmen (4-14) was led by nine from both Max Hammond and Ben Olson.
The Mustangs resume Big Rivers Conference play with a game at Eau Claire North on Friday.