Nine Menomonie High School athletes finalized their collegiate futures on Wednesday morning and were recognized for their commitment to continue with athletics in college.
Mackenzie Bird, Jonathan Fenton, Jace Gilbertson, Dominik Hendrickson, Kaleb Kazmarek, Ethan Phillips, DeVauntaye Parker, Brigs Richartz and Brock Thornton were recognized for their decision to continue on as student-athletes at the next level.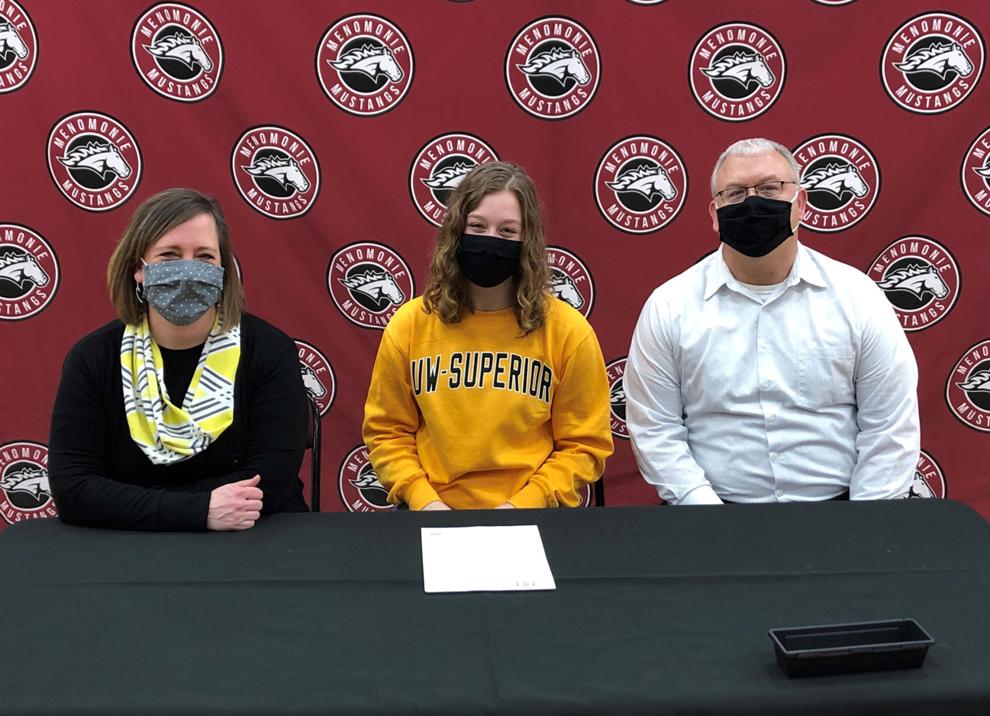 Mackenzie Bird
Bird will be playing softball at the University of Wisconsin-Superior to play catcher for the Yellowjackets.
UW-Superior competes in the Upper Midwest Athletic Conference. Menomonie coach Shelly Duex is a former Yellowjacket and said Bird would be an 'awesome' fit for the program and leads the program by example.
Bird brings plenty of speed an athletic ability behind the plate for Menomonie and is excited to continue at the next level with head coach Melissa Fracker and the Yellowjackets.
"When I got to meet the head coach, I really discovered that UW-Superior was for me," Bird said. "Coach Fracker is really outgoing and straight forward and I am excited to work with her for the next four years."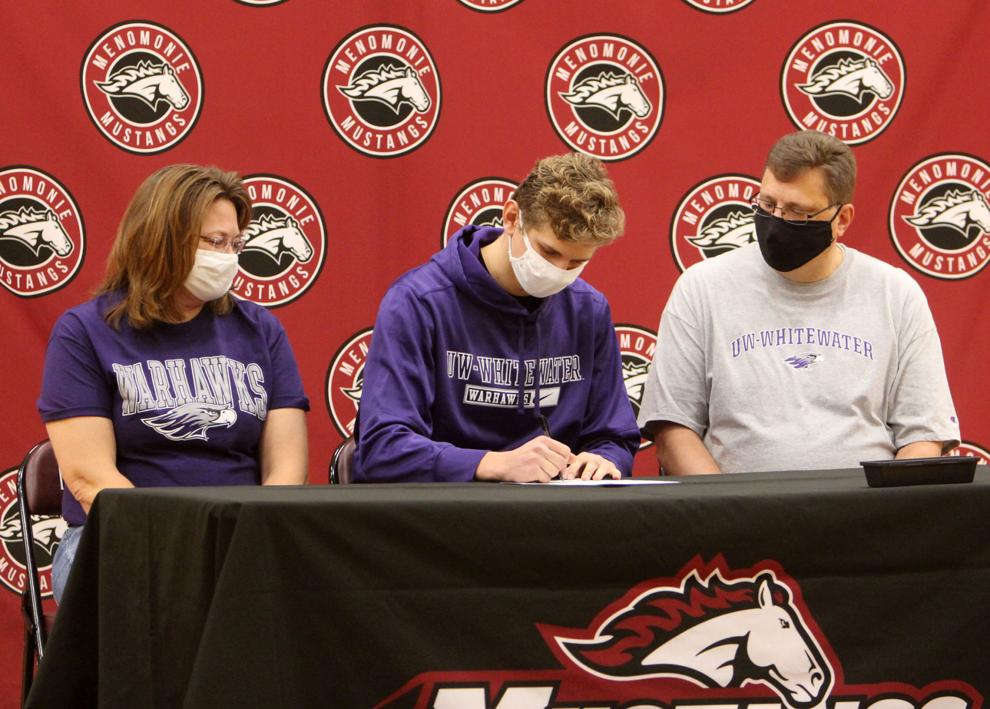 Jonathan Fenton
Fenton will be playing soccer at the University of Wisconsin-Whitewater for the Warhawks.
UW-Whitewater competes in the Wisconsin Intercollegiate Athletic Conference and Fenton will provide a long and athletic presence in goal for the team. Fenton comes from an athletic family as the fourth boy with Menomonie boys soccer coach Meagan Frank lauding Fenton for his toughness, grit and competitiveness as the senior was a multi-year starter and captain, as well as a multiple-time team and defensive MVP and earned second team All-Big Rivers Conference as a junior.
"It feels good that I don't have to go to camps, I can just work on academics and work out and make sure I'm ready to be there in the fall," Fenton said.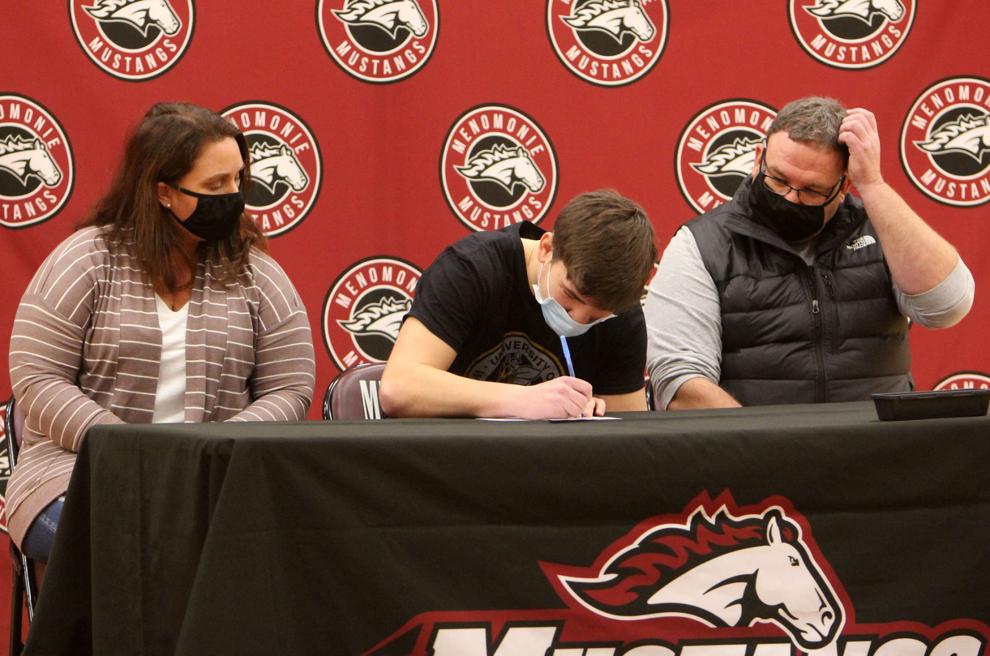 Jace Gilbertson
Gilbertson will be playing tennis at the University of Wisconsin-Superior for the Yellowjackets.
Menomonie coach Bryce Supri has had the chance to watch Gilbertson grow throughout the years and called Gilbertson a 'hidden gem'. Gilbertson was unable to play in his junior season due to the COVID-19 pandemic and as a sophomore dominated the junior varsity level.
Gilbertson dedicated himself to the sport following that sophomore campaign to practice on the daily basis to improve.
"It's been a long time since we've had a full year so it's going to be different but we stayed really busy in the summer playing down in Milwaukee," Gilbertson said of he and Hendrickson, who are both joining the program. "We've been playing matches, just not every day (but) a couple times a week."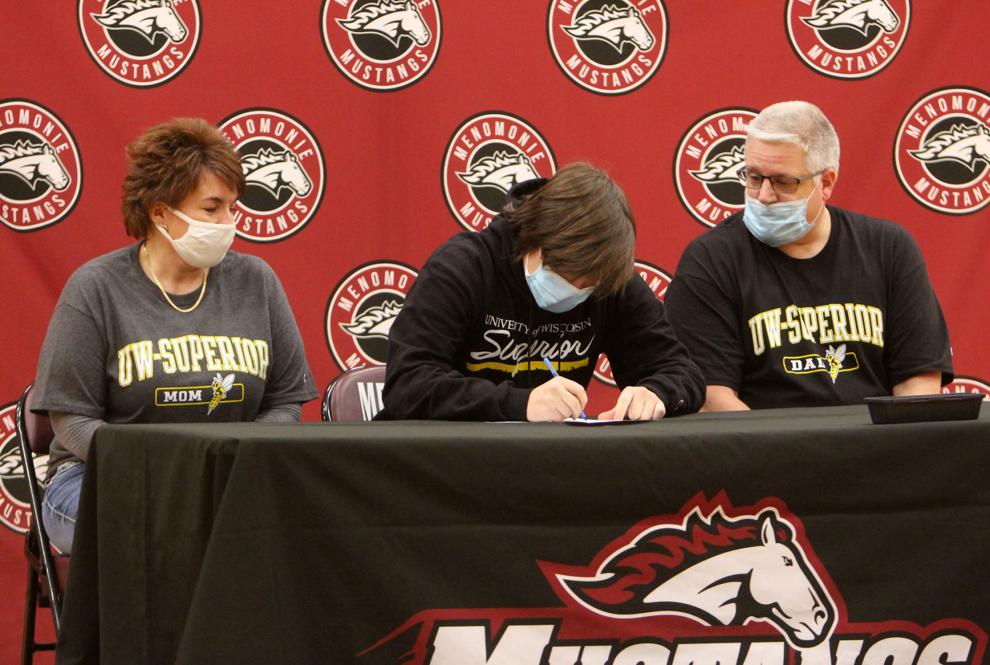 Dominik Hendrickson
Hendrickson will be joining Gilbertson on the court at UW-Superior with the Yellowjackets.
The duo is enhancing a Menomonie presence on the men's tennis team as junior Anthony Michels is already a veteran for the Yellowjackets. Hendrickson stepped into the varsity lineup as a freshman for a Mustangs and quickly earned his position and has been a stalwart for Menomonie ever since.
The connection with Michels helped both Gilbertson and Hendrickson get on the radar with coach CeeJay Schaffner and the program and the team saw from both players, the more they liked.
"Coach reached out to me right away because of Anthony Michels up there in Superior playing tennis up there mentioned me because Jace and I both have hit with Anthony over the summer multiple times," Hendrickson said.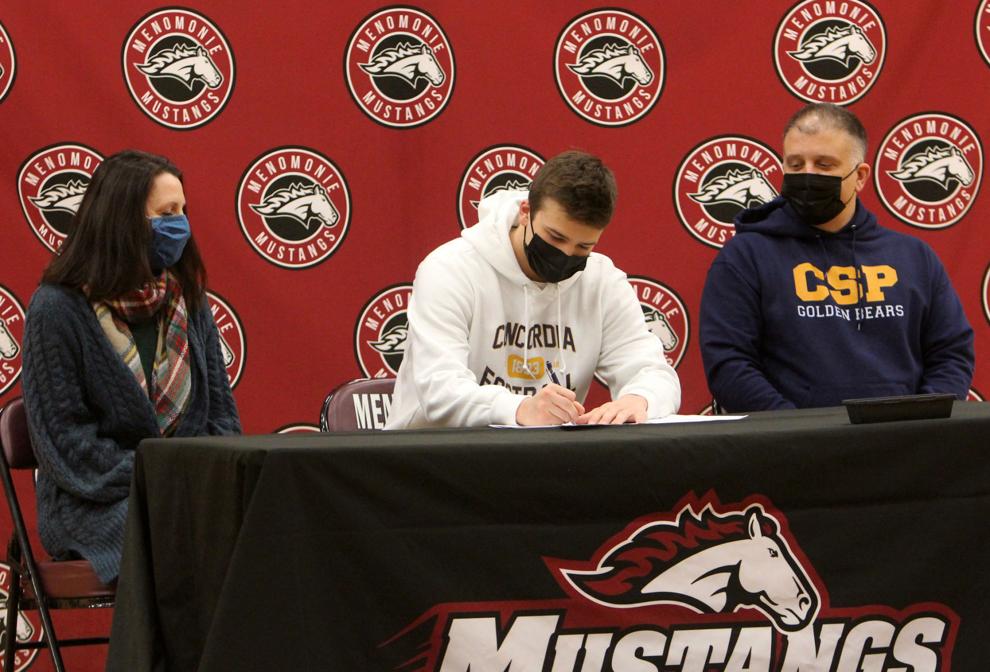 Kaleb Kazmarek
Kazmarek will be playing football at Concordia University, St. Paul in St. Paul, Minn for the Golden Bears.
Concordia University competes in the Northern Sun Interscholastic Conference where Kazmarek will be kicking for the team. Kazmarek will join Menomonie alum Rhett Sheehan on the team and is just one of two players to be a four-year varsity letterwinner for the Mustangs football team under coach Joe LaBuda, joining current Minnesota Vikings quarterback Nate Stanley.
Kazmarek was 22-for-24 on extra points this season and made all four field goals attempts including a 43-yard kick against New Richmond, the second longest in school history. Kazmarek also had nine touchbacks, started at tight end and saw time at outside linebacker as the Mustangs shared the Big Rivers Conference title with Hudson.
"I'm just looking forward to meeting the guys up at Concordia and taking that next step into college," Kazmarek said. "From coming from high school to college it's a big step in life but I'm just excited for it."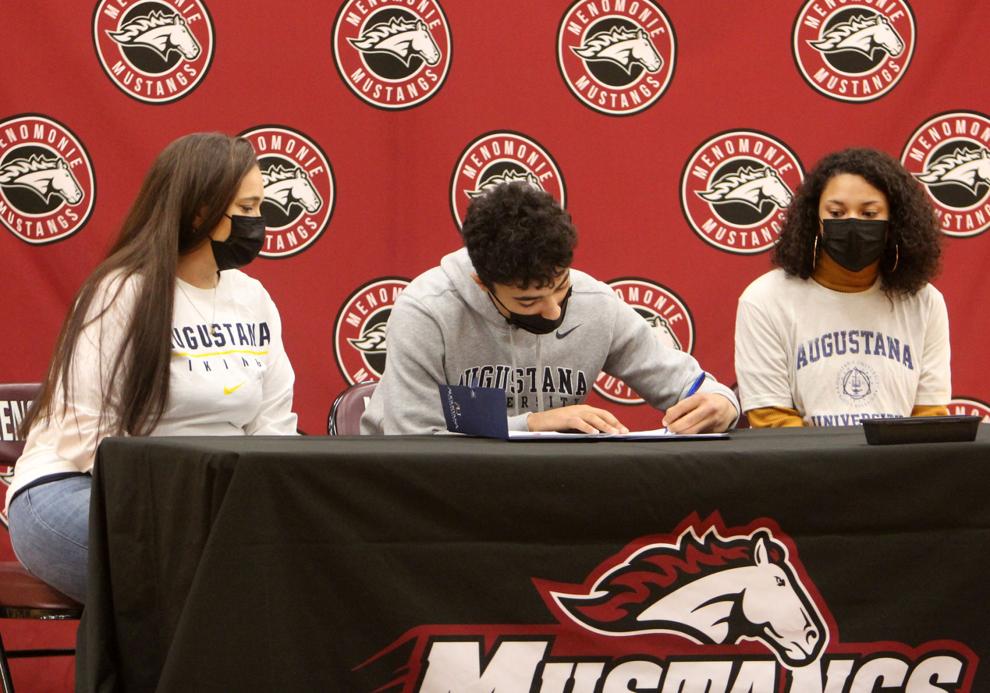 DeVauntaye Parker
Parker will be playing football at Augustana University in Sioux Falls, S.D for the Vikings.
Augustana competes in the NSIC but will be moving up to the Division 1 level beginning in 2022 and joins a team with Menomonie alum Mark Sipple on staff as the team's defensive coordinator.
Parker is a three-year letterwinner for the football team and a two-year, two-way starter for the Mustangs and helped the team win a Big Rivers title and advance to the Division 3 state semifinals in 2019. As a senior Parker had two kickoff returns for touchdowns and was selected to the Wisconsin Football Coaches Association's All-Region team as a part of Menomonie's Co-Big Rivers title team.
"That's great," Parker said of Augustana making the move to Division I, "I was talking to a lot of D1 schools before this COVID thing happened and kids coming back left me stranded for an opportunity to play D1 so know that they're going D1 it's always been a dream as a little kid playing D1 football."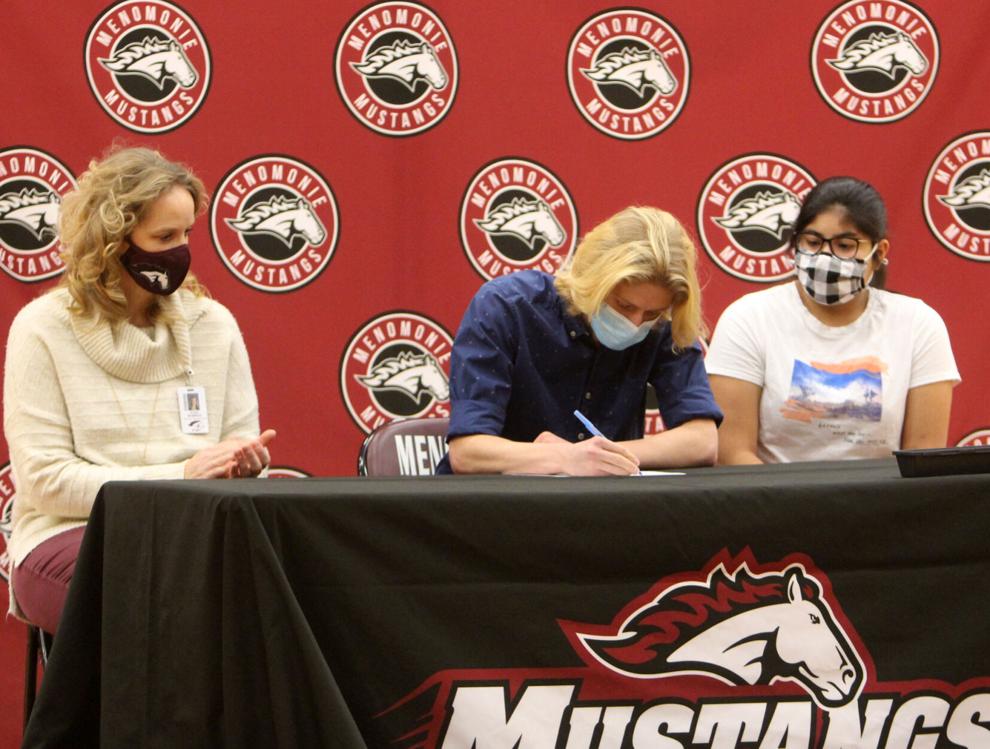 Ethan Phillips
Phillips will be competing in cross country and track and field at the University of Wisconsin-Oshkosh for the Titans.
UW-Oshkosh competes in the WIAC and Phillips joins programs with plenty of success in their histories. Phillips has been a multi-year competitor for the Mustangs and boys cross country coach Adam Topper credited Phillips for commitment to improvement as most recently he helped the Menomonie boys cross country team win a Division 1 sectional championship in the fall, advancing to state for the first time since 2005. Phillips earned All-Big Rivers Conference accolades in his senior season and finished 83rd at the Division 1 state championships as the team came home fifth.
"I felt right at home, everyone was really nice and friendly," Phillips said of Oshkosh. "They made me feel like I was already apart of their team and had been for some time. Their whole team was really focused on being a family, and I enjoyed that. It's one of my favorite parts of our own Menomonie team. I could tell right away that the team at Oshkosh would push me to not only be a better runner but a better person as well."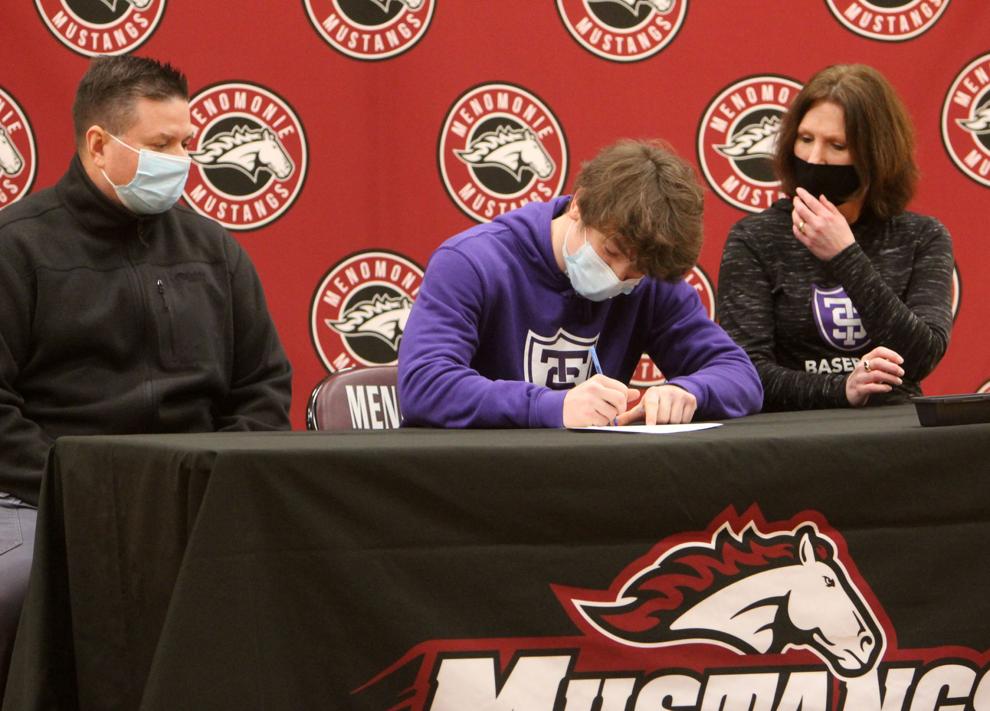 Brigs Richartz
Richartz will be playing baseball for the University of St. Thomas for the Tommies.
St. Thomas competes in the Minnesota Intercollegiat Athetic Conference but will be moving up to the Division I level later this year. Menomonie baseball coach Mike King credited Richartz for the hard work and focus on teamwork he put in to earn the opportunity to play with the Tommies, a program with two Menomonie natives Tanner and Trey Vavra on staff as assistant coaches as Richartz continues on with the game of baseball as both a catcher and a utility player.
"It's very exciting, a great opportunity (and) a chance to get out there and show what we can do from a small town here and make an impact on a new Division 1 team and try to contribute," Richartz said.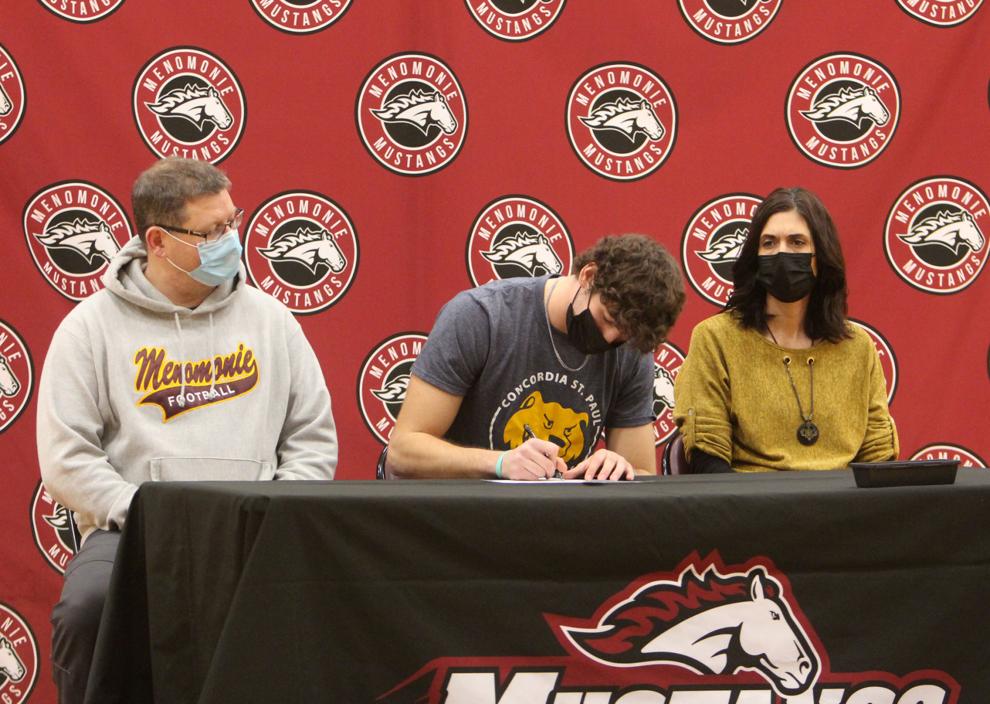 Brock Thornton
Thornton is joining Kazmarek in moving on to Concordia University, St. Paul to hit the gridiron with the Golden Bears.
Thornton was a three-year letterwinner for the Mustangs football team and the team's leading receiving receiver the last two years. As a senior Thornton had 27 receptions for 376 yards and five touchdowns in a shortened season and earned WFCA All-Region accolades. Thornton also played tight end and outside linebacker last fall for the Mustangs and will continue to play receiver in college with the Golden Bears.
"It just feels great," Thornton said of being able to sign. "Knowing you have so many people supporting you throughout your life. They're always there supporting you. It's the best feeling in the world. It's my life-long dream, so I'm just so thankful for it."