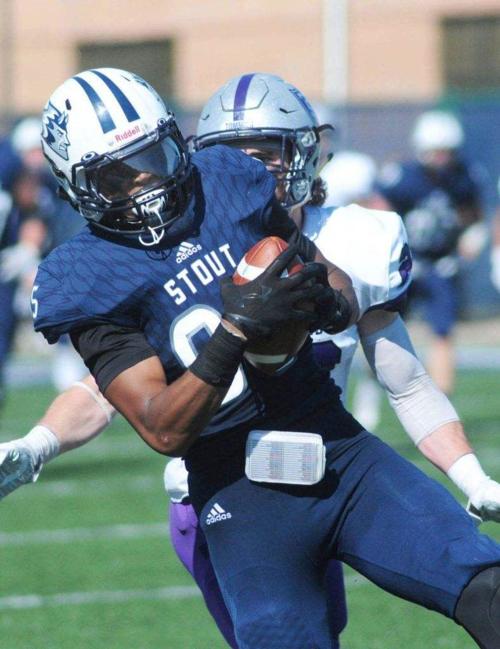 Brian Sandifer always thought he could play football beyond college.
Having coaches who also believe in him made all the difference.
The former UW-Stout wide receiver has been pursuing a professional football career and soon he'll be looking to make the roster of an XFL team.
Sandifer was invited to join the XFL Draft player pool earlier this season with the league draft set for next Tuesday and Wednesday
Teams will fill a 71-man roster by selecting players from a set of positional groupings before an open portion of the draft when the approximately 1,000 players will be selected.
Sandifer attended a league showcase in Dallas where he gained the confidence he could hold his own against other great players. He impressed coaches limiting his drops, something UW-Stout coach Clayt Birmingham told him would make all the difference.
"Me being the only Division III guy there and me going through the one-on-ones and the seven-on-sevens having the other guys saying 'this guy can play,'"Sandifer said made him believe he belonged.
Sandifer worked in a group during the showcase with former Green Bay Packers fullback Aaron Ripkowski, former Pittsburgh Steelers quarterback Landry Jones and former Seattle Seahawks running back Christine Michael.
In the two years since departing UW-Stout, Sandifer has learned what it takes to be a professional.
He spent half the season last year with the Cape Fear Heroes of the American Arena League before playing one game with the Kansas City Phantoms of the Champions Indoor Football league.
Following the advice of his agent, Sandifer kept putting in work even when coaches with Cape Fear told him he wasn't good enough to play.
"I gained how to carry yourself as an athlete and how to deal with people on your team. It's not like a college experience where everybody is your friends," Sandifer said.
Sandifer began working out with Mike Blizel at ETS Performance while at UW-Stout and that has continued with ETS locations in the Twin Cities area. NFL players like Minnesota Vikings receiver Adam Thielen worked out with ETS Performance in his preparation for making the NFL and now Thielen has become a partner with the athletic performance program.
Sandifer also worked out in Las Vegas in early 2018 with Phase 1 Sports with Tysson Poots, a receiver who found success in the Arena Football League after an attempt in the NFL.
"The biggest thing I've learned is prioritize what you do," Sandifer said. "There's no 'oh, coach I'm not feeling it,' you got to get up and you got to work.
"It's a job now. It's not just you doing it just so you have a girl in the crowd holding a sign for your homecoming anymore."
Sandifer totaled 49 catches for 785 yards and 10 touchdowns combined in 2016 and 2017 for the Blue Devils, but it was the season he spent on the team not playing when learned the most.
Having the support of Coach Birmingham during that season helped him adjust to his new school and environment. He welcomed Sandifer into his classroom for lunch when Sandifer dreaded the long trek back to his place. Sandifer said he would have struggled to make it through that year without having Birmingham as a mentor.
"I would like people to know I haven't forgot (UW-Stout)," Sandifer said. "I've learned a lot since I've been out here (in Menomonie) as far as growth on and off the field."
Sandifer doesn't know what to expect come next week. He agent has been in contact with the Seattle Dragons, but being selected by any team is still a possibility. The XFL season begins in February with training camp starting later this year.
With the support of his father, Brian Sr. — a significant influence on why he hasn't given up on his dream — and the connections he made at UW-Stout, Sandifer is ready to make a name for himself as he continues to push for a career in football.
"I've always been an underdog my whole life," Sandifer said. "There's always something to prove, something to keep fighting for. It makes me happy to tell people that I went to UW-Stout and I bled blue."
Be the first to know
Get local news delivered to your inbox!