WOODBURY, Minn. — Menomonie's Sam Skillings took second place to lead the Menomonie wrestling team at the East Ridge Ruckus on Saturday.
Kellan Aure took third at 126 and Andrew Fenton placed fourth at 285.
Skillings got pins in both the quarterfinal and semifinal rounds before being defeated by St. Michael-Albertville's Wyatt Lidberg by a 6-4 decision in the 182-pound championship match.
Aure got a pin in just 36 seconds in his first round matchup. He then won a 2-0 decision in the quarterfinals but lost to Anoka's Brendan Howes in the semifinal. Aure bounced back to defeat Monticello's Nelson Anderson by a 13-2 major decision.
Fenton earned a technical fall (15-0) in his first matchup and then pinned St. Thomas Academy's Leo Bluhm in 1:34 in the quarterfinals before dropping a 8-4 decision in the semifinals. Fenton suffered an injury in the third place match to take fourth.
The Mustangs took 11th as team with a score of 55. St. Michael-Albertville on the team title at 227.5.
Menomonie hosts the Whitetail Shootout on Saturday.
Boyceville's Joles wins title at St. Croix Falls Classic
At St. Croix Falls, Boyceville's Trett Joles won a championship at 182 pounds at a tournament hosted by the Saints.
Joles rolled through the competition getting two pins and a technical fall on his way to the title. In the championship, he pinned Hudson's Hank Gierke in 4:30.
Josiah Berg and Nate Stuart each took third place for the Bulldogs. Berg won by technical fall (17-2) in the quarterfinals, but lost to Spencer's Treyton Ackman in the semifinals. Berg then won a 6-3 decision over St. Croix Falls' Mason Will in the third place match at 120 pounds.
In the 132-pound weight class, Stuart pinned his opponent in his first matchup and then earned a 2-1 decision victory over Northwestern's Braden Trautt. Stuart lost in the semifinals but bounced back to defeat River Falls' Owen Larson 5-2.
Tyler Dormanen placed fourth at 145. He got a pin in the first round and then won a 8-0 major decision over River Falls' Miles Longsdorf in the quarterfinal. Dormanen would drop matches to St. Croix Falls' Kole Marko and Amery's Walker Ingham in the semifinal and third place matches.
Josh Marzofka (195) finished in sixth and Bash Nielson (160) took eighth.
The Bulldogs placed eighth as a team with a score of 93. St. Croix Falls won the event at 197.
Boyceville hosts a dual against Durand on Thursday.
Boys Swim and Dive
Gjestson leads Menomonie at Husky invite
At Eau Claire, Austin Gjestson set two personal best times for the Mustangs at the invitational hosted at Eau Claire North.
Gjestson finished fourth in the 500-yard freestyle finishing in a personal best time of five minutes, 25.25 seconds. He also took fifth in the 200 individual medley, finishing in 2:13.44 to set another personal best.
Menomonie took fifth overall at the event with a team score of 123 as host Eau Claire Memorial/North won the event at 440.
Also placing fifth for the Mustangs was Kaleb Kazmerek in the 100 backstroke as well as the 200 freestyle relay team of Kazmerek, Adam Giljohann, Christian Bilse and Juan Carlos Mezquita Lobato and the 400 freestyle relay of Mezquita Lobato, Bilse, Giljohann and Gjestson.
Taking sixth was the 200 medley relay (Kazmerek, Bilse, Giljohann, Gjestson) and Shane Halverson (diving).
Bilse placed eighth in the 200 individual medley and Mezquita Lobato took 10th in the 100 freestyle.
Graeme Strong also set personal bests in the 50 freestyle (29.98) and the 100 breaststroke (1:40.73).
You have free articles remaining.
Menomonie returns to the pool on Thursday at River Falls.
Friday
Girls Basketball

Menomonie 43, Rice Lake 37
At Menomonie, the Mustangs came back from a halftime deficit in a Big Rivers victory over the Warriors.
Menomonie (6-10, 2-6) trailed by six at the break, but the Mustangs outscored Rice Lake  22-10 in the second half.
Shelby Thornton and Emma Mommsen each had 12 points to lead the Menomonie and Helen Chen added 11.
Rice Lake (5-11, 1-7) was led by 15 points from Brynn Olson.
Menomonie hosts Eau Claire Memorial on Thursday.
Boys Basketball
Menomonie 50, Rice Lake 38
At Menomonie, the Mustangs won their third game in a row with a Big Rivers Conference victory over the Warriors.
Menomonie (7-7, 2-5) took a 25-17 lead into halftime and continue its strong play into the second half.
Noah Feddersen scored 22 points to lead the Mustangs. Davis Barthen added 11 and Ethan Wurtzel had eight.
Judson Rikkers had 22 points for Rice Lake (1-12, 0-6).
The Mustangs played at New Richmond on Monday evening and they return to the court Friday at Eau Claire Memorial.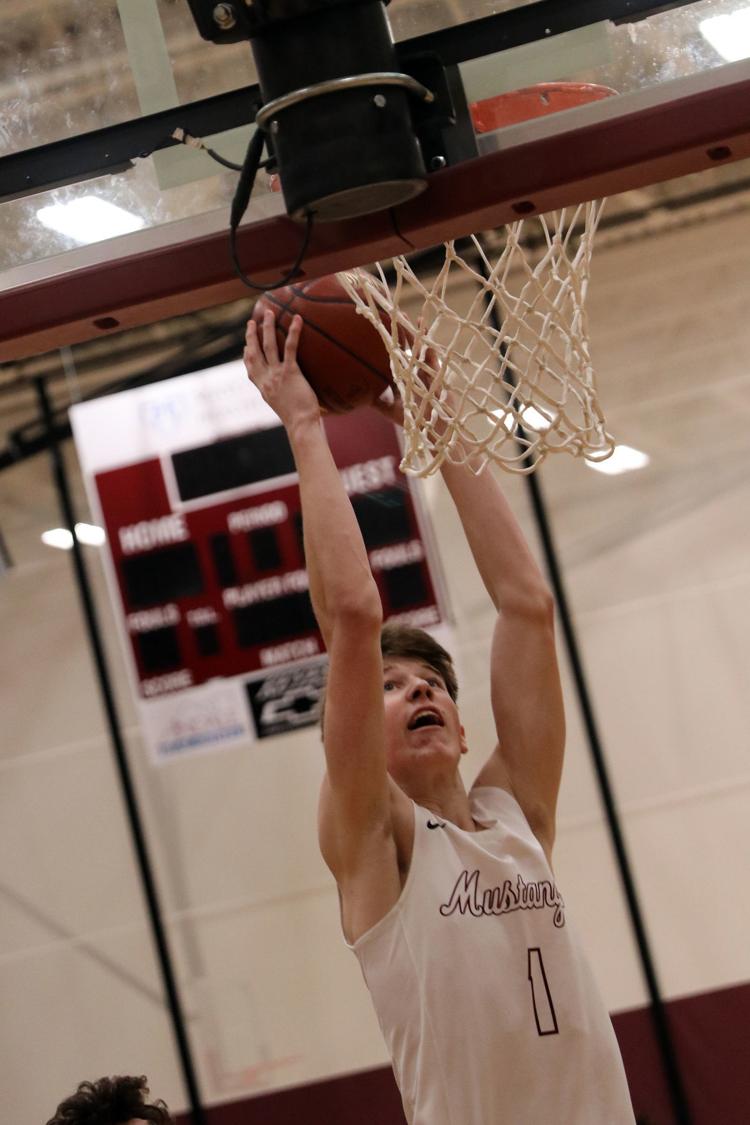 Elk Mound 67, Boyceville 52
At Boyceville, the Mounders defeated the Bulldogs in a Dunn-St. Croix battle.
Elk Mound (6-6, 5-2) played Monday night at Fall Creek and will return to action by hosting Colfax on Thursday. Boyceville (1-10, 1-6) had a nonconference matchup with Prairie Farm on Monday and will play at Elmwood/Plum City on Thursday.
Colfax 53, Spring Valley 42
At Spring Valley, the Vikings knocked off the Cardinals in a Dunn-St. Croix Conference contest.
Colfax trailed by four at the break but the Vikings outscored Spring Valley 35-20 after halftime.
Noah Heidorn and Ed Hydukovich each scored 12 points for Colfax (8-5, 6-1). Drew Gibson added nine and Zach Rindy eight.
Hydukovich also had a team-high seven rebounds and three assists. Gibson pulled down five boards and dished out four assists.
Spring Valley (9-4, 4-3) was led by 10 points from Connor Ducklow.
Colfax played at Ellsworth on Monday night and the Vikings return to the court on Thursday at Elk Mound.