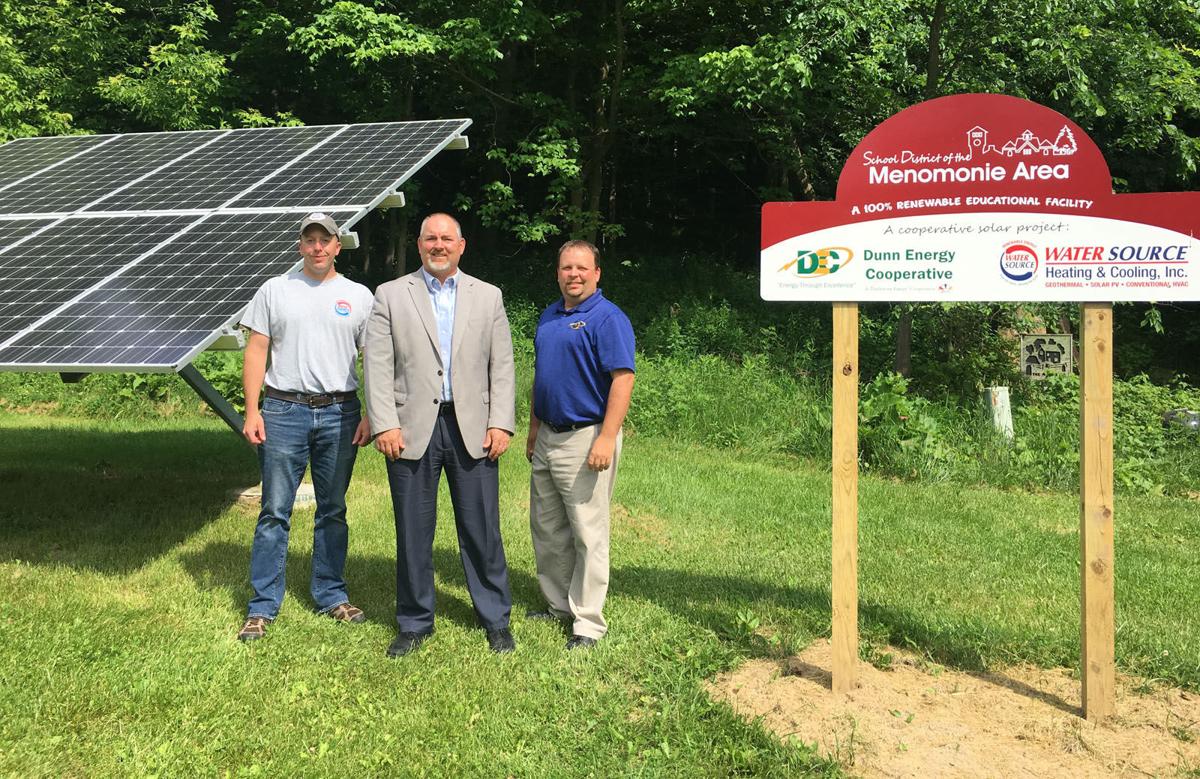 In a collaboration, Dunn Energy Cooperative, Water Source Heating and Cooling of Eau Claire, and the School District of the Menomonie Area have successfully completed a project insuring renewable energy for years to come for the district.
Through a grant from the Dunn Energy Cooperative's Operation Round Up program and the resources of Jesse Green from Water Source Heating and Cooling, the Bjornson Education-Recreation Center — known locally as the Environmental Site — has installed a 3kW photovoltaic array.
This, along with the School District's participation in the Dunn Energy SunDEC Community Solar array, brings the Environmental Site to a 100 percent renewable status.
"The success of this solar project is a great example of the good that can happen when community partners come together," said Joe Zydowsky, district administrator for the School District of the Menomonie Area. "We are proud to say that the school district's environmental site is now 100 percent powered by renewable energy. Not only has this been a wise investment for the School District of the Menomonie Area, but it also has the potential to serve as a good example and learning opportunity for our students and staff."
The solar panels at the Environmental Site have been up just short of a year and have produced a total of 2.55 Megawatt hours (MWh). The average home on Dunn Energy lines uses 1,000 kilowatt hours a month; meaning the small array at the Environmental Site has produced enough energy to power an average home for two and a half months straight.
"We often talk about preserving the future for the next generation; about making choices that make sense, not only for today, but for years to come. We believe the choice the district made will not only benefit their financial position today but will also educate our youth on the importance of sustainability for years to come," explained Jesse Singerhouse, manager of Administrative and Member Services for Dunn Energy Cooperative. "We're proud to be a part of partnerships like these."
Operation Round Up uses the power of cooperation to provide much needed grant dollars for community projects, 501(c)3 organizations and nonprofit groups within the Dunn Energy Cooperative service territory.
Those who are interested in applying for an Operation Round Up grant can find the application and Giving Guidelines at www.dunnenergy.com or by emailing jolene@dunnenergy.com. Grant applications are due March 31, June 30, Sept. 30, and Dec. 31 and reviewed shortly thereafter.