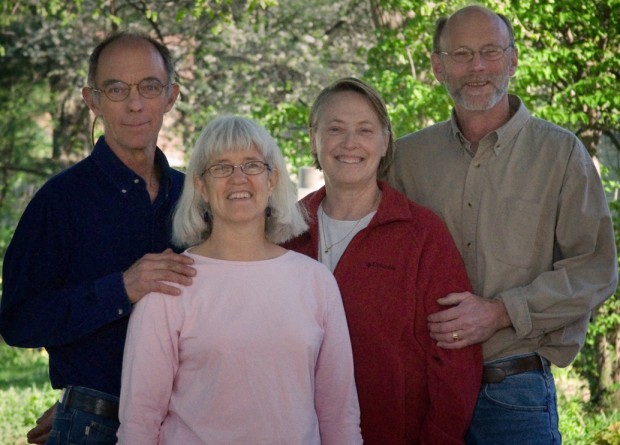 Represented by an Eau Claire attorney, The Creamery Restaurant and Inn was purchased at a sheriff's auction in May by a mystery group of investors calling itself Vista Verde. Turns out that two of the investors were among the founders of the popular Downsville landmark, while a third is a childhood friend.
As a kid growing up in Chicago, Donald Cline says there was always a place for him at the Thomas family dinner table. He became familiar with the Downsville area in the early 1970s when his good friend John Thomas, a fledgling potter, offered Cline the opportunity to go in — along with another Thomas sibling — on the purchase of a small farm just outside town. Cline enthusiastically accepted.
John explains his interest in country living: "I was only 20 at the time and loved the idea of living on the land. Having been raised in Chicago, there were a few challenges to overcome. We were helped by many good-humored and kind neighbors."
The rest of the Thomas family paid frequent visits to the farm and John's growing pottery business. Father Paul Thomas, an architect, was intrigued by the possibilities offered by the abandoned 1904 cooperative creamery overlooking the Red Cedar River on the east end of Downsville.
"Our folks really facilitated the birth of The Creamery," John explains. "But it was down to us 'young bloods' to make the whole thing work. Because there were other branches of the Thomas clan who had run successful family businesses in Chicago and Hayward, I suppose our parents thought we could emulate them."
Their parents were right. For nearly 25 years, The Creamery Restaurant and Inn earned a reputation for its elegant ambiance, fine dining and comfortable guest rooms. 
Called The Woodland Terrace, a new building constructed in 1997 added eight more guest rooms and spacious conference room, to the  9.5 acre property.
Around 2000, brothers John and David Thomas left the business.
"While John continued to make pots from his home studio, right next door to The Creamery, I headed north to settle near Superior," David said. "Neither one of us fostered any real serious interest in The Creamery after this point, but suddently that changed at the end of last year, when we heard the sad news that the then-current owners of The Creamery had closed the business."
Owners Terry and Paula Vajgrt did their best to keep things going, but the sagging economy proved too hard to overcome. A fire near the kitchen in November 2008 that closed the restaurant and inn for a week didn't help, either.
"In fact," David recalled, "The Creamery had really weathered the storm very well, but like many other businesses, they just needed that bit more time that just wasn't in the cards."
When Cline heard that it was about to go on the auction block, he came up with the idea to form an investment consortium "to give The Creamery another chance."
Vista Verde LLC was formed and includes Cline and his wife Nina, David and Dawn Thomas, and John Thomas and his wife, Kathy Ruggles.
About the initiative, Cline, who has lived in England since 1974, explains, "It's a terrible shame that even top-notch heritage establishments like The Creamery have suffered over the past few years, but all of us know this is just a temporary setback."
Their intention, however, is not to be come innkeepers, Cline points out. "But we are keen to work with an interested party who can see the tremendous potential that The Creamery still has to offer, either as a 12-room inn, a less-demanding bed and breakfast, just a restaurant — or maybe a combination of these ideas. We are open to any and all suggestions that prospective operators want to discuss."
There's an added incentive, Cline notes, for anyone who fancies themselves in the role of "matchmaker." The person who introduces Vista Verde to  whoever ultimately acquires the property can earn $5,000 — and a further $5,000 will donated to that person's favorite charity.
The business news you need
With a weekly newsletter looking back at local history.