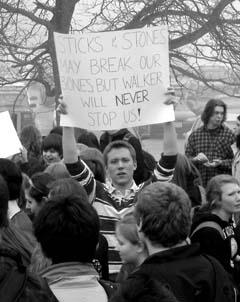 Stout turns out to support unions against Walker's budget proposal
The bells of UW-Stout's clock tower were chiming 12 o'clock when throngs of students, faculty and staff from all directions could be seen striding purposefully across campus to gather in front of the Robert S. Swanson Library Learning Center.
Soon, a syncopated chorus of "Kill the bill" and "Union busting's got to go" filled the fog-laden air Thursday as more than 300 made known their acute displeasure with Gov. Scott Walker's proposal to eliminate collective bargaining for all but the state's police and firefighters' unions.
Tears in her eyes, a freshman from Milwaukee named Anneliese explained what caused her to leave class and join the protest. "My parents both work for the school district. There are two of us in college. I'm so worried about what's going to happen to us all if this bill is passed."
In addition to worry, emotions like anger, outrage and frustration were written on the faces of the protesters, mirroring the messages on the signs they carried. Several clambered on top of the cement traffic control barriers around the perimeter of the square to address the crowd.
Dr. Tim Shiell, a professor of English and philosophy, was among the event's early orators.
"This bill is being rammed through at light speed," he told the crowd. "The most important piece of labor legislation in 50 years and its sponsors allowed only one day of public testimony. … If you want a quality education, quality public services, low crime rates, clean water and air — and all the other things that make Wisconsin a great place to live, then help kill this bill."
Dr. James M. Miller, professor of speech and theater, expressed his chagrin at the how the governor's budget repair bill has been characterized in the media.
Referencing a recent piece in the Wisconsin State Journal, he said, "The article was saying the central issue is the increase in pension, increase in health care costs — and the slight limitation on some of the bargaining rights for K-12."
Miller pointed out, "The university is completely wiped out for bargaining. Our permission two years ago to form unions has now been undercut. … It's a big part of the bill — we wait 40 years for bargaining rights, we get it, it's a big story in the state for two years."
He noted that both UW-Superior and UW-Eau Claire faculty have voted on whether or not to unionize. UW-Stout and UW-La Crosse are set to vote in early March.  Superior and Eau Claire vote; Stout and La Crosse are voting next month.
"We need to talk about the totality of what this bill is doing, not just look at this as a couple of people whining about a decrease in their take-home pay," Miller said. "Unions are not a peculiar thing. They're one of the universal rights, along with suffrage. … You need bread, you need water, you need the right to organized labor."
For one faculty member, Thursday's rally was his second in two days. On Wednesday, he traveled to Madison and joined the protests on the steps of the state Capitol.
"I was in the Capitol on Tuesday where we were denied a prearranged meeting to present our voice to our elected officials," he said, preferring to remain anonymous. "The statewide efforts are an opportunity to have our say — and to show students that we are committed to our ability to serve them. … We can make this an important and historic 'teachable moment.' Remaining silent now will be a missed opportunity and will send the wrong message to our students and lawmakers in Madison.
"The issues at stake this week are beyond political party lines," he continued. "They exist on a level above increasing costs for health insurance and pensions. As we celebrated Egypt's move toward democracy, we saw our own rights, including those made possible through collective bargaining, get stretched tight on the the chopping block."
Whatever decisions are made, he predicted the effect will be felt far beyond Madison.
Dunn County Board of Supervisors' chair Steve Rasmussen was an interested observer at Thursday's event. He said that while he appreciates that Walker's proposal helps address a portion of the state's budget gap, he feels that it contains the wholly unnecessary element of union busting — and goes too far.
"Dunn County has a long history of mutually positive labor relations," Rasmussen said. "We have addressed issues successfully through consensus bargaining. For example, in planning for a replacement health care center, we needed an adjustment to the operating costs in order to achieve financial feasibility. Together with the union, we approved a contract that freezes all HCC staff wages for the years 2012-14."
Should be governor be successful in his efforts to eliminate collective bargaining, "The county is left holding the bag of low morale and associated decrease in employee initiative," Rasmussen said, noting that a one-size-fits-all directive is not the answer. "A more reasonable alternative might have been to suggest legislative changes which give local governments the ability to negotiate more successfully for wage and benefit cost reductions without establishing arbitrary mandates."
A professor in Stout's School of Hospitality Leadership, Joe Holland said Thursday's was the first time he's seen this kind of protest in his 25 years at the university.
"To me the biggest issue today was not about the right to collectively bargain … or about benefits or salary," he said. "It was about the process of government. My view is that we have a governor that I would characterize as a bully [who] has both a legislature and a senate that can vote his agenda."
What Holland is most disturbed about is the speed with which Walker is trying to pass his budget repair bill. "He has tried to act in a very quick manner, avoiding any type of open and public debate, or discussion of the issues. That's what I find offensive … and what most of the people who were there today were speaking about.
"Given the history and culture of Wisconsin, this is something that most of the citizens of Wisconsin that I know simply will not stand for in their governor, or in other elected officials," he concluded.
Before Thursday's rally, a smaller event was held from noon until 3 p.m. on Wednesday. Along with Larissa Rittenberry, local vice president for the Student Wisconsin Education Association (WEA), it was organized by Erik and Kayla Collins. Both 20 year olds are juniors at Stout. Kayla serves as the local Student WEA chapter president, while Erik is the state president of the Student WEA.
 On Monday night, he said, they attended a rally in Eau Claire. On the way home, they decided that cyber-lobbying, emails and calls to legislators was no longer enough.
"We could not sit back and let public employees — the heart of all communities — lose their rights," Erik said. "At the [Stout] rally, we had about 200 people pass through. Some stayed the whole three hours; others passed through and got flyers and informational materials.
"As a result of the rally, more students on campus are informed of the drastic and disheartening events going on," he continued. "We could not have pulled this off without all the support from our advisors, campus police, professors and the students who attended."
On Thursday, UW-Stout Police Chief Lisa Walter confirmed that the gatherings of the previous two days were peaceful and free from incident. As of 4 p.m., there were still 40 to 50 people gathered in front of the library. (A third rally was held Friday.)
"The neat part of working in a university is that folks get to have their voices heard, and we try to make sure that it's done in a manner that's in a manner that's orderly and doesn't disrupt the rest of the operations too much," she said.
Walter also pointed out that the university's union officers are not included in the exemption Walker provided to other law enforcement officers, firefighters and the State Patrol.
"He did not exempt UW police, Capitol police and, I believe, DNR wardens," she said. "They will lose their ability to negotiate and have a union negotiate other work-related — other than salary. If the bill goes through, they will be without a contract — and without a union — on March 15."
Stout Chancellor Charles W. Sorensen was not around for Thursday's protest event. According to Doug Mell, director of university communications, Sorensen was in Madison that day meeting with other UW chancellors and Gov. Scott Walker.
A memo from the chancellor's office was sent to faculty and staff on Wednesday, reminding them about the university's policies and regulations concerning political activity on campus.
As far as repercussions for participating in the week's rallies, Mell said no violations had been reported as of Thursday. "People are free to express themselves. We believe in freedom of expression; it's a university. That's what we're supposed to foster," he said.