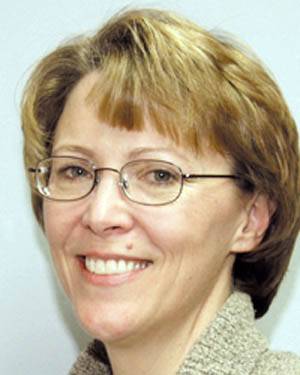 Cindy Brown knows her beans -- and a whole lot more.
Listening to her expound on the virtues of as well as how to market the dark red kidney bean, there can be no doubt that Gov. Jim Doyle chose well in appointing her to the Agriculture Board of the state's Agriculture, Trade and Consumer Protection Board.
As marketing director for Chippewa Valley Bean and Doane Ltd., she brings a wealth of agricultural experience to the position.
The family corporation also includes Menomin Seed, a company devoted to researching and developing resistant strains of kidney beans, and Fall City Implement, specializing in sales of machinery that harvests kidney beans.
On Monday, Jan. 13, Brown got the call from the governor's office offering her the Ag Board appointment. Three days later, she was at the Eau Claire Airport where Doyle flew in to make the announcement.
"I was very pleased, surprised and honored to be asked," she said. "As the governor said last Thursday, Chippewa Valley Bean and Doane Ltd. has gone beyond traditional farming, adding value to a commodity and marketing it globally."
It was the advent of irrigation in the 1960s that took the Doane family farm from raising cattle, hogs, corn and soybeans to experimenting with cucumbers before starting to grow dark red kidney beans on the family's 500 acres of sand prairie.
"The running joke was that a gopher had to pack a lunch and a bottle of water to cross it," Brown observes with a smile. "My father has been an entrepreneur since the beginning; my grandfather, too. They were always coming up with ideas of how to be productive."
One of those ideas involved acquiring the equipment so they could clean and dry their own beans, rather than send them out to a third party processor. Other area growers began sending their beans to Chippewa Valley Bean for cleaning and drying before shipping them off to canning companies and commodity brokers.
In the early 80s, the company cut out yet another middle man by marketing their product themselves.
"The success of our business is that we still wear our farmer's hat," Brown remarks. "We understand production and we understand how to market. Looking at our growers, we know that without them, there wouldn't be a reason for us. We share our knowledge on how to grow and harvest beans. If they're not viable, we aren't either."
Brown's father, Russell Doane, is president of and oversees the entire operation which was incorporated in 1973. Her sister, Ruth Anne Hofland, works directly with bean growers and supervises quality control while her brother, Brian Doane, is in charge of planting and irrigating the farm's 3,500 acres. In the fall, he receives the beans to be processed in the company's cleaning and drying plant. And her mother Nancy, in addition to lending a hand with the business, has taught classes on cooking with beans.
Brown shares her office with her only son, Charles Wachsmuth, who takes charge of the corporation's MIS (Management Information Systems) and does research for his mother and grandfather.
"He's been a major help to me in a number of projects, like food safety and pesticide residue issues," Brown explains. "He has one semester left at UW-Stout and it's our greatest hope that after he gets more experience in the 'outside world,' he'll come back and join us in the family business."
(It was working "outside" as John Menard's secretary in her early 20s, in fact, that Brown credits with teaching her how to deal with people and take other kinds of responsibility.)
She refers to Charlie's cousin and the firm's general partner, Bob Wachsmuth, as her "adopted sibling." An engineer by trade, he oversees the plant and the farm.
"We all have our own areas that we excel in," Brown notes. "I'm a more outgoing person, so I take care of marketing. We manage jointly but don't overlap -- it's a team effort."
Framed by her office window is a view of a turn-of-the-century farmhouse, with its wide veranda and generous proportions, set amid the broad plains of southern Dunn County. As both her childhood home and the one she now shares with her husband, Bob, it's a scene that's as familiar to Brown as her own reflection in the mirror.
"I'm the seventh generation to live here," she said. "My family came here in 1858. When the first house burned down, they built this one on the foundation of the old one. In fact, when my grandparents got married, my great-grandparents added on to make room for them."
Her commute is a simple matter of walking next door to the company's simple but tastefully appointed modern headquarters. Approaching Chippewa Valley Bean, visitors are struck by the way the complex of storage silos and drying plant seem to rise from the surrounding prairie.
It's clear that this is no ordinary farming operation.
What isn't as readily apparent is that it's also a multi-million dollar operation that actively trades its dark red kidney beans in the international market. In fact, Chippewa Valley Bean handles 25 percent of the nation's supply of the crimson legume.
"My father made a name for the company early on because of the quality aspect of our beans," Brown attests. "And we continue to increase our quality and customer service."
The quality of their product is so superior, in fact, that Switzerland buys all of its dark red kidney beans from the family-owned company, which also recently contracted as Campbell Europe's sole supplier.
In addition to serving as the company's marketing director, Brown is also the chair of the Food Aid Committee of the National Dry Bean Council. The organization's mission is to educate people about the value of beans as an outstanding source of nutrition and fiber as well as to encourage them to use them in food aid programs.
In the last eight months, Brown has traveled to Africa three times to meet with international food aid organizations and determine how the industry can help address the continent's needs in the face of serious drought.
In Ghana, she took part in a seminar on ways to help other than direct feeding. It was there she learned about and visited examples of a concept called "monitization."
"It's where you take an agricultural commodity, sell it, and use the proceeds to fund other humanitarian programs such as drilling wells, establishing a loan fund for farmers, teaching hygiene, buying books for schools, and so on," Brown explains.
"We were taken to rural areas where they were teaching farmers how to grow something of value, like teak, cashews, papayas…," she continues. "They were also learning how to intercrop with crops like maize or casava. The farmers had gotten a loan to buy trees and fertilizers and an ag agent was teaching them how to grow and market the best crop. They also learned how to harvest rain water; for example, changing from thatched to metal roofs and building cisterns."
Brown parallels the efforts to America before 1950 when people didn't have access to much agricultural information.
She roundly declares, "People have to be able to feed themselves. In Africa you could see how life was harder when they left the farm and moved to the city where it's crowded, unsanitary, and there are no jobs. Any country that doesn't have agricultural to support itself is not going to go beyond the development stage."