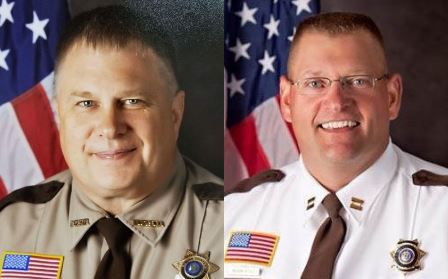 Choosing among five contenders, voters narrowed the field of candidates in the Dunn County Sheriff's race to the pair who will face off in November. The winner will succeed Dennis Smith who has served since he was first elected in 2000.
Kevin Bygd emerged victorious among the trio of Republicans, and voters chose Democrat Rod Dicus over Randy Knaack, according to unofficial results from the Dunn County Clerk's office.
Bygd, 48, is the Captain of Field Services for the sheriff's office, and has worked for the sheriff's office for 29 years.
Dicus, 55, has had a 32-year career with the sheriff's office and works as an investigator and DARE officer.
Democratic voters overwhelmingly chose Dicus over fifth-term Menomonie mayor Knaack. Dicus received 3,157 votes to Knaack's 752.
Republican voters were also clear with their choice. Bygd got 2,566 votes. Deputy sheriff Adam Zukowski got 914, and dairy farmer and small business owner Jacob Ohman got 196.
Both Dicus and Bygd advocated for a sheriff with experience.
In an August candidate forum, Dicus said law enforcement experience was vital to the position: "I think if you have someone who doesn't have a background, is not certified, and has not done it, I think you're almost giving up a position."
At the forum, Bygd pointed out the sheriff's office is currently short-staffed: "We fight for every position we have and sometimes at 3 a.m., the sheriff needs to be in that stack going through the door and being a real cop."
You have free articles remaining.
If elected, Dicus said one of the things that isn't needed are good, but not new vehicles for the sheriff, chief deputy or captain and putting the money save toward patrol needs and training. He also suggested creating a threat assessment team for mental health calls and instituting "Dining with a Deputy" to reward kids who are doing good things.
At the forum, Bygd said he hopes to have the responsibility of "efficiently" managing 60 people and a $6 million budget, and said he's served Dunn County with "common sense, courage and compassion."
State offices
Tony Evers, state superintendent of education, won the Democratic gubernatorial primary Tuesday night, setting up a showdown between the education official and incumbent Gov. Scott Walker in November.
Walker won his primary handily, beating opponent Robert Meyer of Sun Prairie.
As for the U.S. Senate Republican primary, Sen. Leah Vukmir, R-Brookfield, prevailed over businessman Kevin Nicholson.
Vukmir will face incumbent Democrat Sen. Tammy Baldwin, who did not face an opponent in the primary.
For the 29th Assembly, neither incumbent Rob Stafsholt (R-New Richmond) nor Democrat challenger John Rocco Calabrese faced any primary opposition.
Voters flooded the polls statewide Tuesday. Turnout was at 22 percent overall.
That is the highest it's been statewide since 2002, when Jim Doyle won the Democratic nomination and then-Gov. Scott McCallum won the Republican vote.
The Associated Press contributed to this report.
Be the first to know
Get local news delivered to your inbox!