ETTRICK — She's an Easter calf, born on the afternoon of a cold wind-whipped day.
I kept an eye on the little Scottish Highlander heifer, who was walking and following her mother. She appeared to be nursing and doing OK.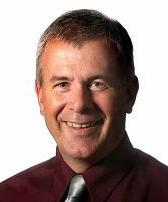 But an early-spring storm of rain and snow descended — the perfect scenario for hypothermia with young calves. The first 48 hours are a critical time for calves because they need to be nursing enough to overcome their low blood sugar and because of the lack of a functioning rumen to generate heat.
I became concerned the morning of the storm when the cow decided to cross the creek. A newborn calf dipped into nearly freezing water is not what you want, but she managed to negotiate the crossing and dutifully followed her mother. I watched the calf walk on wobbly legs through the snow and had a sinking feeling.
Springtime on the farm is the traditional time of birthing. The gestation period for a Highland cow is about nine months, so the cow was likely bred in July. The period is only five months for Scottish Blackface sheep, which we've had born as early as February.
In a normal year, birthing in April is ideal, but seldom does normality reign in farming. The past week, along with 8 inches of snow, we had temperatures dipping below zero and daytime highs 20 degrees below normal. There were record-setting low-temperature weeks across many areas of west-central Wisconsin.
My wife, Sherry, and I keep vigil on our herd and flock, checking them every few hours. It's disrupting to normal sleep rhythms to rise in the middle of the night, but I figure it's like an extended bathroom break that would happen anyway. But going back to sleep sometimes takes a while.
I found trouble at 1 a.m. April 4 when I checked the cows. The calf was lying on some hay, covered in ice. She was unable to stand, even with her mother tending her. I checked her mouth and found it was still warm, but clearly hypothermia was setting in.
I kept an eye on momma to ensure she didn't become too upset and gathered up the calf. In the house she came. We laid her on some rugs and covered her with a heating pad and another rug. I checked her temperature, and she was about 98 degrees, only a few degrees below normal for a calf but still cold. And she had no interest in eating.
It was a much better scenario than the calf born a few weeks earlier whose body temperature was in the 80-degree range. That's when organs start shutting down.
We warmed the new calf for a few hours, and I fed her milk with an esophageal feeder. Later that night we gave her another tube feeding and she started to stand. She spent the night in the house. The next day I took her to a stall in the barn and put her under a heat lamp. She's now happily drinking milk from a bottle.
If temperatures were warmer, I would have tried to reunite the calf with her mother; that would be the best scenario. But encouraging a cow to accept her calf after a few days' absence is not an exact science; we would risk a recurrence of hypothermia.
So it looks like we have ourselves a bottle baby — a cute one at that. We need to think of a name. Perhaps we'll name her Blizzard, Flurry or Squall.
Meanwhile back on the other part of the ranch our first lamb was born the same day we rescued the calf. We weren't sure whether the first-time mother was allowing the lamb to nurse, so Sherry held the ewe by her horns — they come in handy for that — while I hand-milked a few ounces of colostrum. We put that into a bottle and the ram happily drank it down.
We always hold mothers and lambs in a smaller pen for a few days to ensure there is proper bonding and care. The ewe settled down and allowed her lamb to nurse.
Then came the arrival of single-digit temperatures and twin ewe lambs. We put the trio in a pen with a heat lamp, and the little girls quickly started to nurse. Additional tarps were put up on the sides of the shed to keep out the wind.
We're still only about halfway through the woods. More snow was on the way with three more ewes ready to deliver at any moment. There are at least a couple of cows that look very pregnant — although it's difficult to tell sometimes with those hairy beasts.
But we can see the edge of the tree line.
It's time to turn the vernal corner.
Visit youtube.com and search for 9Y_9yAKhe_Y to see a video of the Scottish Highland calf.