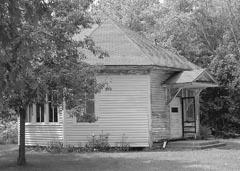 In July, Kathy Ruggles and John Thomas purchased the one-room Downsville School building from neighbors. Their intention is to move the building to the five acres on the southeast edge of the village where they have lived for the past 15 years.
After the move, the couple will attempt to restore the old schoolhouse to "as built" status — although concessions to indoor plumbing may be a possibility.
Believed to have been built in 1887, the structure shared, for a time, a schoolyard with a two-story school that housed grades three through 12.
The only known octagonal school building in Wisconsin and most likely in the Midwest, the historic significance of the schoolhouse is considerable, not only for the residents of Downsville and the citizens of Dunn County, but for the entire state of Wisconsin.
The couple point out that Dunn County boasts a fine historical society, with both a "wonderful museum in Menomonie" and the recently refurbished museum of logging and stone quarrying in Downsville.
Once moved, and after renovation, Thomas and Ruggles feel that the school will be a fabulous addition to the historic buildings of Wisconsin.
They acknowledge that the project is a large one and that many types of assistance, from building skills to financial help, will no doubt be welcomed.
Those interested in participating in the renovation project, or who want more information, can contact Thomas or Ruggles at (715) 664-8368.
Be the first to know
Get local news delivered to your inbox!