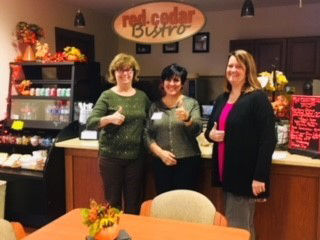 Aging and Disability Resource Center, Neighbors
of Dunn County partner for nutrition program
Both the Aging and Disability Resource Center (ADRC) and Neighbors of Dunn County nursing home facility will be will joining forces to prepare and distribute meals for the ADRC's 60+ Nutrition program. This county partnership will help strengthen the community by sharing resources and forging bonds, ultimately leading to improved quality of food, better service, and greater numbers of people served.
Marcia Below, Certified Dietary Manager for Neighbors, notes that working together with the ADRC will also pave the way for future collaboration. The Neighbors of Dunn County has always had a reputation for providing tasty, high-quality, meals to its residents while following food safety standards and using fresh, from-scratch cooking sourced from local, seasonal products wherever possible.
The Neighbors will begin cooking for the meals on wheels and senior dining programs beginning Feb. 5. The ADRC and Neighbors of Dunn County hope the partnership will serve all participants and use tax dollars in a fiscally responsibility manner.
Be the first to know
Get local news delivered to your inbox!