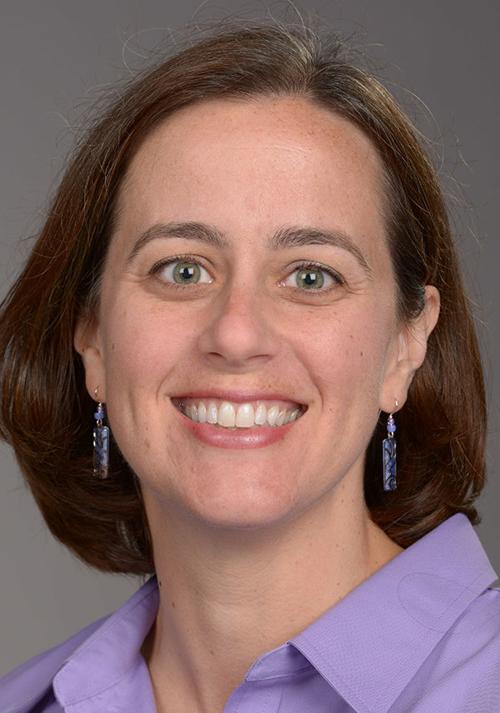 Dr. Alexandra Hall never really planned to work at a university.
Growing up, she was very involved in dance and musical theater, which took her to New York University for her undergrad degree.
While there, however, Hall fell in love with science and changed her major to science education.
After graduation and a year of teaching high school in East Harlem, she wanted even more in-depth involvement with the sciences and so went on to earn her M.D. at Mount Sinai School of Medicine, followed by a residency in family practice at the University of Vermont.
After a few years of general practice, Hall missed the educational setting and joined the staff at Cornell University's student health center for many years.
It still wasn't quite enough, and so about seven years ago, she jumped at the opportunity to come to Menomonie and teach in the biology department at Stout. And she couldn't be happier that she did.
Hall loves teaching; it provides the perfect opportunity to "nerd out" about science while also putting on a performance.
She enjoys thinking deeply about biology concepts and how best to convey them to students, whether that be using popsicle-stick chromosomes and Velcro-ed on genes to teach meiosis, throwing on an ovary cape to demonstrate how the female gonads secrete hormones or designing drawing and sculpting assignments to facilitate in-depth mastery of human anatomy.
Teaching everything from the general education course Human Sexual Biology to the major's course Physiology and Anatomy to the advanced Cadaver Dissection class, Hall relishes working with students from lots of different backgrounds and with a variety of goals and aspirations.
You have free articles remaining.
She also considers herself extremely fortunate in her colleagues in the biology department, who are smart, talented, supportive and dedicated to being the best teachers they can be.
In addition to teaching, Hall also maintains a clinical practice, working about one day per week at Student Health Services, where she keeps her primary care skills current.
She also provides transgender medical care, a service that she has been proud to bring to Stout, one of the first UW campuses to offer such care.
Starting this year, Hall also serves as the Pre-Health Advisor here on campus, providing guidance and resources for those students interested in pursuing future careers in the health professions.
She's excited to bring her personal experience as well as past work on Cornell's Health Careers Executive Board to this role.
Off-campus, Hall has given community presentations on topics such as "What does transgender mean?" and "The Biology of Sex," for various groups, and loves to help out with local theatrical productions when she can.
She and her spouse have a 13-year-old son who sings, acts, and plays cello; keeping track of his activities keeps everyone in the family busy.
After living in many different cities across the country, from New York to Burlington to Ithaca, Hall is thrilled that, with its lively theater and music scene, friendly vibe, vibrant downtown, and great quality of life, Menomonie is her favorite place to live, hands down.
Hall's passions for science and theater have led her full circle to her position at Stout and what she considers to be the "best job in the world."
Her students and her patients greatly appreciate her enthusiasm and expertise, and we appreciate having her as a member of the UW-Stout community.
Patrick Guilfoile, Ph.D. is the provost and vice chancellor for Academic and Student Affairs at University of Wisconsin-Stout.