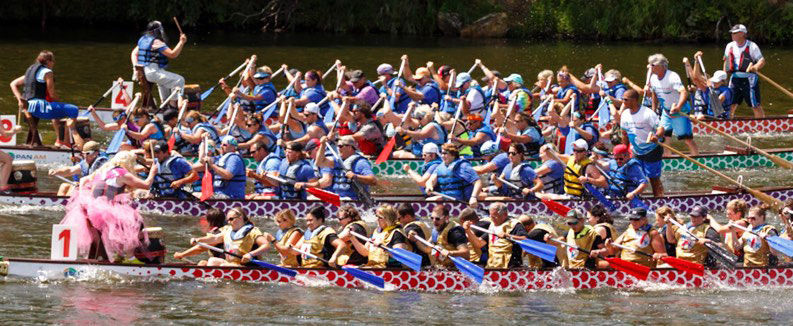 When 52 teams paddled the waters of Half Moon Lake in Eau Claire on Aug. 6, they did so for a purpose. More than $212,000 was raised to support hospice services at Mayo Clinic Health System's second annual Half Moon Dragon Boat Festival.
"This year's event for hospice was a tremendous success," says John Dickey, chief administrative officer of Mayo Clinic Health System in northwest Wisconsin. "Not only did everyone have a great time, but this event helps bring attention to the vital role that hospice support and end-of-life care brings to families and patients in our community. We're so appreciative of all the teams, community members and volunteers that made this event so successful."
In addition to the dragon boat races, attendees experienced a commemoration ceremony honoring those who have been touched by hospice services. During the ceremony, friends and families released carnations into Half Moon Lake to celebrate the lives of their loved ones.
During the races, more than 1,100 team members found that teamwork powered the long, sleek dragon boats adorned with delicate, ornate heads and tails. Teams paddled in sync over the 250-meter course to make the best time. Race winners were:
ECA Smooth Sailors (tied)
2-Cardinal Fighting Gondolas
Three teams also received spirit awards:
Best dressed drummer: Return of the Denti, May the Floss Be With You – Menomonie Street Dental
Most decorated tent: Paddles of Fury – Mayo Clinic Health System Cancer Center
Spirit: Gyno-Might – Mayo Clinic Health System Obstetrics & Gynecology