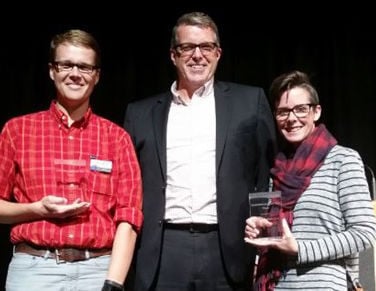 Two University of Wisconsin-Stout faculty recently received Discovery Center Collaborator of the Year awards acknowledging their work to promote beneficial partnerships between the university and regional industry.
Devin Berg, UW-Stout associate professor of mechanical engineering; and Jennifer Astwood, UW-Stout associate professor of industrial design, were presented their awards at the university's Manufacturing Advantage Conference & Technology Showcase this fall -- the first recipients of the award.
Eeal-world engineering projects facilitated by Berg and his students includw initial mechanical design of a mobility Freedom Scooter for a prospective developer, and establishment of UW-Stout's Chapter of Engineers Without Borders USA.
Astwood consistently fosters professionalism in her industrial design students which, in turn, provides them with portfolio opportunities critical to landing a job in that field. Her students have demonstrated their professionalism and design skills working with companies throughout the state.