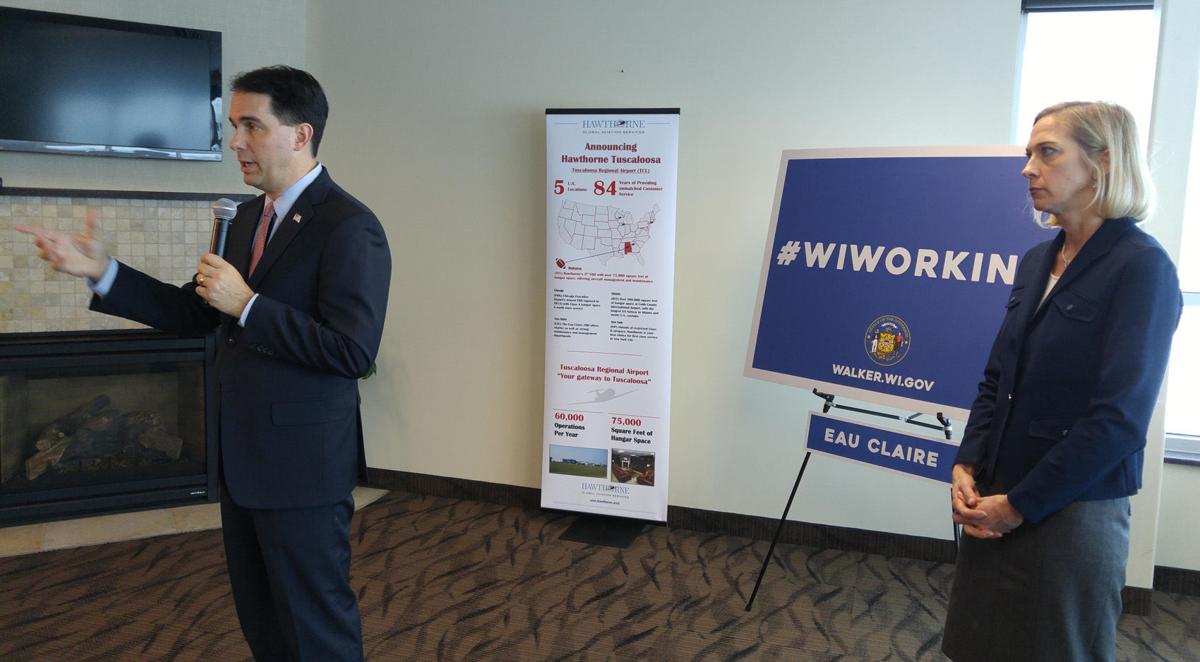 EAU CLAIRE — Universities around the state will get additional money to reduce tuition for in-state students, but they will have to show they earned it, Wisconsin Gov. Scott Walker said Wednesday in Eau Claire.
Walker stopped at Hawthorne Global Aviation as a part of a four-city tour the day after delivering his State of the State address.
The governor said the additional funds will be tied to performance requirements, making sure the students who graduate find jobs, and find them in Wisconsin.
He said the University of Wisconsin-Stout in Menomonie had done exceptionally well in doing exactly that, placing 97 percent of their graduates with employers.
"We don't want to just give a blank check," Walker said of the state money he will propose for universities in his budget address next month.
Bits and pieces of the education initiative have been used in other states, Walker said. But he added: "We hope to be a model ourselves."
In the State of the State address, Walker promised to help small school districts, including those the size of the New Auburn and Lake Holcombe districts, which have lost a significant amount of state revenue in recent years.
Walker said those and other small districts need help paying for transportation, broadband access and dealing with declining enrollment.
"We're going to help and address additional aid," Walker said, without being specific on how he plans to do that.
Walker stuck by a pledge he made not to raise state gasoline taxes and vehicle registration fees without cutting taxes elsewhere.
He said local governments under his budget will see an increase in state funding in transportation that they haven't seen in 15 to 20 years.
"In return, we're not going to take on big projects in the Milwaukee area," he said.
Installing toll roads has been brought up as a way to pay to fix state roads, but Walker dismissed that in the short term because of the clearance the state would need from the federal government to have toll roads.
"There's no way a tolling option would have an impact in the next two years," he said.
Walker also spoke at stops in La Crosse, Green Bay and Milwaukee.
While in La Crosse, Walker said he would ask lawmakers to add $35.5 million to expand broadband access in the state. That would bring the total amount the state spends on broadband access grants to $52 million.
The program funds grants around the state and works with local governments and telecommunication agencies to expand infrastructure so rural areas have access to high-speed internet. Walker called the proposal a giant step forward in building the state's infrastructure and compared it with how rural electrification helped improve the standard of living and economy for those living in the country.
"Electricity changed how farmers do business," he said.
Public Service Commissioner Ellen Nowak joined Walker in Eau Claire and La Crosse Wednesday morning and said her agency had already helped 20,000 people and 600 businesses across the state gain access to the internet since the grant programs started in 2013. The additional money will help increase the number of projects the organization can support.
"It is a huge step forward," she said. "We continue to hear the need out there."