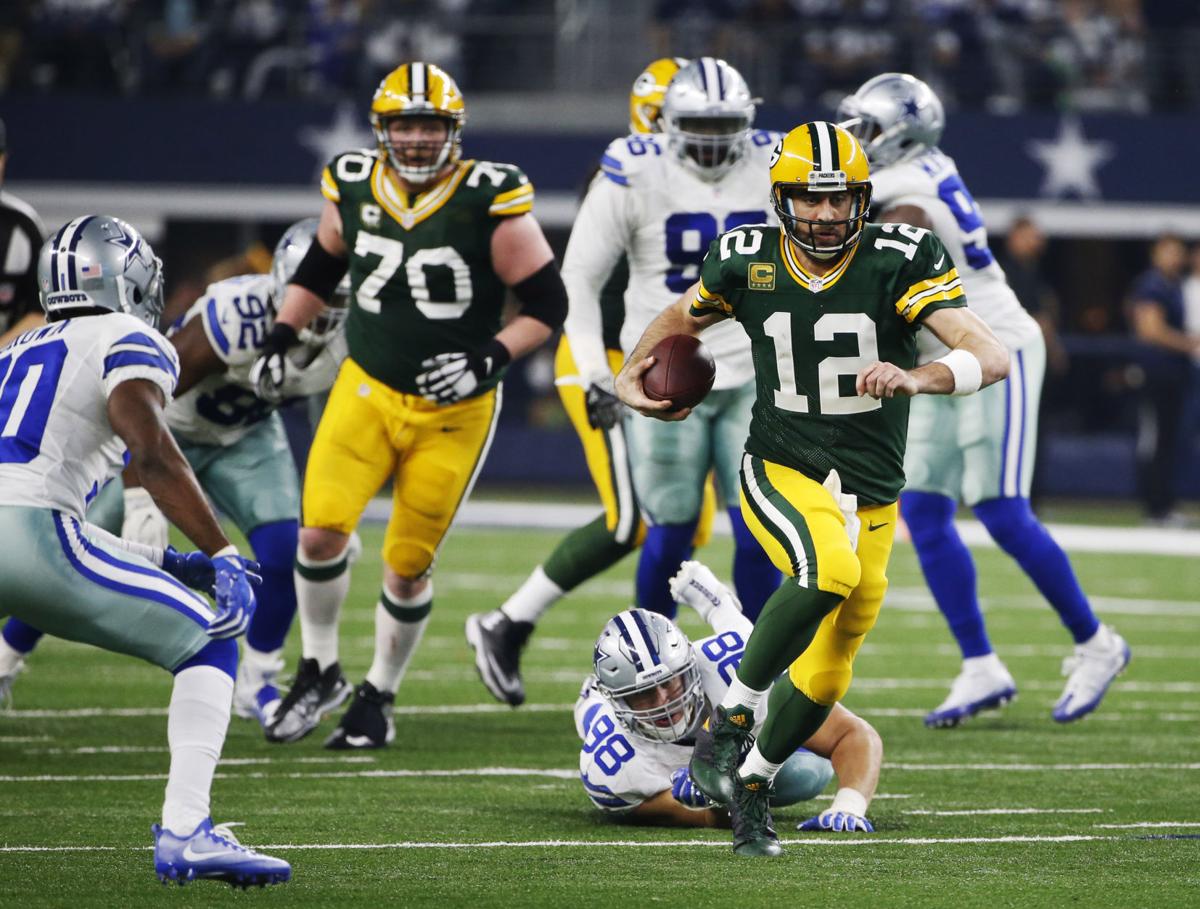 ARLINGTON, Texas — You've blown an 18-point lead on the road against the top-seeded team in the NFC playoffs, your short-handed defense is on its last legs, you have the ball on your own 32-yard line and there's 18 seconds to play in a tie game.
You think the Green Bay Packers were worried?
Their fans, buoyed by Green Bay's seven consecutive victories, might have squirming in bars and living rooms across Wisconsin, but the Packers? With the game hanging in the balance, they were as cool as could be.
After all, they had Aaron Rodgers and the Dallas Cowboys didn't.
"Honestly," wide receiver Davante Adams began, "I was thinking, just what are we going to do? How is this going to unfold to where we win? Because having a guy like Aaron, this offense is getting to a point where as long as we have time and downs, I'm completely confident that we're going to be able to make a play."
Which is exactly what the Packers and their red-hot quarterback did. Facing third-and-20 after a sack, Rodgers peeled out of the pocket to his left and, at the last possible second, zipped a 36-yard strike to tight end Jared Cook, whose toes-down catch at the sideline with 3 seconds left set up a 51-yard Mason Crosby field goal and a stunning 34-31 upset of the Cowboys.
Stunning to everyone but the Packers, that is. They figured they had the edge in playoff experience over the Cowboys and they had been playing meaningful games while the Cowboys coasted down the stretch. Still, given Green Bay's agonizingly close playoff losses almost every season since they won the Super Bowl in 2010, another dose of playoff heartbreak seemed like a distinct possibility.
This time, Rodgers refused to let that happen. Playing without No. 1 wide receiver Jordy Nelson, who missed the game with broken ribs, Rodgers passed the Packers to a 21-3 lead and drove them for game-tying field goals twice inside the final 2 minutes, bailing them out time and again against a very good Cowboys team.
"That was pretty much the normal stuff that he does every week," outside linebacker Julius Peppers said. "So no surprise there."
That's how good Rodgers has been during a Packers winning streak that now stands at eight games. People just expect him to do whatever is needed.
When the Packers were 4-6, Rodgers told the world they could "run the table" to reach 10-6 and make the playoffs. Now they've gone two games beyond that and are one game — against the second-seeded Atlanta Falcons Sunday at Atlanta — from going back to the Super Bowl for the first time since the 2010 season.
There is no secret to how the Packers are doing it. They've scored 30 or more points six games in a row and their defense is making just enough plays to win. There is nothing mystical about their winning streak, though.
"We don't believe in luck and destiny and all that nonsense," Peppers said. "We create our own destiny by just going out and trying to do our job as best we can."
When it was suggested to Peppers that it is easier to create your own destiny with Rodgers at quarterback, he couldn't disagree.
"It's a great feeling to have that guy on your team," said Peppers, a 15-year NFL veteran in his third season with Green Bay. "There hasn't been one time that I've been a part of this team that I went out on the field and didn't think I had a chance to win. ... We feel like we're going to win every game with him behind the center."
That's funny, Rodgers feels the same way. He staged a quarterbacking clinic for much of the game Sunday, in part because he had to.
With the rookie tandem of quarterback Dak Prescott and running back Ezekiel Elliott, physical wide receiver Dez Bryant and the NFL's best offensive line, the Cowboys can put up points in a hurry. When the Packers lost safety Morgan Burnett to a quad injury on the Cowboys' opening drive, they knew they would have to do the same.
Except for one interception, his first in 318 pass attempts, Rodgers executed a masterful game plan by coach Mike McCarthy to perfection. In Nelson's absence, he spread the ball all over the field, hitting wide receivers, tight ends and even running back Ty Montgomery with short passes that moved the chains and kept Dallas' offense off the field. He drove the Packers for Crosby's 56-yard field goal that gave Green Bay a 31-28 lead with 1:33 to play, then drove the Packers for the game-winner as time ran out.
Pressure? Not an issue for Rodgers, who has taken his game — and his leadership — to new levels this season.
"I love that part," he said. "I love the challenge. I love the opportunity to go out there and make plays. Now, I'm disappointed. We had a chance there, (at) 28-13, to go up three scores and make it really difficult for them and I threw a pick on third down. We were able to come back and have two good drives at the end of the game and put ourselves in a position to win."
The outside world might marvel at that, but not the Packers. Nothing Rodgers does surprises them anymore.
"The guy is playing unbelievable football right now," tackle Bryan Bulaga said. "That last throw says it all."
Tom Oates is a sports columnist for the Wisconsin State Journal.
Be the first to know
Get local news delivered to your inbox!