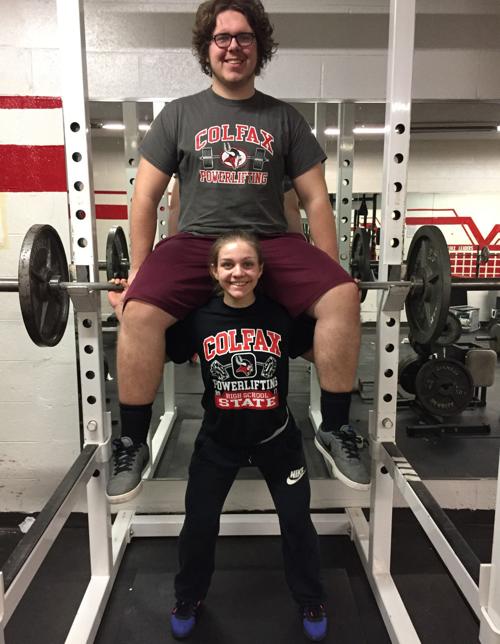 There are some mighty strong Viking athletes coming out of Colfax High School.
Two of those athletes have power-lifted their way to a trip to nationals after qualifying during the state meet held on March 11 and 12.
Junior Spencer Herrick not only qualified for nationals, he set two personal records with a bench of 237 pounds and a 601 pound dead lift. He also executed a 468 lb squat.
Junior Mikaela Leibfried wowed spectators after setting a new state record in the 114 pound weight class after executing a 320 pound dead lift. She also completed a 341 lb squat and benched 170.9 lbs.
"Mikaela had an amazing performance, our coaches could not be more proud," head coach Matt DeMoe said. "She got second place, and it came down to the last lift for the championship."
Along with breaking the bench press record, Leibfried also took third in the WILKS total, effectively became the third best lifter of all the girls in every weight class in the equipped division. (WILKS total is the total weight lifted divided by body weight).
"It was an outstanding accomplishment," DeMoe stated.
In addition to the two lifters going to nationals, two athletes set personal records during their lifts at the state meet.
Jezz Tweed, 105 lbs, set a personal record for her dead lift of 220 lbs. She went on to finish second in her weight class after squatting 153 lbs and benching 83 lbs. She completed eight of her nine total lifts.
Makayla Mattson, 198 lbs, set not one, but two personal records at state with a 143 pound bench and 303 pound deadlift. She also executed a 215 lb squat.
"It was a great day for Makayla," DeMoe said. "Her confidence at state meets is amazing. Two years in a row she has had personal records at state on the biggest stage for powerlifting. We are very proud."
Becca Lee, 148 lbs, had a strong performance at her first state meet but missed qualifying for nationals on her last lift. She squatted 270 lbs, benched 100 lbs and dead-lifted 303 lbs.
Freshman Alexis Snider, 132 lbs executed a 160 pound squat, benched 88 pounds and had a dead-lift of 226 pounds.
Austin Dressel, 165 lbs, finished with a 413 lb squat, 226 lb bench and 425 lb dead lift.
"Austin missed his last important squat to put him in a position for nationals, though he missed his mark, but he still has a great powerlifting career with two state appearances," DeMoe said.
Hailey Durand- Christianson, 198 lbs, finished third in her first year of powerlifting with a 270 lb squat, 132 lb bench and 303 lb dead lift.
The national competition will be held Tuesday, March 28 through Sunday, April 2 in Scranton, PA.
Get in the game with our Prep Sports Newsletter
Sent weekly directly to your inbox!