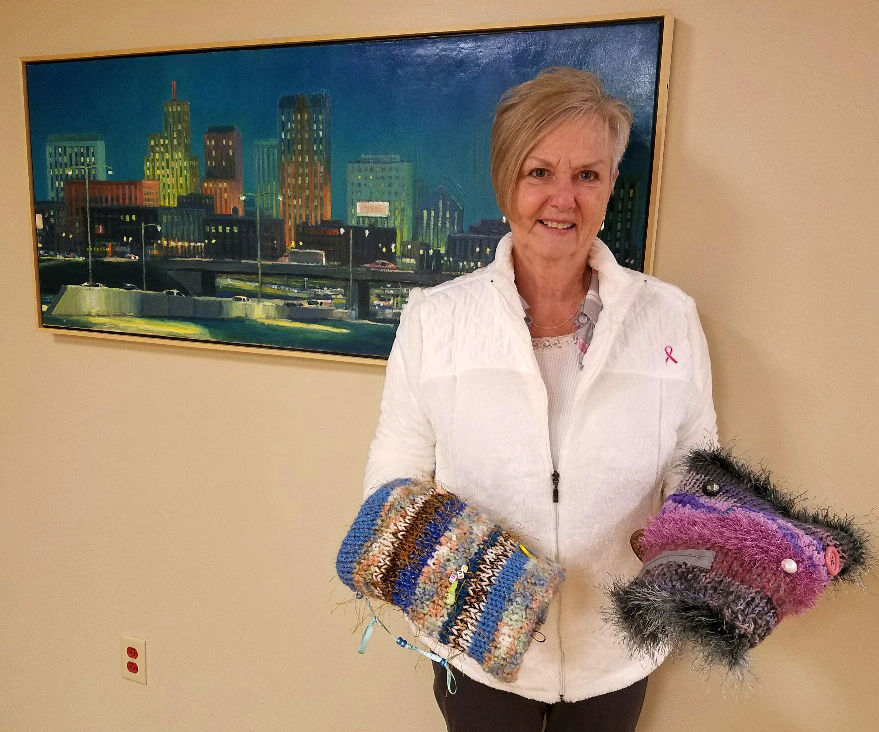 Hospice patients at Mayo Clinic Health System will receive a special gift this year made by volunteers from Hope Lutheran Church in Eau Claire. The volunteers are knitting twiddle muffs, which are knitted or crocheted colorful bands made from yarn that have objects attached to them for patients to twiddle and keep their hands busy.
Pat Soderlund, a member of Hope Lutheran Church and a volunteer for Home Health & Hospice at Mayo Clinic Health System in Eau Claire, says twiddle muffs consist of various patterns, yarns and stitches, and take six to eight hours to complete. She says twiddle muffs can be especially therapeutic for hospice care patients and those with dementia.
"My mother-in-law had dementia and always had to have something in her hand," Soderlund says. "In her case, she liked to hold a tissue or piece of paper towel, which she would twist and shred. When I read about the muffs, I thought they were the ideal solution."
Soderlund says that every twiddle muff is unique and made with care.
"The attachments can be anything with texture and shapes — buttons, small bells, ribbon, pompoms and zippers," says Soderlund. "Oftentimes, it takes longer to embellish the muffs than it takes to knit them."
Soderlund has served as a hospice volunteer for more than 20 years. She says one of the knitting group's favorite parts about making the twiddle muffs is thinking of the satisfaction the recipients will experience.
"A simple gift to calm the confused mind of a dementia patient is a rewarding benefit to our project," she says. "The muffs have been an especially fun and creative experience for us."
Like Soderlund, you, too, can volunteer at Mayo Clinic Health System in Home Health & Hospice. Volunteers are a vital part of the hospice team. They bring a personal touch to patients and families facing life-limiting illness. When you become a volunteer, you will belong to a health care team that includes physicians, nurses, social workers, chaplains, therapists and counselors. Your dedicated and caring presence will help brighten a patient's day and make a difference in their life.
You must be 18 or older to volunteer in hospice or 14 or older to volunteer in other Mayo Clinic Health System areas. All ability levels are welcome.