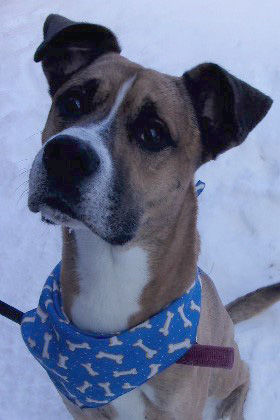 Hello, friends! I'm Krypto, an incredibly goofy, absolutely adorably endearing mixed breed. I arrived as a stray in early January, and am estimated to be about 2 years old. I am smart, eager to learn ... and also easily distracted and excitable.
Anyone looking for an active, fun-loving, friendly dog would be so lucky to have me as a companion. If you have another friendly dog in your family already, I would likely enjoy having them as my new sibling. I would also enjoy human siblings who are big enough to handle my occasional, unintentional body-slam. I may even be able to co-exisit with a cat as long as they don't mind a playful paw in their face from time to time.
A short video segment spotlighting the pet of the week may be found at www.dunncountyhumanesociety.org. Located at 302 Brickyard Road in Menomonie, the Dunn County Humane Society is open Tuesday, Thursday, Friday, Saturday and Sunday from 1 p.m.-6 p.m. The shelter is closed Monday, Wednesday and major holidays.
Be the first to know
Get local news delivered to your inbox!