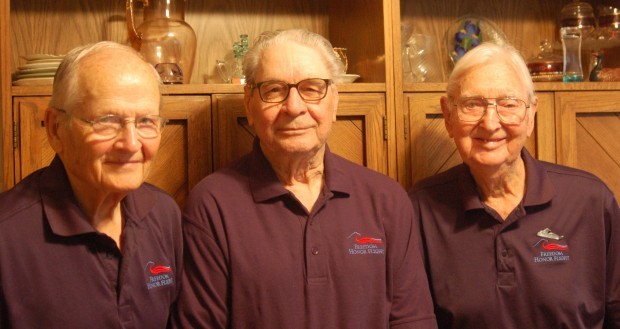 Soaring on a Sun Country 737 jet, three local WWII veterans left La Crosse on Sept. 22 on a Freedom Honor Flight. Retired UW-Stout teachers, friends and colleagues for many years, and all part of the original Pounding Fathers construction group, Lee Smalley, 86, Harold Halfin, 89, and Ted Wiehe, 93, all of Menomonie, departed for Washington, D.C. Passengers included 97 veterans from Wisconsin and Minnesota (54 WWII vets and 43 Korean War vets), 50 guardians (one for each group of three), two doctors and four nurses. They  left La Crosse and landed at 11 a.m., about 45 minutes after takeoff, and they were back in La Crosse by 7 p.m.
Harold said he probably wouldn't have gone if it hadn't been for his daughter, Janet Quarderer of Eau Claire, reading about it in the paper. And coincidentally, Ted's daughter, Ann Gasner, who lives in Madison, had already made an application for Ted to take an honor flight from Madison.
Accustomed to meeting regularly for coffee, the trio conferred with each other and decided to go together and take the flight from La Crosse because it was closer. Janet took care of the paperwork, also applying to be a guardian, in June. Just weeks later, they were all accepted.
"WWII veterans were given preference,  because they are dying off so rapidly," said Harold.
Orientation was held a month before the flight.  Janet drove the men to and from La Crosse for all the trips, and they stayed together as a group on the flight and on the tour.
Wearing polo shirts with Honor Flight insignias, they were also issued instant cameras to record memories of the day.
Breakfast, lunch, snacks and dinner were all provided. Lee said they ate six times and everything was served hot.
Ted said, "We were fed every two or three hours, so we didn't lack for food."
With all the attention to detail, the fellows said they lacked for nothing.
"I've never been so well taken care of in all my life," said Harold, "except for family."
Accompanied by "marvelous guardians," including Janet, Lee said, "They kept us organized."
The veterans were told not to bring money to pay for anything, except for souvenirs, since all expenses were taken care of, courtesy of donations, including the $500 fee paid by each guardian.
Upon landing at Washington Dulles International Airport in Virginia, but before boarding buses to go to Washington, D.C., they had a welcome like they've never had before in their lives.
A path of volunteers met the flight with plaquards and balloons, as they shook hands with everyone, saying "Thank you for your service."
"We were treated like real heroes," said Ted.
Ted was a Navy Lt., 1943-46, and a landing ship Skipper at the last landing of his ship in the South Pacific. He cleaned up left over machinery to use for  steel. He went from Guam to Tokyo Bay at the time McArthur signed peace treaty.
Originally from Oklahoma, Ted came to Menomonie in 1954 and taught at Stout until 1981.
"Sixty-seven years later, we got a welcome home," said Lee, "but it's not a complaint."
Lee had been a Navy Seaman, 1944-46, and worked in the post office and mess hall on Guam, with temporary duty in Japan after the surrender.
Hailing from Iowa, Lee began teaching at UW-Stout in 1965 and retired in 1992.
Harold said, "I was impressed with the number of people who greeted us (about 200), all saying thank you for your service."
Harold was in the Army, 1943-46, as a Quartermaster, a laundry foreman, and he recalled the 16 tractors to pull the laundry units in Germany on the Rhine River, and doing laundry for soldiers who crossed the bridge. He spent time in Belgium during the last days of the war. On the last day, he was in Liage, where Germans waved and celebrating was rife. "You got kissed from 6 to 60,"  he said.
Harold, from Pennsylvania, did his graduate study at Stout in 1953-54, then joined the faculty in 1956 and retired in 1986.
Four buses met the plane passengers to begin their tour of the war memorials. Harold said their bus got a special police escort and road signs were ignored for the day during the motorcade, which began with a 40-minute ride to the World War II Memorial.
"They never stopped at signs; they ran red lights and stopped  traffic," he said.
The bus tour of Washington D.C., passed by the White House, the Capitol, the Thomas Jefferson Memorial, the Washington Monument and the J. Edgar Hoover building (FBI headquarters).
Arriving at the war memorial sites, many of the vets, like Ted, needed or requested wheelchairs, which were provided.
You have free articles remaining.
"I was lucky enough to have a muscular guardian, and he preferred to push me in a wheelchair," said Ted.
In addition to the WWII Memorial, the veterans toured the National Air Force Memorial, Arlington Cemetery (for the changing of the guard), the Korean War Memorial (Iwo Jima) and the Vietnam War Memorial.
For Harold, the highlight was the people who greeted them during send-off and welcome home.
"Everywhere we went they said, 'Thank you for your service.' I couldn't believe it," he said.
For Ted, it was a privilege to talk to the group of elementary/middle school children who asked them to "tell us more stories" at one of the memorials. "They were all ears," he said.
Lee said he liked the war memorials that emphasized the "boots on the ground" fighting military personnel. "That was very impressive to me," he said.
Ted appreciated the World War II Memorial, all three to four acres, with its pillars for every state and two sides, one for European and one for South Pacific. The Washington Monument and the Lincoln Memorial can both be seen from the site, he said.
By chance, Harold saw another Menomonie veteran's nametag during a group photo shoot. Irene Schroder, an Army Nurse from Menomonie, had also flown on the Honor Flight.
Ted said, "We were treated like royalty."
Harold said, "It was just an excellent day; and when I got home, I wasn't tired."
They were all grateful for the trip that was not paid for by taxpayers, but by donations made by businesses, individuals and organizations, including the VFW in Tomah that sponsored their trip.
"We didn't go deeper into debt to fly us out to Washington and back," said Lee.
Lee said the flight was well organized. He noted that 33 states have the Freedom Honor Flight. And Pennsylvania and New York groups were there the same day, but not all had the patrols and police escort like they did.
Back in La Crosse, a welcome home reception included fireworks, a performance by the UW-La Crosse marching band and "a hangar full of people" — about 800, including family members.
"That was a show," said Ted.
Lee's son, Dennis, and his wife, Joyce, were there to greet them. Ted's other daughter, Lynn Pepper, who lives in Colorado,  could not attend. But Lee's daughter, Laura Reisinger,  and her husband, Rob, along with Harold's wife, Ruby, Ted's wife, Rod, and Lee's wife, Helen, remained at home awaiting the veterans' return eager to hear about the trip.
All veterans received a photo and DVD to commemorate the experience. And as part of the package, the Freedom Honor Flight included a reunion a month later (Oct. 27) of all the participants in La Crosse; and when more of the family members could attend.
Lee, Harold and Ted all said they feel honored to be recognized for their service and sacrifice, and to have had the opportunity for camaraderie and to share memories.
They all agreed that if they had it do over again, they wouldn't hesitate.
Harold summed it up saying, "It was great."
About Freedom Honor Flight
The Freedom Honor Flight was founded in 2008 in La Crosse for the purpose of flying World War II, Korean and Vietnam war veterans to Washington, D.C., for a visit to war memorials for the country's armed forces and have a day of honor.
Trained guardians, medical staff and Freedom Honor Flight volunteers accompany veterans on the chartered flight that lands at Washington Dulles International Airport in Virginia.
Since its inception, 10 flights with about 900 veterans each, have included veterans from Wisconsin, Iowa and Minnesota.
No government funding pays for the trip; donations make it happen. To contribute online, visit freedomhonorflight.org or mail a check payable to Freedom Honor Flight to: Freedom Honor flight, P.O. Box 505, La Crosse, WI 54602-0505.
Bill Hoel is president of the all-volunteer Freedom Honor Flight. For more info, call 608-784-1015.
Applications are accepted on a first-come, first-served basis.
Priority is given to senior veterans from World War II, especially  those who are terminally ill. It is estimated that the nation loses World War II vets on average of 1,000 per day.
Be the first to know
Get local news delivered to your inbox!