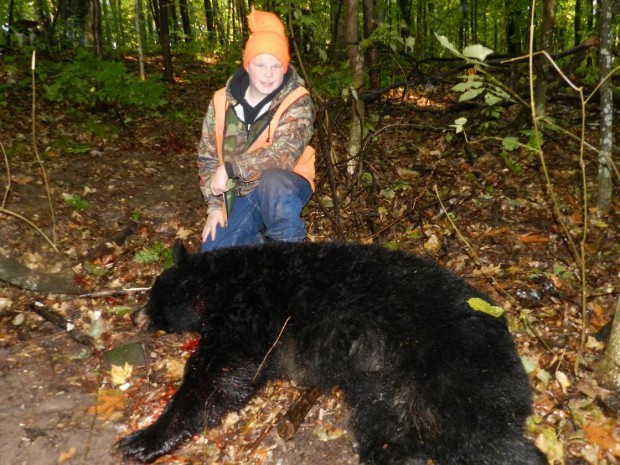 Brandon Baldwin, 14, son of Rhonda and Clark Baldwin of Menomonie, recently shot a bear — which in and of itself is pretty impressive.  But the odds that it happened at all were stacked against him because Brandon was born legally blind due to centrally detached retinas.   
Brandon has enough vision to get around and participates in the regular classroom at Menomonie Middle School.  But as the youngest of three teenage brothers,  he has always wanted to keep up with them and the family who loves to fish and hunt.  So he attended a hunter's safety course,  just like his brothers before him.
A national nonprofit organization called United Special Sportsman Alliance (USSA) helped maked his hunting dream become a reality. The wish granting charity specializes in sending critically ill and disabled youth and disabled veterans on the outdoor adventure of their dreams. 
Brandon's early  morning bear hunt took place on Sept. 22 in Stone Lake with the help of volunteer hunters and dogs, and his whole family.
Brandon's bear tag was donated to USSA by Mark Kieler, a farmer from Darlington, too busy in the fields to hunt. The bear hunters who volunteered  their help with the hunt were Brent Evitch, George Hrdlicka and Mike Paul from around the Birchwood area.
Brandon was given a description of what the dogs were doing by watching a remote that the hunters had that corresponded with a GPS tracking system that was hooked up to the collars of the dogs.  By looking at the remote, the hunters could tell when the dogs had treed a bear.  
After a bear was treed, Brandon was led into the area by his family only to find out that the bear had climbed higher up in the tree. Then, aided by his father and a change in position,  and after firing a couple of shots, Brandon shot his bear.
USSA CEO and founder Brigid O'Donoghue, a Pittsville resident, helps others have a chance to live out a dream. Through the USSA website, www.childswish.com, she gets in touch with hunters who want to donate their licenses to a critically ill or disabled youth or disabled veterans. She also communicates with hunters who are willing to volunteer to take the youth or veterans out on a hunting expedition. The organization offers various hunting and fishing expeditions in the United States.