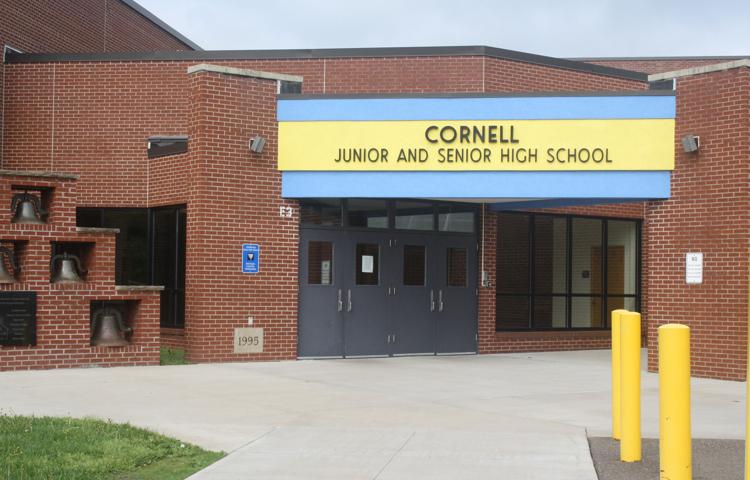 A gender discrimination lawsuit filed by teacher Caroline Hickethier against the School District of Cornell will be heard in Eau Claire County court on Monday, Oct. 29, 2018, according to a filing Tuesday.
Hickethier filed the lawsuit June 29 in the Western District branch of Federal Court in Madison. She teaches English in grades 6-12 and has taught 29 years at either the Cornell Middle or High School.
"We don't feel we are liable for anything," Cornell Superintendent Paul Schley said Wednesday.
In the lawsuit, Hickethier claims she is receiving "compensation significantly less than male teachers of comparable seniority despite the fact that (Hickethier) performs equal works in teaching positions that require equal skill, effort and responsibility and which are performed under equal working conditions."
In a filing on Aug. 2, the district denies that allegation and several others made by Hickethier. The district maintains Hickethier's claims may be barred by the statute of limitations; that Hickethier's suit failed to state a claim where there claim can be awarded; and that she doesn't perform "equal work" when compared with two male teachers cited as examples in the lawsuit.
"(Hickethier) does not have the same licensure/certification and is not required to perform the same (job) as the (two male teachers) she identifies," the district said.
According to the lawsuit and the reply from the school district:
Hickethier, heading into her 30rd year in the district, has an undergraduate degree in English and a Master's degree in education, along with 27 graduate credits in her teaching area.
Degree-related advantages are counted in teacher compensation for those hired before the passage of the 2011 Wisconsin Act. 10.
Teachers qualifying under the "old" system are given consideration for degrees, seniority and credits in decisions regarding their salaries.
For the 2015-16 school year, Hickethier was paid $58,016.15, plus $529 for being an advisor to students.
"In that same year two male teachers, Richard Erickson and Steven Parker, received salaries of $65,587.15 and $67,0000 respectively," the lawsuit says.
Erickson teaches agriculture education and has been with the district for 32 years. He has a bachelor's degree.
The lawsuit said the district increased Erickson's salary by $17,400 because he did not have the district's medical benefit.
"Parker was a new hire in 2015 from an adjacent school district where he had taught for 18 years. He was classified as a 'new' hire, notwithstanding his years in teaching before Act 10. Parker started with a base salary in 2015 of $67,000, which was $8.983.85 higher than (Hickethier) with identical benefits."
For the 2016-2017 school year, Hickethier was paid a $59,000 salary based on part on her seniority, $2,800 for credits and $2,500 for her Masters. But Erickson was paid $67,100 and Parker's salary was raised to $69,000.
The school district said Hickethier was paid $59,000, which she received in addition to taking cash for not taking the district's health insurance.
For the 2017-18 school year, the Cornell School District proposed paying Hickethier the same as the previous school year, even though a supervisor of hers at first proposed giving her a raise to $59,750 if the school board approved.
"This proposed wage increase was withdrawn by (the school district) when (Hickethier) complained of the discrimination against her based on gender. The current proposal is to pay (Hickethier) a salary of $58,800." That's with a base salary of $38,000, $12,000 for her 29 years of seniority, $6,300 for her credits; and $2,500 for her Masters. The total is a decrease of $200 from the previous school year.
Hickethier receives what's called a cash replacement of $16,500 for not participating in the school district's group health insurance plan, but unlike Erickson, that amount is not built into her salary.
The school district, however, says the total compensation Erickson receives is actually less than Hickethier.
"When (Hickethier) complained of discrimination, Schley asked the school board to terminate its long-standing practice of publishing teacher salaries, but the motion to do so remains pending," the lawsuit said.
"The payment of additional compensation to Parker and Erickson is sex discrimination in employment in violation of the Equal Pay Act," the lawsuit said.
The school district replies: "The difference in pay between (Hickethier) and the two (teachers she names) are the result of factors other than (gender)."
Hickethier is asking for double the difference of her salary and that of Parker, and for the court to mandate that the amount she received for opting out of the district's health insurance plan since 2015 be applied as salary until she retires. She is asking for an order prohibiting the school district from retaliating against her because of the lawsuit.
Hickethier is represented by the legal firm of Lommen Abdo of Minneapolis. The school district is represented by the Madison law firm of Axley Brynelson, LLP.