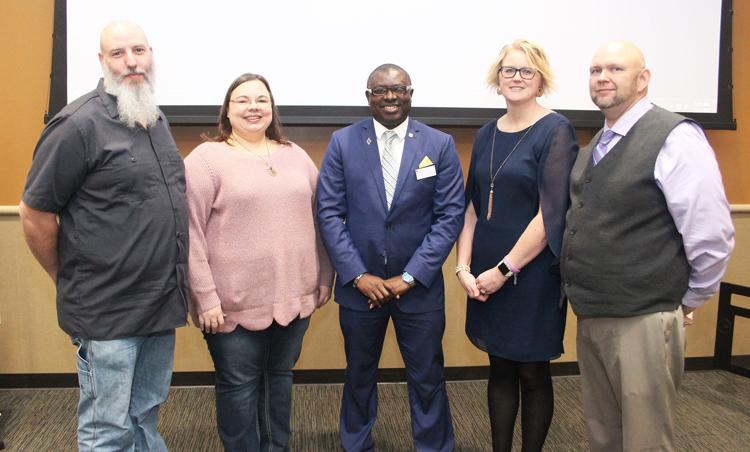 Lance and Jennifer Leisgang of Black River Falls acknowledge they had been fortunate to have good jobs despite their lack of advanced educational backgrounds. But they knew to advance any further, they needed to earn degrees. Meanwhile, Jason and Sharon Kincade of Chippewa Falls had tried for years to get promotions from their employer, and finally met with success as they neared completion of their degrees.
The two couples completed the Organizational Leadership program at Chippewa Valley Technical College and were among 318 graduates in 42 programs honored at the Fall Commencement held Tuesday, Dec. 18, at UW-Eau Claire's Zorn Arena. The largest program was Nursing-Associate Degree with 74 graduates, followed by Business Management with 23 graduates and Truck Driving with 21. In addition, 23 people received HSED or GED high school credentials.
The Leisgangs and Kincades together made up most of the seven-person graduating class in the fully online Organizational Leadership program.
Lance Leisgang is a supervisor of inventory control for Canadian Pacific Railroad, while Jennifer is a category leader in capital assets for Ashley Furniture, so both are involved in keeping track of large inventories of equipment.
"We started going to college because we wanted to be promoted," Lance said. "We wanted to get associate degrees that meant something in our fields, so we looked into Business Management."
However, Lance's territory extends over seven states and he's required to travel a lot. Likewise, Jennifer is responsible for equipment inventories at six Ashley plants spread over every region of the country. They discovered Organizational Leadership fit their needs perfectly. With courses fully online, the Leisgangs could absorb the content and do the work from anywhere. Plus, the program is divided into manageable eight-week sections.
"It fit better into our work schedules and learning about leadership in general was going to be beneficial to us," Lance said. He added that the credits from the program being transferrable to UW-Stout was a factor for them as well.
"We've learned about leadership styles, and how to handle some situations that arise as a leader," Jennifer said. "And as we're retooling our plants, I learned how to better plan and organize and set timelines. This will help me get promoted within the company."
Getting promoted within the company is exactly what was on the minds of Jason and Sharon Kincade, who both work at TTM Technologies in Chippewa Falls.
"We were what they called 'technicians,'" said Sharon, a Holcombe native. "It was more the troubleshooting side of production," Jason added.
"I was trying to get into a supervisory position for about three years," Jason continued. "My supervisor suggested education."
"I was in the position I was in for quite a few years," Sharon said. "Education was the next step on the ladder."
The couple sat down with Jeff Pepper, a Business Management instructor at CVTC. They found the Organizational Leadership program was going to fit into their lives much better.
"We were both working full time in day shift positions," Jason said. "Organizational Leadership offered us the chance to do everything online."
"If we had to come to class, we would have had to take a demotion and move back before we could move forward," Sharon said. "The online classes let us move forward."
Their plan worked. Both Jason and Sharon received recent promotions as they were finishing the program.
The faculty speaker for the ceremony was Steve Gutsch, an instructor in the Heating, Air Conditioning and Refrigeration Technology program for 19 years. He urged the graduates to keep adding to their knowledge.
"How many of you have heard the term, 'Knowledge is power?' " Gutsch asked. "Here at CVTC, the phrase gets changed to 'the application of knowledge is power.' Never stop learning and never stop applying what you learned."
In his commencement speech, Wayne McAtee, manager of the Cardinal FG glass plant in Menomonie, challenged to graduates to challenge themselves.
"By being here tonight, you have proven that you have the foundation: time management skills, problem-solving abilities, seeing projects through to completion," McAtee said. "Now you can set yourself apart and I would tell you that you can do that by being open-minded and not afraid to leave your comfort zone."