'I hope they had a great time': Chippewa Valley veteran rock band plays farewell show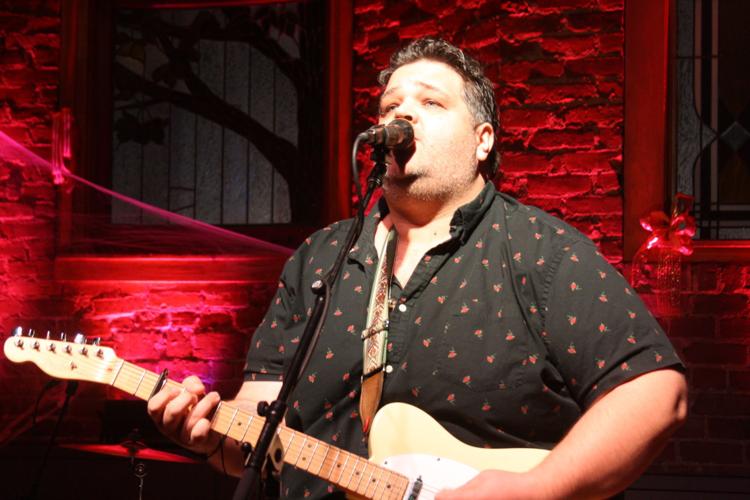 More than 15 years together. Five albums of music. One final concert.
The Jim Pullman Band, an Eau Claire-based rock band, played their farewell concert at the Stones Throw on Friday to an energized and packed room of hundreds of friends and fans. The band is entering a self-imposed hiatus after years of recording and playing out in order for front man Jim Pullman to pursue his next musical venture.
"We're doing this hiatus as a way to enable me to write in a different way, a way I've wanted to write for a long time, without boundaries and without preconceived ideas," Pullman said. "I just want to dive in and try something completely different. I'm excited about that, but as I post stuff from years past with the Pullman Band, I can't help but be really nostalgic. This has been a huge part of my life, I can't deny that, and it is bittersweet for sure."
The band's set included a career spanning set list, also including covers from the likes of Prince, Tom Petty and the Heartbreakers and Bruce Springsteen. The five members of the band received thunderous applause following every track and the look of wonder across their eyes as they looked upon a packed room supporting local music was the standout aspect of the event.
Pullman said ending the band's career at the Stones Throw was special as it was the start of the band's road to success.
"When I first got together with Joe and Eric we had a show at the Stones Throw where we opened for Ike Reilly," Pullman said. "We played really well, with a new power that I had never had before where I could be louder and more aggressive. I felt we were really on the map after we did that show."
The Jim Pullman band is comprised of Jim Pullman (lead vocals/guitar), Eric "Pedals" Thompson (bass), Joseph Gunderson (drums), Paul Brandt (keyboards/vocals) and Scotty Hayden (lead guitar/vocals). Over the many rock infused years the band released five records, starting with "Shed My Skin," in 2002. From there they released "The End of the Beginning" in 2008, "Jackals and Wolves" in 2011, "Monarchs" in 2014 and "Atomic Dream" earlier this year.
Pullman said "Jackals and Wolves," is a record he is especially proud of looking back on the band's discography.
"The release of 'Jackals and Wolves' was a big deal for me," Pullman said. "I was feeling really good about my songwriting at the time and that record really felt like the big one. I was really proud of it and I worked with Jaime Hanson for a year-and-two-months on it."
Besides the albums, the sweaty late night club sets and the smiles shared between the band and their audience, the band will be remembered especially due to their "Decadent Cabaret" performances.
"Decadent Cabaret" is a decades long annual multi-day event in which local bands perform a set of music by another artist. For example, over the years, the Jim Pullman Band has performed sets from Michael Jackson, Prince, Tom Petty and the Heartbreakers and more. Whether it was performing Prince's classic "Purple Rain," with confetti falling from the ceiling, or performing powerful Tom Petty classics, the band was a staple of the event every year.
Ryan Miller, fellow musician and longtime friend of Pullman's, said he was glad to hear some a few cuts from the Pullman band's "Decadent Cabaret," sets as it brought back a wealth of fond memories.
"Seeing it at the Stones Throw was special because the band really played a lot here back in the day," Miller said. "I thought the set was really diverse and I liked that they threw in some covers from the Decadent sets that they've done, because that event is one of the things they're really known for."
Now that the harmonies and Fender guitars graced listeners ears one last time in the Chippewa Valley, Pullman said he hopes listeners will enjoy the music and hold onto it now that the band is stepping away.
"I hope our hard work, and all the effort we put in to make it something we're proud of, made the valley and the surrounding areas proud that we were from there," Pullman said. "I hope they had a great time at the shows and celebrated everything there is to do in the valley with our band and our music."

"I just want to dive in and try something completely different. I'm excited about that, but as I post stuff from years past with the Pullman Band, I can't help but be really nostalgic." Jim Pullman