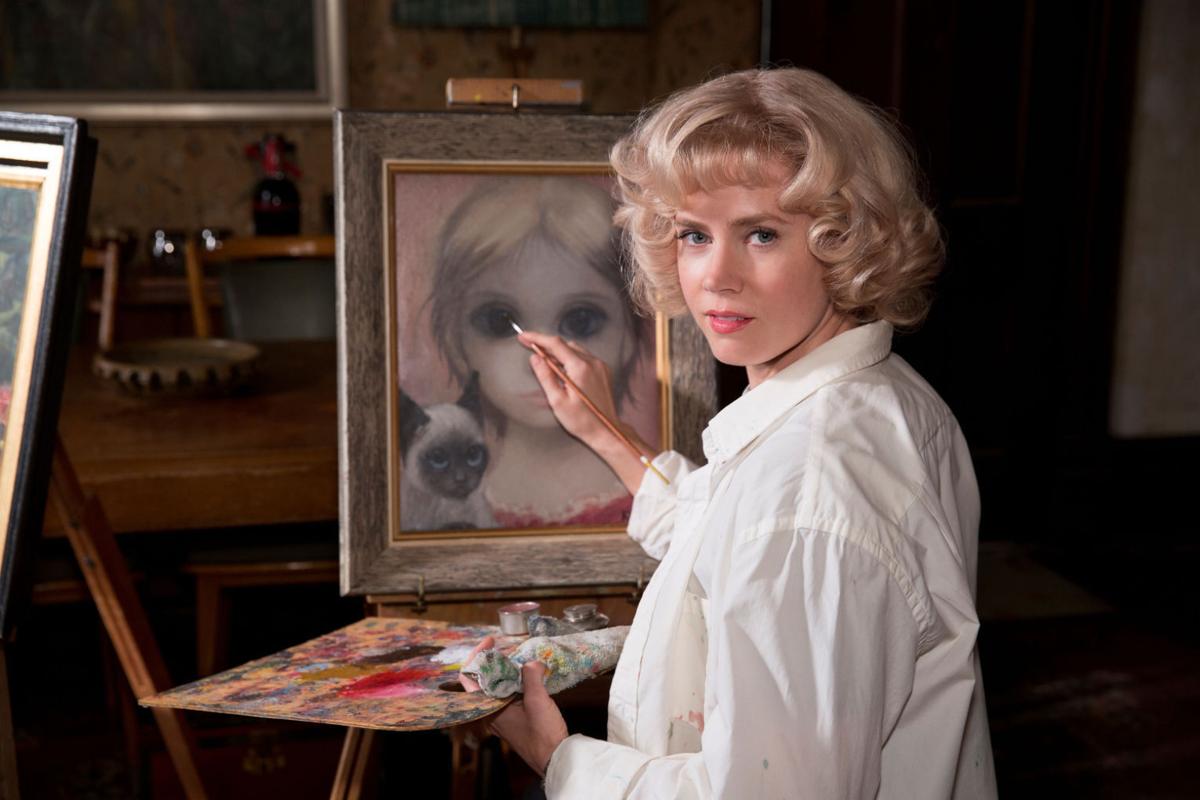 The depressing lack of adult movie fare during the holiday season has been broken with two movies currently showing at Carmike Theaters in the Oakwood Mall: "The Theory of Everything," a biography of genius Stephen Hawkins' early years, and "Big Eyes," another true tale, this one based on the short but lucrative careers of Margaret and Walter Keane.
While commercial artistic success is the backdrop of "Big Eyes," director Tim Burton ("Edward Scissorhands," "Sleepy Hollow," "Alice In Wonderland") explores the larger issue of authenticity and gullibility in the art world.
Walter Keane, a self-proclaimed artist without a thimbleful of talent weds Margaret, upon whose meager artistic talent Walter built a small financial empire in the early 1960s by revolutionizing the marketing of popular art.
Margaret (played to perfection by Amy Adams) painted essentially the same picture hundreds of times: a small child with huge alien-like eyes peers out directly at the viewer with the baleful expression of a holocaust survivor.
The gender and ethnicity changed but the eyes remained the same.
Margaret painted, Walter promoted; Margaret painted to express herself, Walter promoted to enrich himself.
The rub was that Walter led to world to believe that he was the artist and Margaret was, well, just his dutiful wife. The money piled up and so did the lies.
Eventually Margaret asserted herself and things started to unravel. The film masterfully shows how Margaret emerges from the shadow of Walter.
You have free articles remaining.
The Keanes had their success in the late '50s and early '60s, a time when the art world was enamored with abstract expressionism, a movement in which artists and their gallery darlings challenged the uninformed with their minimalist paintings.
They were art just because they said it was art.
It is hard to imagine two more contrasting styles than Margaret Keane's waifs and Mark Rothko's aggressive black slashes on a stark white background. Guess which the public bought? And bought.
Walter discovered that the real money was in making prints of the originals and then making copies of the prints and then putting the copies on everything in sight.
To the unsophisticated (i.e. 99% of us), we weren't sure if the emperor had any clothes, but at least we could tell it was an emperor.
Artistic taste aside, "Big Eyes" is primarily a story of an honest but gullible woman who falls in with a man who is her exact opposite and how she manages to escape.
Walter, played by Christoph Waltz (channeling his inner Woody Allen) is a displaced New Yorker for whom truth is an alien concept. With his lizard smile and mock sincerity he exploits Margaret's insecurity, forcing (he would say, encouraging) her to violate her basic values. But then we've all seen marriages like that, haven't we?
And that's why Big Eyes resonates — and I would guess is most resonant with females.
It poses key questions about relationships: how do you make division of labor into a partnership? Does failing to speak out make you complicit? And most basic of all, when is the lie greater than the crime?
Larry Annett of Chippewa Falls is a retired educator and full-time movie buff.