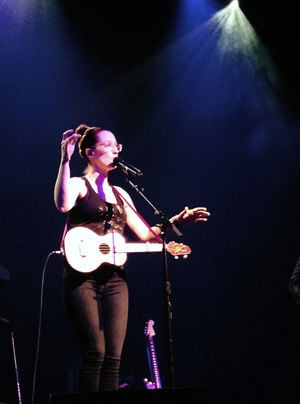 I joined approximately 1,000 other people Monday night and shared in the pleasure of seeing Chris Koza and Ingrid Michaelson at the Zorn Arena at the University of Wisconsin-Eau Claire.
You have free articles remaining.
Koza, a singer based out of Minneapolis, kicked off the show wonderfully. His music had a cool, hipster vibe that I'm probably too uncultured to name. He was very engaging and gave off an artsy, young mood. My personal favorite was "Radio Wave." Really, if you're looking for some new music to listen to, I highly suggest you check out his stuff.
Then came Ingrid Michaelson, the main act. She was, in a word, phenomenal. If you've heard any of her songs, I can assure you that they sound a hundred times better in person. If you don't know, her music is poppy, folky and fun, but she has some more emotional songs. Not only is she a wonderful singer, she'd make an excellent comedian.
The smaller crowd made for a more intimate setting, and it made the performance way better. Michaelson cracked jokes between songs, discussing things such as Kim Kardashian's nude photo shoot and how weird it was that people born before 1995 existed. The energy was super great, and it was superbly fun.
Savanna Buckley is a Chippewa Falls High School Junior.
Stay up-to-date on what's happening
Receive the latest in local entertainment news in your inbox weekly!