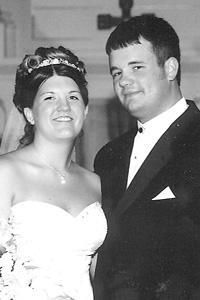 Alysia Ryan Konop and Jason John Bowe were united in marriage on May 1, 2004 at Notre Dame Catholic Church in Chippewa Falls, with the Rev. Benzmiller officiating.
Parents of the couple are Tim and Julene Bowe, and Ted and Norma Konop, all of Chippewa Falls.
Matron of honor was Briana Behring. Bridesmaids were Nicole Streets, Jessica Rihn, Corinne Morrissey and Laura Konop.
Best man was Jeremy Bowe. Groomsmen were Bob Higley, Bob Soltwisch, Craig Goettl and Pat Bergerson.
Ushers were Eric Sonnentag, Derek Gehr and Mike Larson.
A reception and dance were held at the Pines Ballroom in Bloomer.
Alysia is a substitute teacher and also works at Mason Shoe in Chippewa Falls.
Jason is a service technician at EO Johnson Company in Eau Claire.
The couple will reside in Chippewa Falls.
Photograph by Patti's Photography.