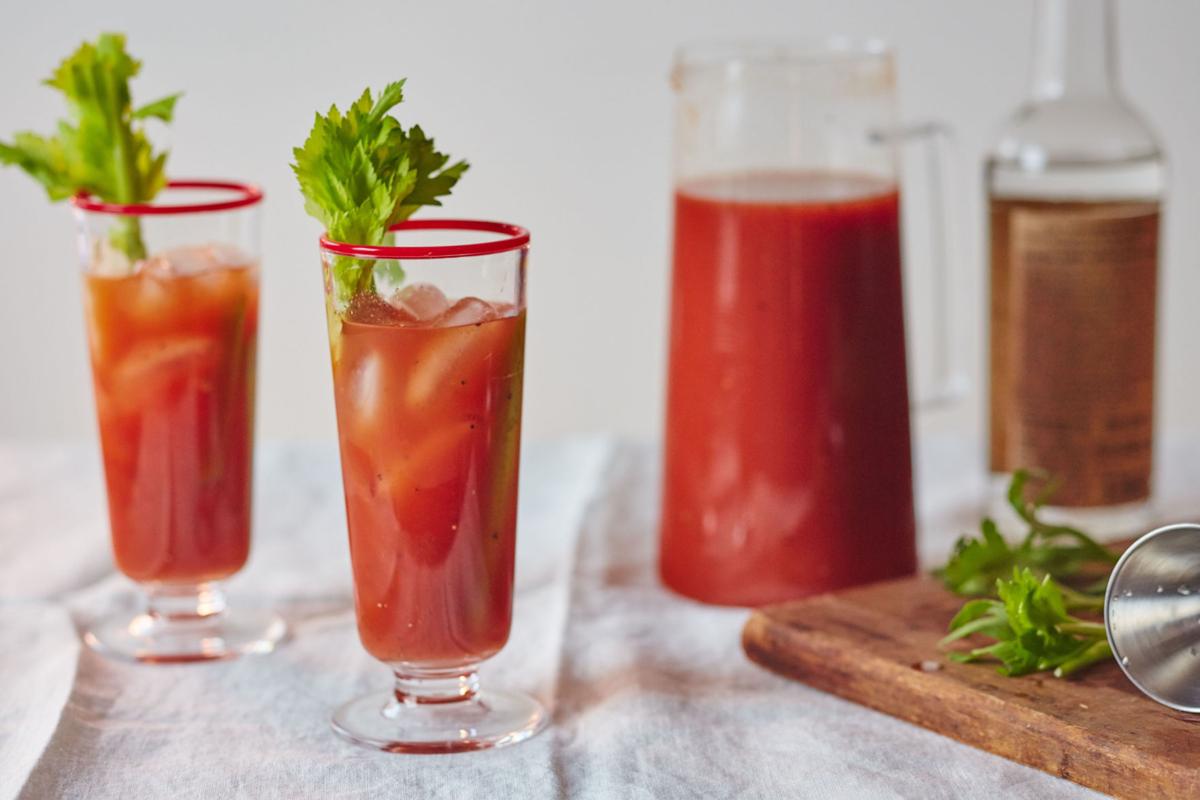 The Bloody Mary is a ubiquitous brunch beverage, a supposed hangover cure-all and the perfect savory sip to accompany eggs and waffles alike.
Made from a base of tangy tomato juice, seasoned with lemon juice and spices, and finished with a pour of vodka, a Bloody Mary provides a savory respite from sweet brunch drinks and can be easily made by the glass or by the pitcher.
This version sticks to the classic expectations with a rich, tomatoey base and a bit of heat from hot sauce. But there's always room for improvement, right?
So we're adding one unusual ingredient to this recipe to really make it what we're happy to call "the best." And because a good Bloody Mary recipe is very much a template for further cocktail customization, we're including a few pointers for seasoning the drink.
Even if you're nursing a hangover, you can still make a pitcher of the easiest, tastiest brunch drink ever.
Vegetable juice, not tomato juice
Recipes for Bloody Marys abound, each with a unique twist on the tomato base or the spices. The tomato base is sometimes made with fresh tomatoes, canned tomatoes or even Clamato, but straight-up tomato juice is the most widely used base. After tasting several canned and bottled juices alongside Bloody Mary mixes, a friend (and Bloody Mary connoisseur) revealed her secret for flavorful Bloody Marys at home: vegetable juice. Yes, the classic V8 juice delivers more tomato flavor than other bases without any extra work. Since it's shelf-stable, you can stock up so you can make a batch of Bloody Marys anytime the craving (or a hangover) strikes.
Grated horseradish is often considered a staple ingredient for Bloody Marys. We blind taste-tested two batches side by side — one with and one without the prepared horseradish — and no one missed it. Considering that few people keep horseradish on hand, skipping this ingredient makes for a pantry and fridge-friendly Bloody Mary recipe.
The tomato base for Bloody Marys only gets better with time; we suggest refrigerating for at least an hour, but an overnight chill is best. This is one of the secrets of restaurant Bloody Marys: Big batches are mixed up regularly and left to marinate before adding the vodka and garnishing and serving. Some folks prefer to add the vodka for the Bloody Marys right into the pitcher, but I suggest making the base and then adding the vodka to each individual glass. This allows your brunch buddies to customize their tipple, and it keeps the vodka and tomato mixture from separating.
Bloody Mary
48 ounces vegetable juice, such as V8 Original
1 cup pickle juice, preferably dill, but even kraut liquid will do
½ cup freshly squeezed lemon juice
1 tablespoon Worcestershire sauce
1 tablespoon hot sauce, such as Tabasco
You have free articles remaining.
½ teaspoon freshly ground black pepper
¼ teaspoon kosher salt (optional)
16 ounces vodka, such as Tito's
Celery stalks, for garnish
Lemon wedges, for serving
Measuring cups and spoons
Combine the vegetable juice, pickle juice, lemon juice, Worcestershire, hot sauce, celery seed and pepper in a large pitcher and stir to combine. Taste and add salt as needed.
Refrigerate the tomato base at least 1 hour or preferably overnight. This will mellow the spiciness of the hot sauce and pepper.
Fill a tall Collins-style glass halfway with ice. Pour 2 ounces of vodka over the ice and stir to cool the vodka. Top with about 6 ounces of the tomato base and garnish with a celery stalk and a lemon wedge. Makes 8 servings.
The tomato base can be made up to four days in advance. You can add all of the vodka to the pitcher instead of filling individual glasses, but stir the pitcher before each pour, as the tomato mixture and vodka may separate as they sit.
Satisfy your cravings
With our weekly newsletter packed with the latest in everything food.