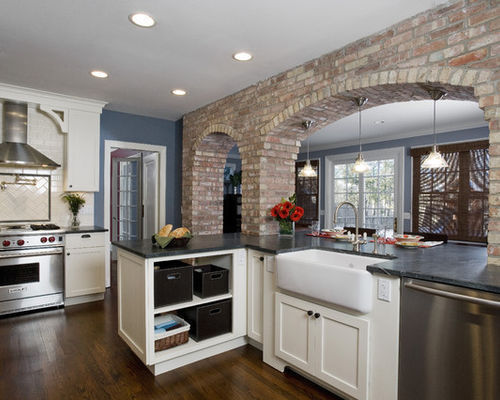 Most homeowners want a kitchen with more light and an open connection to main living spaces. Since the kitchen has become the main hub of activity in modern homes, most families gravitate toward centrally located spaces that are easy to access from the rest of the home. The problem is, creating this setup isn't always easy.
This Wilmette, Illinois, kitchen was originally completely closed off from the rest of the home. The homeowners wanted to connect it to the adjoining family room, but a thick wall blocked off the space. Great Rooms Designers & Builders pared down the drywall from the wall, exposing beautiful brick, and reworked the wall into an open and unique design.
This wall between the kitchen and the family room had been an exterior wall in the house's original design. The family room was added later on (before this kitchen remodel), and the brick was furred out and drywalled.
Great Rooms' Heath Siebert and his team realized that this once-brick wall would add a unique textural element, so they restored it and added arches and pillars.
Cabinetry: Monarch; backsplash: white crackle tile, Chadwicks; countertop: Brazilian soapstone; flooring: refinished red oak hardwood; sink: Rohl Shaws Apron; faucet: Franke Triflow