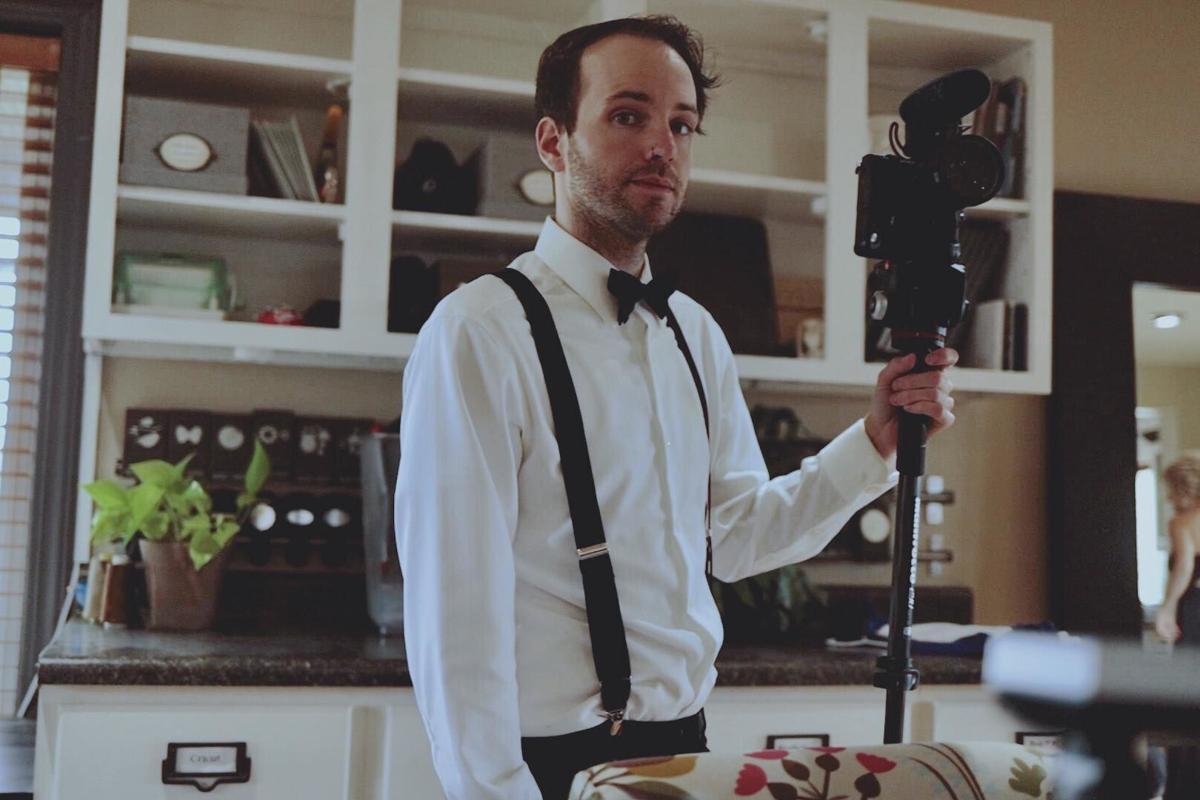 A homegrown creative is striving to change things for the better amid a worldwide pandemic.
Trenity White, a local photographer, fashion designer and creative force, is continuing to strive despite the COVID-19 pandemic leaving the world devoid of many traditional creative sources of revenue.
The 30-year-old Cornell native and Chippewa Valley resident has been taking photographs since his love for the medium was first fostered in a high school art class.
"I love capturing people in their raw form," White said. "I like seeing people doing what they love. There are so many emotions you can capture when taking photos that I felt more and more connected to taking photos the more I did it. It can be a really emotional experience."
Inspired by an unconscious need to create a desire to breakout from an outcast culture, White launched his business, Trenity White Photography, in the 2010s and hasn't looked back since. Pre-pandemic, his days were filled with contracted portrait shoots, working with local businesses to help promote their brands, working with public relations companies on marketing materials and photographing live performances (which he said is his real passion).
While a love for the medium a desire to focus his mind on creative things are motivators for White to continue pursuing creative ventures, he said his young son, Atticus, continues to be his true motivation to be better and provide an enriching life for his family.
In addition to being a professional photographer, White doubles as the sole creator of the fashion brand Adaptive. He said entering the clothing industry over the last few years is something he has always wanted to do, as creative people commonly express themselves both in their work and their apparel.
"The brand came from learning to grow from what's around you, adapting to it and overcoming it," White said. "For me, I had to adapt when I moved to the area and learn how to live and thrive in a new area. And besides just loving the fashion side of it, I wanted to incorporate some meaning into the brand as well. I needed it to be something I cared about."
Adaptive sports merchandise such as beanies, dad hats, snapbacks, shirts, jackets and a variety of other goods. Trenity said the reception to the stylish brand has been humbling and inspiring.
"It grew a lot faster than I thought it would," White said. "It's been growing quite a bit and I've been able to show support both ways with artists in the area who wear Adaptive merchandise. I'm happy to be able to collaborate with a lot of creative people through both photography and the brand."
While White has continued to remain productive over the past year, the COVID-19 pandemic still has had a tremendous impact on him. Without many people being comfortable with interacting socially and actively looking for photography work, Trenity has had to find creative ways of staying financially afloat and mentally stable during the coronavirus era.
Trenity has begun to utilize social media sites such as Instagram and Facebook frequently to help sell Adaptive merchandise and advertise photography work to keep creative streams flowing amid a dried up financial landscape.
And while the pandemic has been difficult for White in many aspects, he said it has also allowed him to clear his head, recharge and start to focus on what he wants his to do with creative energy going forward.
"It's been a blessing and a curse," White said. "I'm a very social person, but I also enjoy solidarity and time away from bigger crowds. So, while I miss the social aspects of life before the pandemic, it's been nice to have a break from everything. At the same time it's hard though, because I feel like I've been losing a lot of motivation."
Despite the setbacks the creative community has had to overcome during the pandemic, White said he looks forward to continuing to pursue both Trenity White Photography and Adaptive both during and after the coronavirus era. In addition to those ventures, he hopes to get back into recording music soon and realize his dream of opening up his own photography studio.
White has had to overcome personal demons and real world logistics to pursue his dreams. He said it is all about jumping headfirst into your passion if you want to forge a life in any creative venture worthwhile to you.
"Don't be scared to take a risk," White said. "You have to get past the nervous wreck that you are every time you have to invest money into something or commit to it. It's hard, but in order to grow you have to invest in yourself. It's a hard thing to make that leap in any creative passion, but as long as you care about what you do, people will come to you."
You can keep up with everything White is working on via his Instagram page @tren.is.okay, his website trenitywhitephoto.wixsite.com and Adaptive's Facebook page.
Look for River Valley Spotlight, a new profile series, every Monday.