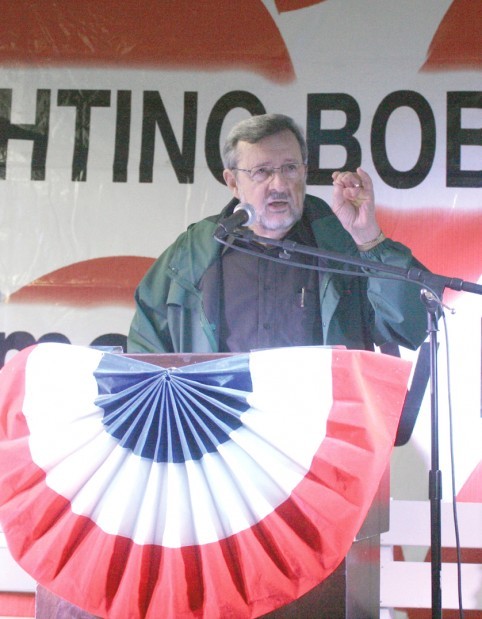 Former Congressman Dave Obey received a standing ovation from a crowd of a few hundred people at the second annual Fighting BobFest North Saturday when he teased them. He noted that what Republicans had been doing in Wisconsin government was enough to make even him mad enough to considering running.
"Just kidding," he added, after the crowd had settled down from the momentary thrill it received from the thought of Obey taking on Wisconsin Gov. Scott Walker in a recall election.
There would be other standing ovations for Obey, the liberal champion who served four decades in Congress before deciding not to run again last year. He was at home in the crowd gathered to advance the cause of progressive political causes in Wisconsin, in the tradition of Fighting Bob LaFollette, the spiritual father of Wisconsin's progressive political tradition.
But to say that things have not been going all that well recently for the progressive movement would be a bit of an understatement, as the results of the last election have led to a wave of conservative policies and legislation being enacted.
Still, the crowd at the Northern Wisconsin State Fair grounds in Chippewa Falls was not taking it sitting down. They brought the energy of recent political protests in Madison and recall petition drives with them.
If there were a theme for this Fighting BobFest, it would be the ongoing battle of the common people, as the progressives see them, against the interests of corporations and the wealthy.
Speaker after speaker, and display table after display table, touched on some element of the issue.
"We are entering, if we are not already in, a new Guilded Age," said Mike McCabe, director of the Wisconsin Democracy Campaign, a liberal action group. "We have 400 people in this country who have more net worth than half the population. And that is not a coincidence. It is happening by design," he said.
He noted that politics and government are increasingly controlled by those with money. He recalled the late Wisconsin Sen. William Proxmire, who served multiple terms, never spending more than $300 on a campaign. Now both major political parties are beholden to big financial contributors.
McCabe warned the people not to be too quick to establish loyalty to a political party.
"You can't show allegiance to a party unless that party shows allegiance to you," he said.
Obey echoed some of the same themes.
"How has Wisconsin changed since I left the Legislature (to go to Congress) in 1969?" Obey asked. He said the bottom level tax rate is up by 70 percent and the top rate is down by 22 percent.
"If all the governor did was change the top rate to the 1969 level, that would mean $600 million in the next biennium," Obey said.
Obey said what is going on today is a direct assault on the path that the nation took in the 1930s that led to the growth of the middle class. He described how collective bargaining, a social safety net and retirement security through Social Security and Medicare grew the strength of the middle class, and now conservatives are attacking it all.
"If they have their way, they will have us abandon almost any semblance of a social contract," Obey said.
Many political groups that set up display tables at the event talked the same language. Bruce Speight of the Wisconsin Public Interest Research Group was there on behalf of consumer advocacy.
"We try to mobilize people to stand up against special interests, like the chemical industry," he said. "We fight for consumers."
Sierra Pope was representing a group advocating a Constitutional Amendment to overturn the recent Citizens United Supreme Court ruling. That ruling equated corporation to individuals and money to political speech, opening the door for unlimited political spending by corporations.
"The goal is to get the message out about corporate personhood and how it is damaging democracy," she said.
Damien O'Brien was representing the local Chippewa Valley Alternative Media Project, which was passing out a mini-newspaper that seeks to be the political voice for the people who have none.
"Most media people hear, read or see is influenced by corporate commercial interests, and they can't afford to offend their funders," O'Brien said.
He said the goal is to present an alternative voice on the news, not beholden to corporate interests.
The liberal bastion American Civil Liberties Union had a table set up, as did the pro-labor union Wisconsin Building and Construction Trades, and the ALF-CIO, along with the Farmers Union and some environmental groups.
Obey was probably the biggest name present, but others scheduled to speak at the day-long even included State Sen. Kathleen Vinehout; Congresswoman Tammy Baldwin; and John Nichols, a political blogger for The Nation magazine.
And, it could be noted, the event featured probably the biggest single gathering of cars sporting "Recall Walker" bumper stickers yet gathered in Chippewa County.