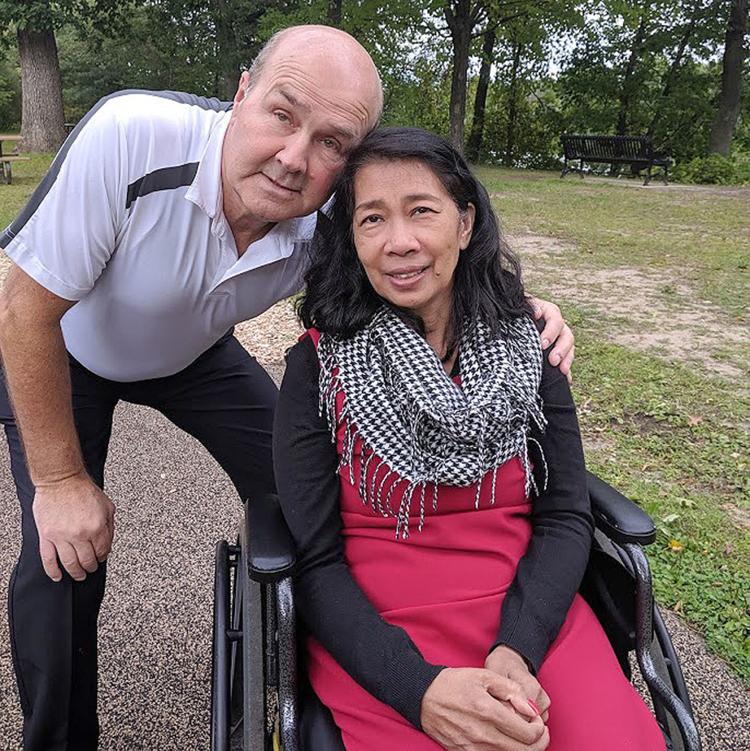 Paul Ausman was never shy about throwing a curveball during his days as a professional baseball pitcher.
But Ausman and his family have seen more curveballs in recent years than many families see in a lifetime.
After both Paul and his wife suffered significant brain ailments 16 days apart in April 2017, they've continued battling and two-and-a-half years later they and their family are on the comeback trail.
While their road to recovery is far from over, they move into Thanksgiving improving every day with plenty to be thankful for.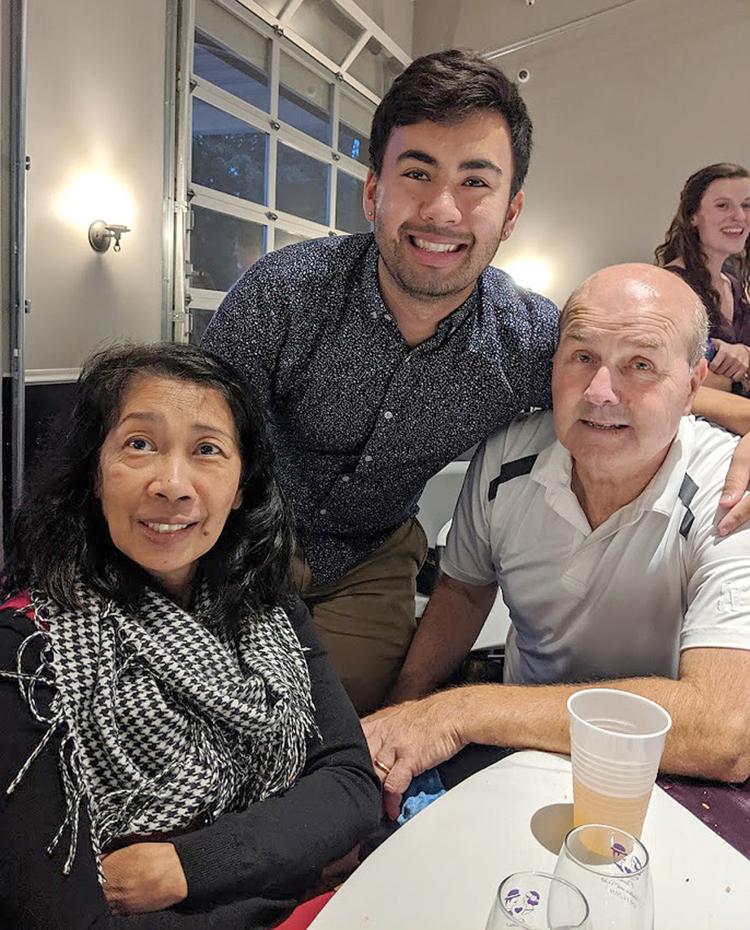 Sixteen days
Raquel Hoepner-Ausman worked at Macy's in Oakwood Mall for 26 years until the store closed in March 2017. A month later she collapsed after suffering a brain aneurysm in her family's home in Chippewa Falls and was taken to HSHS Sacred Heart Hospital in Eau Claire before being airlifted to Regions Hospital in St. Paul, Minnesota.
A little more than two weeks later, Paul was taken to the emergency room at HSHS St. Joseph's Hospital in Chippewa Falls being before taken to Regions and diagnosed with having a brain tumor the size of a golf ball.
Both Paul and Raquel faced grueling recovery roads as their daughter Nikki lived in the Minneapolis with her family and a full-time job, and their younger son Andrew was finishing his senior year at McDonell.
A day after being admitted into Regions, Paul had a brain biopsy and was diagnosed with Lymphoma of the brain, and on May 4, 2017, had surgery for an enlarged lymph node.
Paul's vocal cord was accidentally nicked during the procedure and he lost his voice and could barely talk. The beginning of the same month, Raquel was transferred to a long-term care hospital in St. Paul and started to relearn to speak, eat and respond to commands.
She was later moved to a nursing home in Bloomer before needing brain surgery less than a year later to repair a blood vessel in her brain and had to start the process of relearning to eat, speak and respond to commands all over again.
Paul was approved for stem cell therapy and underwent his first attempt at a stem cell transplant on Sept. 28, 2017, in Rochester, Minn.
However, less than a month later, Paul was diagnosed with lymphoma cancer in both eyes, putting the stem cell transplant on hold while multiple surgeries were performed in both eyes to attempt to remove cancer cells. Follow-up chemotherapy injections into his eyes were performed until the start of the stem cell procedure, which he was able to restart in February 2018.
Paul was discharged from the stem cell transplant hospital on March 27, 2018, one day before Raquel had her brain surgery.
Raquel moved to the Rutledge home in Chippewa Falls in early June, across the street from the Ausman home, where she currently resides and rehabilitates.
Paul continued to receive chemotherapy shots in his eyes to keep the lymphoma in remission and recently has moved to a daily pill. Paul still makes monthly trips to Rochester as his body rebuilds its immune system.
B.A.T.
Paul graduated from Eau Claire Regis High School and was drafted in the 14th round of the 1973 Major League Baseball amateur draft by the Milwaukee Brewers. He played in the minor leagues for five seasons with the Brewers and Minnesota Twins, compiling a 2.93 earned run average across 147 games and 276 innings.
He reached as high as AAA with the Twins and nearly cracked the big league roster as the final cut during spring training.
The left hander shared the field with future Hall of Famers such as Robin Yount, Dave Winfield, Jack Morris, Rod Carew, Alan Trammel and Bert Blyleven before his career was finished after the 1977 season.
Paul would return to the area and earn his bachelor degree at the University of Wisconsin-Eau Claire before getting his masters from the University of Iowa.
He worked a number of jobs in the area, most recently as a store manager for the Mega Holiday station near the Family Fare grocery store downtown in Chippewa Falls.
When the Ausman family needed help, it came from a familiar face to the Chippewa Falls baseball community.
In the days and months after Paul and Raquel suffered their initial ailments, medical bills started piling up, as did the stress of figuring out how to take care of the bills. The family researched grants that could help them with their mounting medical costs, but nothing they found would shoulder the load.
That's when Joe Vavra came into play.
The Chippewa Falls native and longtime MLB coach met Ausman after Vavra was drafted by the Los Angeles Dodgers in the eighth round of the 1982 draft.
You have free articles remaining.
Ausman reached out to offer his advice and let the lefty-swinging infielder know what to expect from the professional game.
The two later coached on the same staff at the University of Wisconsin-Stout before Vavra accepted a position in the Minnesota Twins organization.
Paul and Vavra remained friends ever since and it was Joe that introduced Paul to Major League Baseball's Baseball Assistance Team (B.A.T.) Program, an organization that by its own definition "is to aid those members of the baseball family most in need."
The Ausman family, fit the bill so Paul and daughter Nikki wrote the grant proposal and she was also the one to deliver the good news to the family they had been accepted into the program.
"We would've lost everything (without B.A.T.)," Paul said. "We wouldn't have a house. I might be dead because it paid for insurance for 18 months, paid for my wife's nursing home."
Erik Nilsen is the executive director of the B.A.T. program and first heard of the Ausman's situation in July 2017.
"The good thing about the baseball family is it's a very tight-knit group where people definitely look out for each other," Nilsen said.
The organization was involved with the family through last May, and Nikki has kept them informed of Paul and Raquel's progress.
"It's just very rewarding to see something like this progress and something positive come out of the assistance we provided," Nilsen said.
Former Minnesota Twins general manager Terry Ryan has not been shy on reaching out to see how he could help. Ausman and Ryan were roommates together when they played for Minnesota's AA affiliate in Orlando in 1976, and Ausman later scouted for the Twins during Ryan's regime.
But B.A.T. wasn't the only support the family received. Both the Chippewa Falls and Eau Claire communities turned out in large numbers to assist — everything from tending to the Ausman home while they were away, to making sure Raquel had plenty of visitors while the rest of the family was away, to providing food and financial contributions.
"The support was through the roof for me and my wife," Paul said.
Recovery
Paul is back home in Chippewa Falls and visits Raquel every day across the street at the Rutledge home.
An avid sports fan, Paul is able to keep up with his local teams and has been able to resume his officiating duties. He umpired the American Legion Baseball Class AAA State Championship Game in July at Casper Park in Chippewa Falls and plans on refereeing basketball games this winter if his schedule allows.
His path back home was filled with marathon chemotherapy sessions, stretching 20 hours with chemo that kept him confined to a hospital for three or four days at a time due to the impact it would have on a patient's kidneys.
There have been frustrations throughout the recovery. Paul pointed to the battles his family had with insurance coverage as well as being pointed to the right doctors.
He has handled the side effects from his treatments well, to the point where he's felt bad at times because he has handled it better than most. But now his focus is on helping his wife continue to make progress.
"She's more of a miracle than I am," Paul said of Raquel. "By far."
Raquel and Paul make three trips to UW-Eau Claire per week for speech and physical therapy, a service the school provides free of charge with its graduate students.
"It's unbelievable," Paul said. "I can't believe they don't have a big waiting list."
Andrew is a junior at UW-Eau Claire pursing his degree. Nikki, her husband Justin and son Jack live in Minneapolis. Nikki works for the YMCA of the Greater Twin Cities in partnership with Minneapolis Public schools.
Paul and the family have plenty to be thankful for — thankful for friends and family that wanted to help however they could when things got tough.
And, they're thankful for family showing unyielding support.
Two-and-a-half years ago, a series of curveballs put the Ausman family on their heels.
But like any good hitter Paul, Raquel, Andrew and Nikki hung in, took their best swing and now have plenty of show for it.
"It's been rough but we've become a lot more thankful for everything," Nikki said.