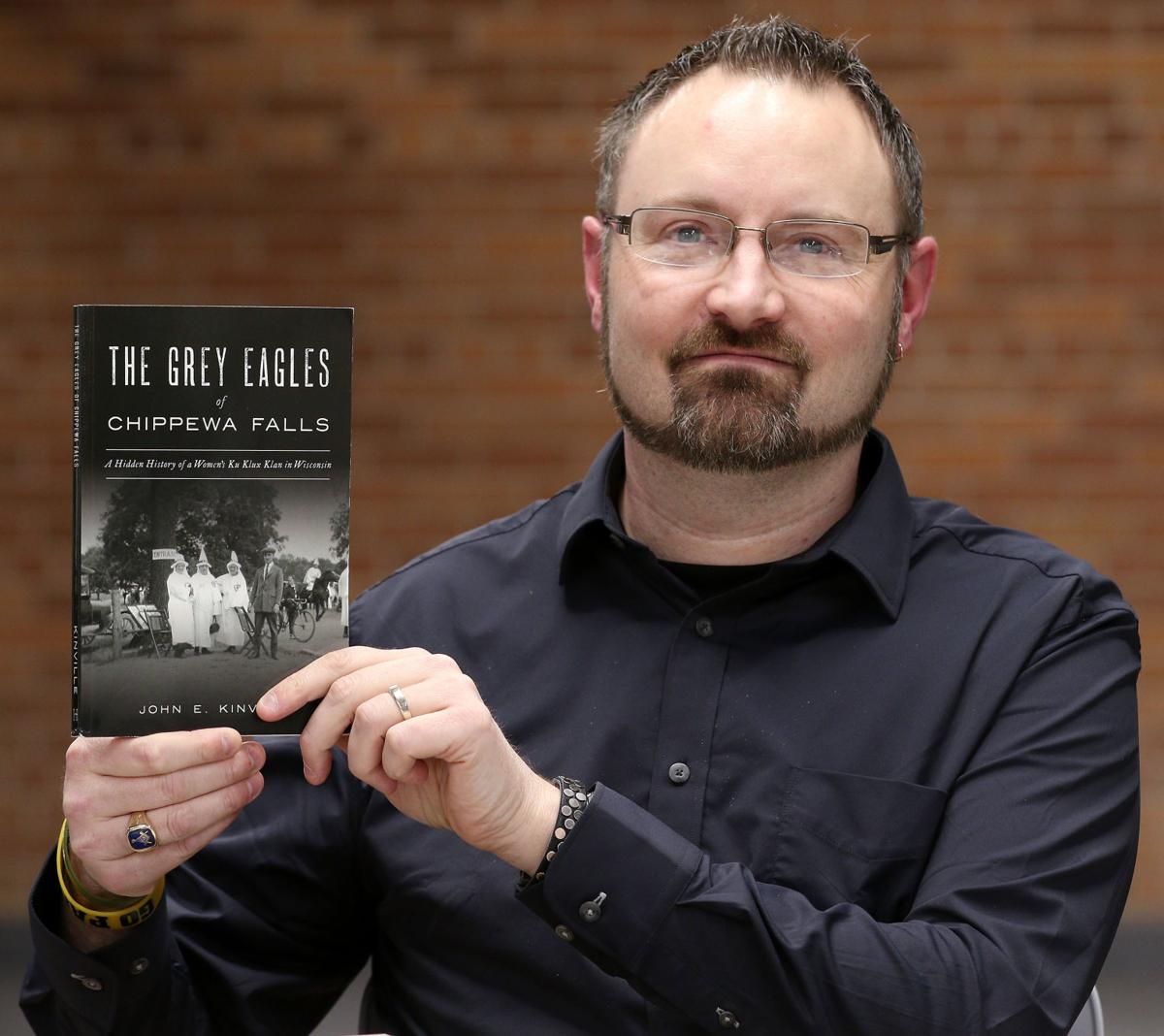 When John Kinville found that a women's Ku Klux Klan chapter existed nearly a century ago in Chippewa Falls, his reaction was what you might expect.
"No! You've got to be kidding me!" Kinville said of meeting minutes from Wisconsin Ku Klux Klan No. 14, known as the Grey Eagles. The documents were in the archives at UW-Eau Claire, where he earned his Bachelor of Arts in broad field social studies education.
Now an American government teacher at Chippewa Falls High School, Kinville didn't do anything with his discovery right away. In fact, he said, his book about the subject was "at least 20 years in the making."
Kinville will celebrate the launch of "The Grey Eagles of Chippewa Falls: A Hidden History of a Women's Ku Klux Klan in Wisconsin" (Arcadia Publishing) with a multimedia presentation from 6 to 9 p.m. Monday at Heyde Center for the Arts in Chippewa Falls. He has numerous other programs, which include artifacts from the period, in the coming months throughout the region.
The longtime Chippewa County resident offers background about the national group, known for its hate-filled ideology. But he focuses mainly on how the KKK in general and the women's group in particular came to Wisconsin.
In that quest he talked to surviving family members of the Grey Eagles, which records indicate existed between 1926 and 1931. It was predated by the arrival of the men's KKK in Chippewa Falls, which, according to published accounts, happened by 1924. Klan groups also started up during that time in the Chippewa County communities of Jim Falls, Cornell, Stanley and Bloomer as well as in Eau Claire.
"The challenging part was going through the genealogy trying to find who these women were and what made them tick," Kinville said during an interview at Chippewa Falls High School. "I didn't have a preconceived agenda per se. I mean, when you hear 'Ku Klux Klan,' you think today's Ku Klux Klan. Right away you're thinking lynchings, you're thinking death, you're thinking ignorant ... low end of the society. And this was not who they were."
Researchers, he said, have identified three distinct klan eras: the group from the Civil War period; one that rose up in the 1920 and '30s; and the post World War II organization. Some, he added, would say a fourth group now exists, in which neo-Nazis have merged with the KKK.
The 1920s-era Chippewa Falls group Kinville studied diverged from the current stereotype of the KKK in that their xenophobic ideas and actions were aimed not so much at African Americans, whose numbers were sparse in the region, and more intently at Catholics and recent immigrants. The group also aggressively supported Prohibition.
When the KKK targeted a community, the first to arrive would be so-called Kleagles, which Kinville compared to field organizers.
"I would equate it more to almost like a pyramid scheme," he said. "Where it's about getting as many members signed up as humanly possible. And so these Kleagles would come into a place like Chippewa Falls, and they would say, 'OK, who here in Chippewa Falls do you despise? Who are you afraid of?'"
When people would express reservations about, for instance, Catholics, the Kleagles would hand out literature disparaging the group.
"The klan did not like Jews, they did not like blacks, but …. these women, I do not believe would have advocated for the death of anyone," he said. "It was just, you're going to live with your people ... we should not have cross breeding, there should not be cross cohabitation. And they believed in the scientific theory of the time of eugenics, the idea that illnesses, disease, racial advantage or disadvantage could be enhanced or eliminated through genetic breeding. That was very common in the time period."
Unlike the men's klan groups, the women did not engage in violence. But it's possible, he concluded, that the Grey Eagles destroyed lives through activities of so-called "poison squads." These members, who tended to be prominent women in the community, would spread rumor and innuendo about people.
"Does that hurt people? Does it cost Catholics their job? Probably," he said, although he found no examples specifically referenced in the meeting minutes or other research.
You have free articles remaining.
The KKK would be hit with a measure of retribution, when the KKK was forced to move its local meeting place from downtown Chippewa Falls to Hallie. That happened because many Catholics, including the police chief, lived in the city. The Burger King restaurant and Holiday Stationstore now stand where the clubhouse used to be.
"I worked at Burger King as an employee for 5½ years going through college and high school," he said, noting that his personal connection to the area piqued his interest in the subject.
Kinville noted that some of what the Grey Eagles, named in part for their average age of 43, stood for what might be considered laudable, including respect for the flag, the Constitution and good government. In fact, the minutes of meetings, known as Klonklaves, show activities and concerns common to any social club, including dinners and tea parties.
In total, however, Kinville called what the KKK of that era stood for "a bizarre, perverted form of Americanism."
Ultimately, the KKK men's and women's groups faded starting in the 1930s. Causes Kinville cites include negative coverage in local media such as the Eau Claire Leader and the Chippewa Herald. Others are the end to Prohibition, the effects of the Great Depression and the realization many American military personnel gained in World War II: that someone's ethnic heritage and religion didn't matter when you were fighting next to them.
Once Kinville embarked on his research, he knew that approaching the members' families would be "tricky."
"I tried to just follow the facts, and talking with the relatives, they were nearly all shocked," he said, as the women apparently kept their klan activities a carefully guarded secret.
"At no point did they say, 'Oh yeah, that makes sense,'" he said. "'The way Grandma talked, oh, totally, she was in the Ku Klux Klan. Not a surprise.' Never happened once. It was in some cases shaking and 'It can't be. You need to show me. What you said, you had better be darn sure you're right.'"
In some cases, he said, the families went through a form of the five stages of grief (denial, anger, bargaining, depression and acceptance).
"I had to go through that process with them," he said, "and there was some anger, there was some denial, but ultimately acceptance."
As part of that cooperation, Kinville received memorabilia they had, although the family members asked that their identities be kept confidential.
In explaining how he earned their trust, Kinville made clear his interest was only to find facts and, considering that the records are accessible to the public, others with less pure motives might bring them to light.
Kinville's conversations were mainly with grandchildren, as all the women have died, and only one of their children is still alive. He found it notable that these women never shared information about their time in the group, and those close to them never saw any indication of discriminatory attitudes.
"It was really hard for (the surviving grandchildren)," he said, "because the ones that I talked to, it was, 'My grandmother was a strong, independent, virtuous woman who believed that you spoke a certain way, that you carried yourself a certain way, that you were decent and respectful to everybody that you meet, that you help anybody who's in need.'"
In those cases Kinville would reassure them his findings shouldn't change how they remembered their grandmothers and that he heard "exactly" the same story from other family members.
The conclusion he draws is that history paints a complex picture.
"These women lived the 1920s, they lived xenophobia, but they also lived through the Depression, they lived the Depression, they lived World War II, and these things weren't just moments around them, they were moments that happened to them," he said. "And I think when history happens to you, when events happen to you, you learn valuable lessons. We all do, it's a learning curve."
Moreover, Kinville writes in the book that, while they were in fact members of a women's KKK group, the person their grandchildren describes says something about who they ultimately became.
Get local news delivered to your inbox!
Subscribe to our Daily Headlines newsletter.