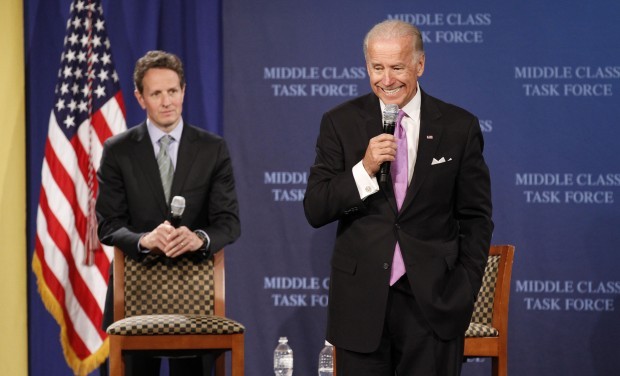 MILWAUKEE — Strengthening the nation's financial regulatory system will better protect the middle class from crises caused by others' greed, Vice President Joe Biden said Tuesday.
Americans are right to be angry over reckless Wall Street gambles that had to be fixed by taxpayer-funded bailouts, Biden told an audience at the University of Wisconsin-Milwaukee.
"Never again should the government be faced with the choice of bailing out an irresponsible bank or watching the whole economy implode,'' he said.
Safeguards implemented after the 1929 stock market crash helped stabilize the nation's financial system for decades, but it has been systematically weakened ever since until it once again became vulnerable, Biden said. The current debate is simply about restoring the same kind of protections that have already been proven to work, he said.
Earlier, U.S. Treasury Secretary Timothy Geithner told the audience that a reform plan proposed by Senate Democrats might not satisfy everyone or solve every problem, but it would "fix what caused this crisis, and they will make future crises less likely and less damaging.''
The hearing came as the Senate grappled with Democratic-sponsored legislation aimed at preventing another meltdown by cracking down on the kind of lightly regulated housing market investments that helped set off the crisis.
Republicans on Monday blocked the Senate from taking up the measures, but Democrats have vowed to try again.
The Senate bill and another being discussed in the House would create a mechanism for liquidating large firms that get into trouble, set up a council to detect systemwide financial threats and establish a consumer-protection agency to police lending.
The legislation also would require investment derivatives, blamed for helping precipitate the near-meltdown, to be traded in open exchanges.
Democrats believe that public pressure and the scent of a Wall Street scandal involving banking giant Goldman Sachs have given them the upper hand. Republicans have acknowledged the need for reform but say they will not be rushed into a massive bill.
Biden, a former senator, said the issue was too important to delay.
"My strong plea to my former colleagues is to get on to the business of attending to the business of America,'' he said.
He gave a brief economics lesson, outlining how properly functioning financial markets allocate capital to productive uses that lead to jobs and tangible products.
Instead, the people who have gotten rich on Wall Street are those who sat in glass skyscrapers "moving numbers around,'' making money but creating neither goods nor middle-class jobs, Biden said.
He defined middle class not by a salary figure but by describing a lifestyle in which a family lives in a safe, quiet neighborhood where their children can play in the yard, and where those kids have access to good education and affordable colleges.
That entire lifestyle gets threatened when Wall Street takes such reckless risks that too-big-to-fail banks requires hundreds of billions of taxpayer dollars to right themselves, he concluded.
Biden called on Republicans in Congress to discuss reform issues in good faith and to stop believing that for them to win Democrats have to lose.
"We look at this as, for the American people to win we have to have a debate on this subject,'' he said.
Get local news delivered to your inbox!
Subscribe to our Daily Headlines newsletter.