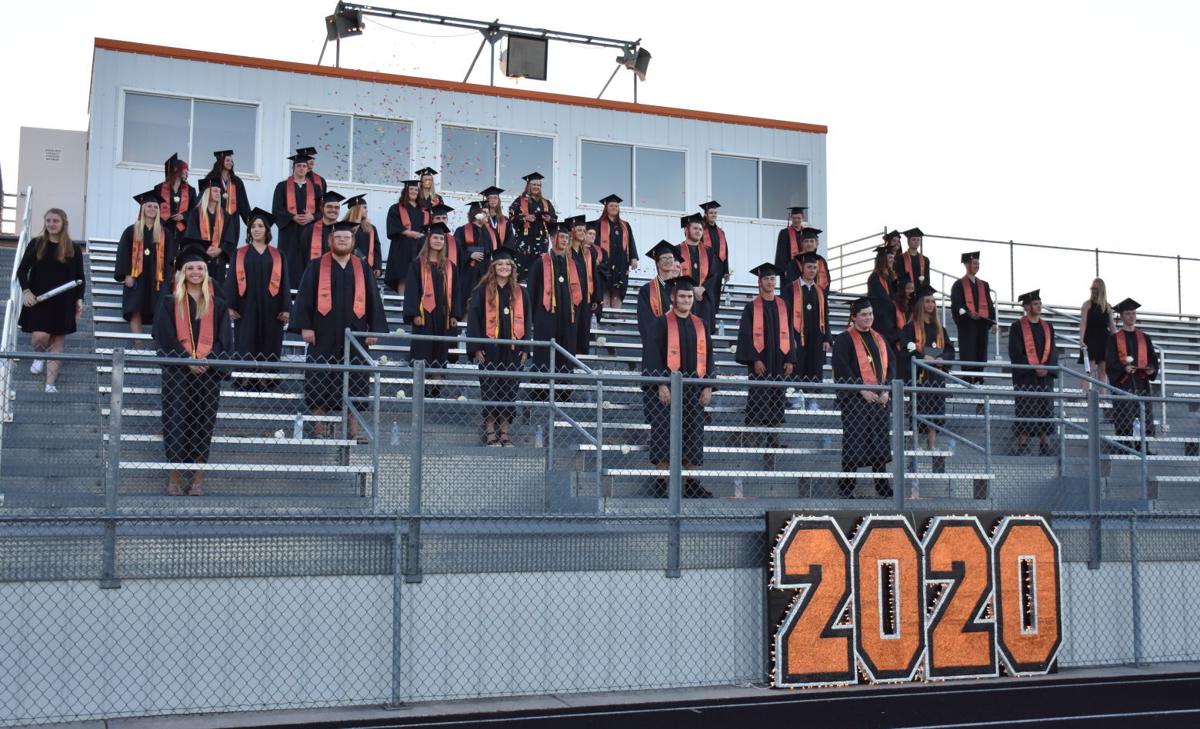 Two months after it was initially scheduled, the Bloomer High School Class of 2020 got its well-deserved sendoff.
This year's Bloomer graduates were honored in a pair of outdoor ceremonies on Thursday evening, giving the students, families and teachers closure after the final few months of the school year including May's originally scheduled ceremony were significantly altered due to the ongoing COVID-19 pandemic.
Almost all of the roughly 100 students in this year's Bloomer class were recognized during a pair of ceremonies at the football field at Bloomer Middle School with the class divided up alphabetically into two ceremonies.
The students practiced social distancing in the stands while their families sat together while distanced in pods on the football field. The ceremonies were about 35 minutes apiece, shorter than normal but with all the standard staples found in a regular graduation event.
"From the very get-go we told the kids that we would have some sort of ceremony for them," Bloomer Principal Chad Steinmetz said. "Our hope was to have it as close to the regular ceremony as possible and we worked very closely with the Chippewa County Department of Public Health (and) discussed a potential plan with them. I put together some communication to send out to the kids and families and before I did that, shared that with the Chippewa County Department of Public Health.
"We worked together to make sure we were following guidelines and doing something that they would be comfortable with."
The time between ceremonies helped staff members sanitize the stands and family seating areas while Mother Nature provided pleasant weather for the proceedings.
"The feedback that I got from kids and families, the people that I spoke to were very appreciative and thankful that we still did our best to have a ceremony and recognize the graduates," Steinmetz said.
The event was also streamed online for those who wished to watch from home.
A portion of the school band was on hand to play the processional and recessional.
Students Matthew Ostrander (welcome), Kayla Stolt (farewell) Rylie Jarr (high honors), Abby Zeman (salutatorian), Annabelle Wittrock (valedictorian) and Sarah Klingbeil (class president) gave their respective speeches at both ceremonies while walking and receiving their diploma at their respective events.
Klingbeil revealed during her class president speech the Class of 2020 would be using its remaining class funds in the neighborhood of $6,000 to establish a scholarship for each of the upcoming classes of 2021, 2022 and 2023.
Bloomer Assistant Principal Jason Steinmetz recognized the members of the class who were going into the military as well as the graduates that earned scholarships with an estimated 42 students earning more than $300,000 in scholarship funds.
"One of the things we're always amazed by and thankful for is for a community the size of Bloomer the amount of kids going on to post-secondary education is really remarkable," Chad Steinmetz said.
With so much out of the hands of school students, parents and staff near the end of the school year due to COVID-19, Chad Steinmetz was pleased things were able to go "really, really smooth" to honor a group of students who have experienced so much in their last year of high school.
"There's a lot of planning that goes into it and we've never had an outdoor ceremony but all things considered with our restrictions and the guidelines we were very pleased with how it turned out," Steinmetz said. "We had a great turnout of families and the weather cooperating was the one thing we were nervous about, and we ended up with a beautiful day and we're thankful we were able to recognize the kids because the end of their senior year was anything but normal."
Get local news delivered to your inbox!
Subscribe to our Daily Headlines newsletter.