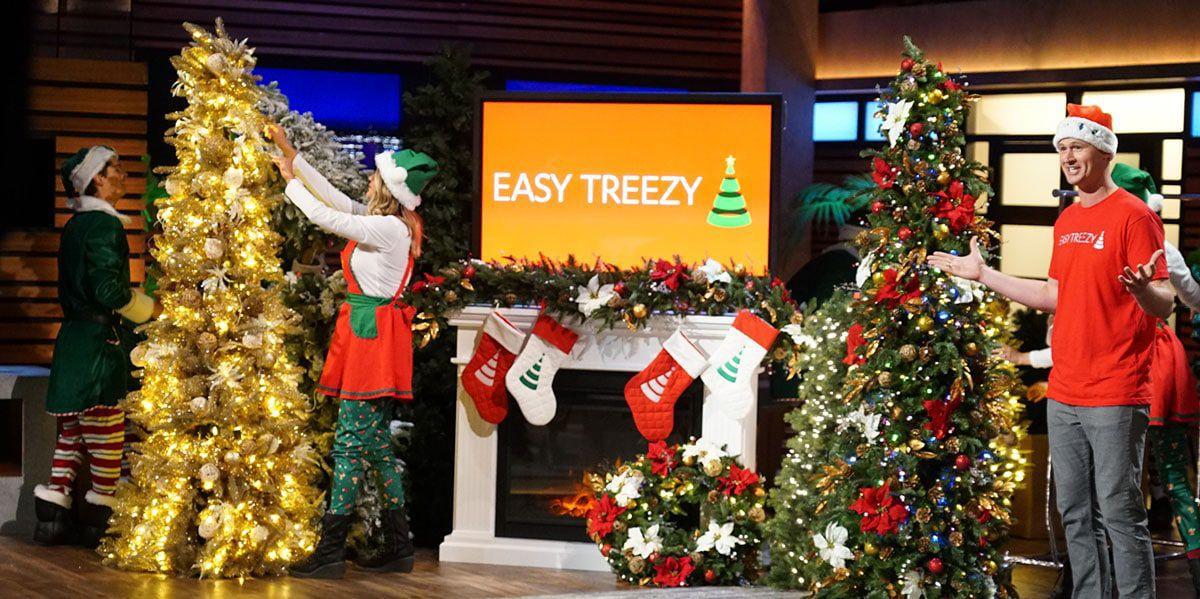 A Chippewa Falls native is making waves in the business community by featuring his unique product on one of the country's most popular shows.
Kurt Strange is the owner of pre-built, lit and decorated Christmas tree company Easy Treezy and he just had the opportunity of a lifetime.
Earlier this month, Strange and his associates presented the Easy Treezy to the judges on the famed ABC television program "Shark Tank," which sees upstart business leaders present their products or services to a panel of business moguls with the hopes of obtaining investment in their company.
The panel of judges on "Shark Tank," chose to pass on Strange's Easy Treezy company, but said ultimately the experience was a lucrative one as the brand awareness for his pre-built Christmas trees has skyrocketed after appearing on the show.
"The experience on the show was phenomenal, everyone was really awesome," Strange said. "There was no pressure to do or say certain things like I've heard happens on other shows. I think the judges ultimately ended up passing on the business because they didn't necessarily understand all of the details. It's difficult to explain the full financial possibilities as well as where you are going with the company in an hour-long pitch."
The connective tissue with Easy Treezy appearing on Shark Tank involved an open audition in Miami, presenting an Easy Treezy, filming a video audition for the program and ultimately filming the pitch in September and the episode airing earlier this month.
The roots of Easy Treezy were laid down in Strange's formative years growing up in Chippewa Falls. Strange attended Stillson elementary school, Chippewa Falls Middle School and Chippewa Falls Senior High School before departing for the University of Miami, where his love for business bloomed.
His original involvement in the Christmas market started in 2008 with the formation of Miami Christmas lights, where he supplied high-end décor and displays to businesses such as the Hard Rock Casinos sometime in excess of $10,000 each.
Strange formed Easy Treezy in 2017, launched the company nationwide in 2018 and through strong independent sales and the added promotion from appearing on Shark Tank, the company is flourishing and its products are available for sale on websites such as Target and Bed, Bath and Beyond.
He said the need to create this product came from buying pre-made Christmas trees and knowing there was a lot of room for improvement with the product.
"We knew there had to be a better way to make Christmas trees," Strange said. "We have been making Christmas trees the same way we made them 50 years ago, so we sat down and after a couple of years of trial and error we came up with what is now known as the Easy Treezy. We started by making it for ourselves, but people kept coming up to us wondering where we bought them, so that's when it dawned on me that we might have a retail product here."
Now that the Easy Tree is making its way into homes both physically and on families' television sets, the Chippewa Falls native said he feels his Miami- based pre-built Christmas trees are set to make an impact on the holiday market and offer a better quality product than what is currently on the market.
"People always laugh when they hear we have a Christmas company in Florida because they don't think you can celebrate it without any snow," Strange said. "But we do our best to make it feel wintry out, at least inside our homes. We really think we have a product here which can revolutionize the industry that can change how people experience and celebrate the holidays."
Get local news delivered to your inbox!
Subscribe to our Daily Headlines newsletter.