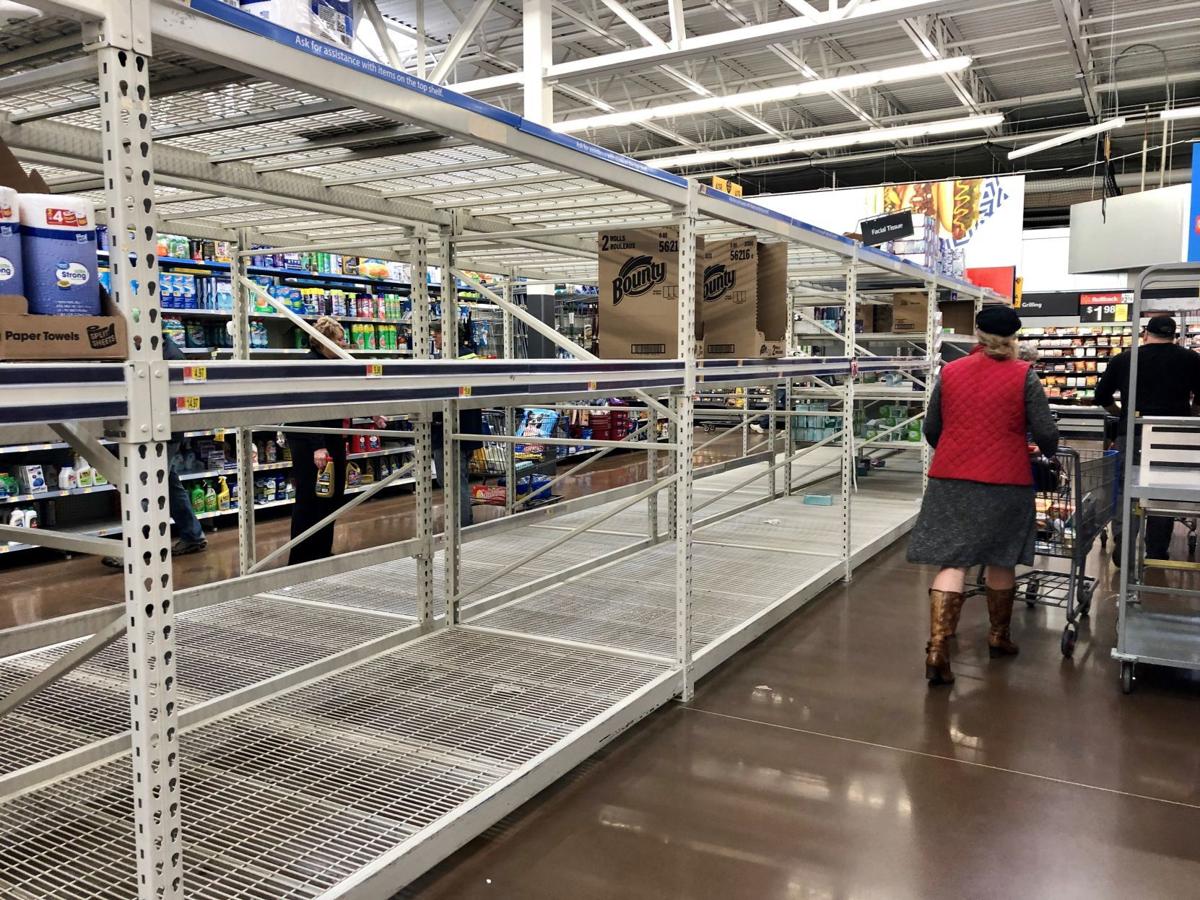 The response in Chippewa Falls to a global pandemic continues to set a precedent for what can happen when the safety of the population is put into jeopardy.
COVID-19, or the coronavirus, is a virus that causes diseases in mammals and birds.
Symptoms of the coronavirus in humans include respiratory tract infections, similar to many cases of the common cold. The recent outbreak began in China and through international travel has spread around the world causing mass panic, the cancellation of many large gatherings and hygiene products such as hand sanitizer and toilet paper to be hoarded from store shelves in the fear of quarantine scenarios.
Chippewa Falls Mayor Greg Hoffman said the most important thing people can do is to not panic, but instead be mindful of their own health status and do everything they can to use common sense and keep themselves, and their neighbors, safe in this time of uncertainty.
"Right now we are in the formative stage where we are sitting around and accessing what we can do differently," Hoffman said. "I think we have to be very cautious and we have to be careful of where we go in terms of how much exposure we have out in public. That will have to be a priority for at least the next couple of weeks. We have to be cautious, not just for our own health, but for the health of those around us."
During the past few days, the concern surrounding coronavirus has spread due to its impact on location, national and international culture. Famous actors like Tom Hanks, famous athletes like Utah Jazz player Donovan Mitchell and other famous figures around the world contracting the virus have put a face to the virus that many wrote off as a curiosity on the far side of the world.
Events such as all NCAA tournaments, the St. Patrick's Day parade, all concert tours put on by Live Nation and the majority of large-scale gatherings have been postponed, delayed or canceled due to the coronavirus and this impact is being felt locally in Chippewa Falls.
Debra Johnson, executive director for the Heyde Center, said the local concert and event center has not decided to shut down indefinitely, but is instead taking extra measures such as providing access to hygiene products and increasing cleaning in the venue to keep programming going as long as local health officials will allow.
"As you can imagine, due to the current situation, I've been working on the Heyde Center's response to the pandemic," Johnson said. "It is not an easy thing to do, shutting down organizations and public institutions will severely impact businesses. It has been shown that nearly half of them not being able to survive a forced lockdown. People who work wage jobs don't get paid if they don't work. This is a day-by-day situation so we will adjust it as time moves on and things progress. At this point, we continue on."
Micon Cinemas, a local movie theater chain with locations in Chippewa Falls and Eau Claire, is feeling the effects of the virus as well. Many large tent pole films such as "Fast and the Furious 9," "Mulan," "A Quiet Place: Part II," "New Mutants" and the latest James Bond film "No Time to Die," have all pushed their release back weeks, months or even a year due to concerns over low projected box office numbers due to people staying home.
Connie Olson, co-owner of Micon Cinemas, said the situation at her theaters continues to evolve by the hour and management is considering every option they can think of right now to keep their customers as safe as possible.
"It's a day-to-day thing for us," Olson said. "I'd say the releases so far this year haven't been huge releases, so it's not like our auditoriums have been having sell-out crowds. We've always done the cleaning in the theaters in between showings, so we're just instituting a few more measures there. We have not talked about shutting down yet, but we are looking to the industry in general to see if that option ever comes on the table."
In addition to the business community taking a hit due to coronavirus, the public education system is also going through many changes and uncertainty as well. Heidi Eliopoulos, superintendent of the Chippewa Falls Area School District, said the situation is changing quite quickly, but school officials are doing everything they can to keep their students safe from infections.
"Even though it seems like this has progressed quickly, we are still prioritizing our time with making sure our responses are appropriate and we have the right protocols in place," Eliopoulos said. "We are taking a look at all current and future events to see what needs to be done to keep everyone in this district and community safe. We don't know what that will entail specifically yet, but we are considering many different options."
In response to concerns about the transfer of coronavirus, all sporting events in Chippewa Falls schools have either been canceled or attendance limited to small numbers to reduce the footprint at every event.
The winter season came to an end on Thursday evening after the WIAA announced cancellation of all remaining girls basketball state tournament and boys basketball sectional and state tournament contests.
The McDonell boys basketball team was among those still alive in the playoffs after a 47-35 win over Thorp in a Division 5 sectional semifinal in Osseo on Thursday. McDonell held a pick-up game at an assembly on Friday afternoon, giving the team one more opportunity to play in front of its home fans and their supporters another chance to cheer on their Macks.
Other than increased cleaning of each school in the district during the day, normal scheduling at the schools has yet to be affected, but Eliopoulos said this would only change if local health experts suggested it.
"As a district, we are lucky to have a very good relationship with local health officials," Eliopoulos said. "We receive regular communication from our local county health community, who are really the experts. We are following their guidance, direction and advice as the local experts in this area."
Higher education in the Chippewa Valley is being affected greatly as well, as UW-Stout and UW-Eau Claire have suspended in-person classes indefinitely for at least the next few weeks and attendance policies have been suspended in the interest of encouraging students to study online.
As for how the coronavirus is affecting the average person in Chippewa Falls currently, lifestyle changes have been thrust upon area residents.
Many businesses are encouraging employees to work from home if possible, non-essential traveling is being discouraged and the need to remain clean is paramount not just in Chippewa Falls, but around the world.
Day-by-day, the coronavirus continues to impact those in the Chippewa Valley more and more, but prominent local figures are doing what they can to keep people safe.
While there is still much uncertainty surrounding the virus and how it will impact people's lives going forward, on an individual basis all people can do is stay clean, use common sense and be patient while a cure is researched and a sense of normalcy is restored to the area.
Get local news delivered to your inbox!
Subscribe to our Daily Headlines newsletter.