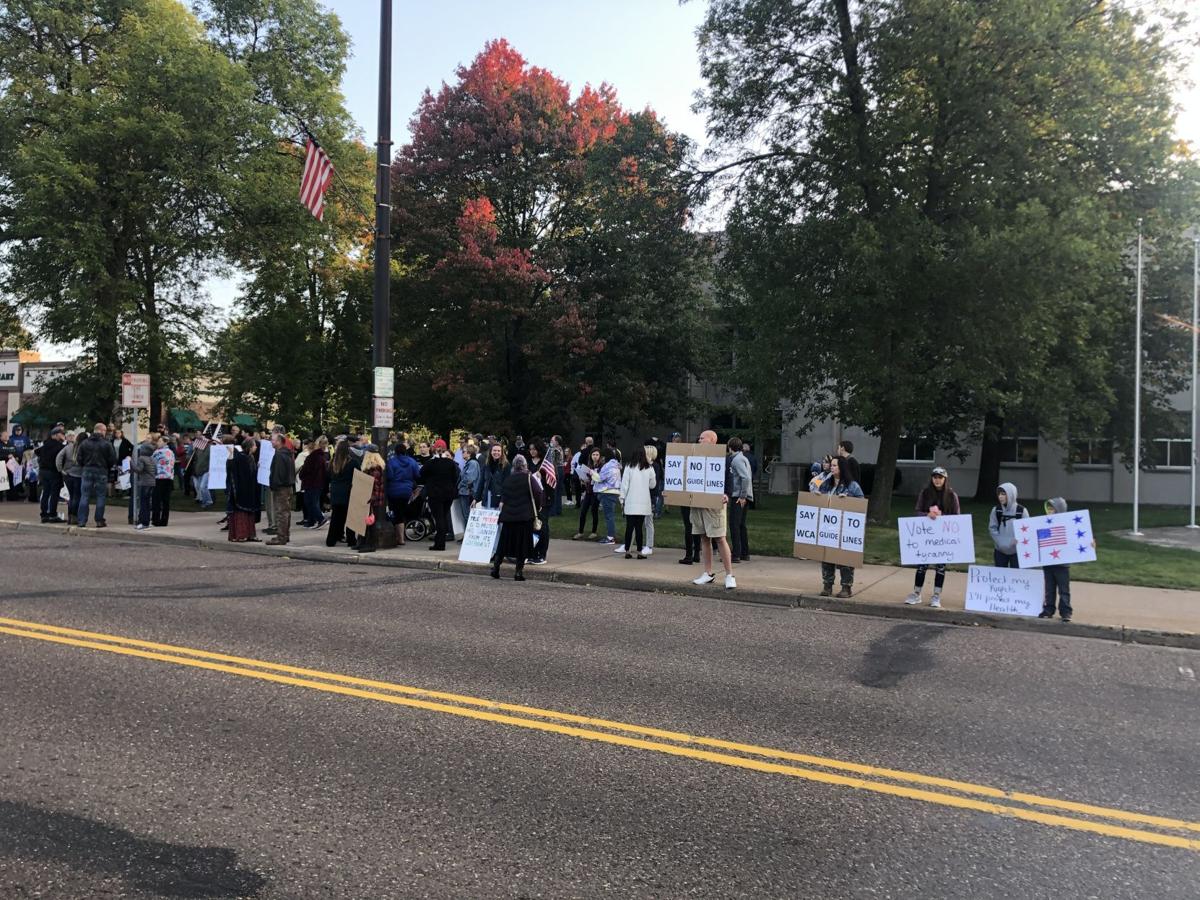 The Chippewa County Health & Human Service Board rejected an ordinance Thursday that would have given the county's public health director the ability to enforce health orders.
After nearly 4½ hours of testimony and debate, the board voted 6-3 to not move the ordinance forward to the full county board for approval, effectively killing it at this time. It is unlikely the county board would take the measure up and approve it without the recommendation of the health board.
Jim Sherman, Chippewa County assistant corporation counsel, explained that the public health director position already — under state statute — can write an order, but doesn't have the authority to enforce it.
"This doesn't expand any authority she doesn't already have. This ordinance is simply giving her an enforcement mechanism," Sherman explained to the board. "The fact she hasn't issued a single citation shows she has been looking at the totality of the situation. "
Sherman said the ordinance would have conformed with state statute. He didn't realize the enforcement component wasn't previously in statute before the pandemic hit.
"We knew this would be politically charged," Sherman said. "COVID exposed an issue we had at the county."
Supervisor Kari Ives, who voted in support of the measure, said that not having the ordinance would hurt the county in the future. She pointed out that many people who spoke weren't wearing masks or socially distanced. Ives expressed concern that not having the ordinance could lead to more of an outbreak because the public health director's orders could be ignored.
Supervisor Leigh Darrow spoke against the measure, asking the board to either reject it, or let it die by not having anyone second it.
To reduce crowd size in one area, about 50 people from the public gathered in the meeting room in the basement of the courthouse, while the board met on the third floor of the courthouse.
Among the crowd, only a third wore masks in the meeting, violating the state order. Nearly 50 people spoke in person or over the phone during the public input period.
Patricia German defended the work done by Chippewa County Public Health director Angela Weideman, saying she was pro-active in measures to curb the spread of the virus.
"(Weideman) has the responsibility of putting orders in place if it is to protect our health. She hasn't done anything she shouldn't do," German said. "Thank God we have a director who does do what is right."
Jean Durch, who retired as the county's public health director a decade ago, spoke in favor of the measure. She pointed out that public health got polio under control in the past.
"It's not an intention to infringe on your life," Durch said of the ordinance.
However, most of the speakers Thursday were against the measure.
Sarah Polzin of Anson was concerned with the phrasing of the ordinance for using words like "appropriate" and "reasonable." Polzin said it was too vague, and perhaps a longer ordinance is needed.
Lowell Jacobson was concerned that future health leaders would overreach.
"The potential to abuse that power, who have their own bias, is very dangerous," Jacobson said.
Lisa Mancl of Lafayette spoke against the ordinance. She dislikes that it gives the county administrator emergency authority.
"What is the justification of giving this power to unelected officials?" Mancl said. "We've had communicable diseases. We didn't need an ordinance then, and we don't need one now."
Leah Wittwer argued that the wording of the ordinance, which gives the health director "reasonable powers," could allow for removal of children from homes, or forced medical measures.
"This ordinance overlaps our freedoms," Wittwer contends.
Carli Ferron acknowledged that COVID-19 is real, but she described it as overblown.
"It is not as deadly as the media has propagated," Ferron said.
Ferron feared the tyranny that could come with future pandemics, describing a possibility of people being "ripped out of their homes."
Mary Catherine Anglum, an attorney, pointed out the ordinance doesn't require a warrant to enter a residence.
"Please do not adopt or expand what is already bad law," Anglum said.
Kevin Hendrickson of Stanley agreed that the proposal is too overreaching.
"There are a lot of people who want to be heard and stand against this ordinance," Hendrickson said.
Pat Couture of Eau Claire said he never imagined there would be a scenario where government could shut down a church, so he doesn't think it is unimaginable that government could take children away from parents or overreach in implementing a public health policy.
"How did we get here? How did we get to where a county board can tell businesses how to conduct business, and when? How is that possible?" Couture said.
Ben Anglemyer of Lake Hallie said the ordinance criminalizes what has never been a criminal act, such as not wearing a mask.
Randy Stofferahn, who now lives in St. Croix County, said "none of this is about COVID," but instead, it is about power, and driven by hate.
Barb Strong of Elk Mound said she is a special-needs parent, and it has been difficult having him in social areas because he can't wear a mask.
Ashley Clare Krenzelok said she has four children, and they are doing school virtually this year.
"There isn't a lot of clarity? What is this? What are you passing?" Krenzelok asked. "We have zero deaths in Chippewa County, so why do we need more regulation?"
Wade Asher, Chippewa Valley Music Festival organizer, spoke about the economic loss suffered this year after Rock Fest and Country Fest were postponed. Asher spoke against the proposed ordinance, saying the public health department is doing a good job with the policies already in place.
"It puts too much power into one person's hands now and into the future," Asher said. "That person isn't elected, which further takes away the power to vote."
Rusty Volk, Northern Wisconsin State Fairgrounds director, praised Weideman for working well with him for events at the fair.
"I agree these powers are overreaching. I think it's a broad oversight to go forward with this ordinance," Volk said. "This ordinance doesn't allow for any due process."
William "Loopy" Kleich, owner of Loopy's Tavern in the town of Wheaton, also praised Weideman, but he fears a future public health director might use this ordinance to overreach powers.
"It would become the most powerful, unelected official in the county," Kleich said.
Terry Moulton, a former state senator from Lake Hallie, also warned of the unintended consequences of the measure, even if it is created with the best intent.
Get local news delivered to your inbox!
Subscribe to our Daily Headlines newsletter.