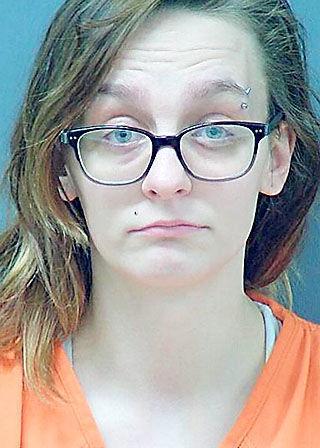 A Cadott woman accused of supplying drugs in March 2019 to a Holcombe woman who later died of an overdose was sentenced Friday to serve 3½ years in prison.
Breana J. Heuer, 23, 3474 250th St., pleaded no contest in March in Chippewa County Court to first-degree recklessly endangering safety and manufacturing and delivering amphetamine. Heuer was originally charged with first-degree reckless homicide for causing the death of Carissa R. Kasmeirski.
Judge Steve Cray told Heuer that she is "an out-of-control drug addict" who is a danger to others and herself.
"Ms. Heuer, you were involved in the death of another person," Cray said. "Others are culpable too, but you are culpable as well."
By giving drugs to another person that led to a death, Cray said, "I can't think of a better definition of first-degree recklessly endangering safety."
Ultimately, Cray said Heuer needs the best drug treatment course possible to kick her habits. Along with her prison sentence, Cray ordered three years of extended supervision and to complete a drug treatment course. Cray said she cannot consume drugs or alcohol while on extended supervision. She also must pay $1,036 in court costs and fines.
Chippewa County assistant district attorney Roy Gay requested four years of prison and three years of extended supervision.
Defense attorney Francesco Balistrieri sought five years of probation with an imposed-and-stayed prison sentence. He pointed out that Heuer has no prior convictions, and he doesn't consider her to be a danger to the community.
"She can get the treatment she needs through probation," Balistrieri told Cray. "She will be getting the treatment she needs. Jail has forced her sobriety."
Heuer's other charges were read in to the court record and dismissed.
Kasmeirski's family was present for the sentencing but chose not to make statements to the court.
Heuer has been in the Chippewa County Jail since Oct. 26, online jail records show. Cray gave her credit for 291 days of jail time already served.
Prior to sentencing, Heuer's attorney played a video, where Heuer described her shock and sadness at Kasmeirski's death. She discussed her growing usage of alcohol and drugs, beginning when she was in high school. Heuer also discussed the fact she is pregnant and due to give birth in weeks, and said she has no desire to use drugs anymore to protect her baby.
Several people appeared on the video, requesting that probation and drug treatment courses be required instead of a prison sentence.
Mogey McDonough, a former Cadott principal, appeared on the video, saying that "she was never a bad kid. Overall, she's nice and a good girl."
McDonough added: "How is sending her to prison going to help that child? I don't think this is going to help."
According to the criminal complaint, Kasmeirski and her boyfriend were smoking meth at a home at 25251 27th Ave. in the town of Birch Creek on March 23, 2019, when Kasmeirski stopped breathing. A coroner arrived and pronounced Kasmeirski dead at the scene.
An autopsy was performed in Minnesota two days later which confirmed she died from using meth.
The boyfriend, who has not been charged at this time, told law enforcement he purchased the drugs from a woman at a business in Chippewa Falls. The investigator was able to obtain video surveillance from that business and observed the drug sale occur. Gay told Cray that charges against the man are pending and likely to be filed.
Heuer was previously charged in 2018 with possessing meth, drug paraphernalia and bail jumping. She also was charged in Clark County in April 2019 with possessing meth, controlled substances and illegally-obtained prescriptions, plus resisting an officer.
This is the third overdose death in the past three years in the county where the person who supplied the drugs has been charged with homicide.
Sign up for our Crime & Courts newsletter
Get the latest in local public safety news with this weekly email.