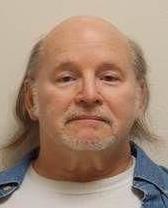 A temporary restraining order will remain in place blocking Kenosha County sex offender Jeffrey A. Neubecker from moving into a home in the town of Sampson near New Auburn.
On Thursday, Chippewa County Judge Steve Gibbs upheld a temporary restraining order he issued March 9, the day Neubecker was slated to move here. Gibbs set a new court date to review the matter for Aug. 3.
In January, Kenosha County Judge David Wilk ruled that Neubecker be released from custody and temporarily placed at the home at 25978 Highway F in New Auburn while Kenosha County officials continued to look for a permanent residence for him in their county. There is already one sex offender living in that two-bedroom trailer home.
Under state law, a sex offender upon release is to be returned to either their home county or the county where the offense occurred. However, Neubecker has no ties to Chippewa County.
Gibbs expressed concern that more populated counties in the southern part of the state will continue to place sex offenders across Wisconsin, claiming they are "temporary placements," even though no plans are set to place those offenders in their home county.
"I think at some point the court of appeals needs to weigh in on this," Gibbs said.
Jim Sherman, Chippewa County's attorney, said he participated via video in a Kenosha County hearing on May 1, where Wilk defended his ruling.
"His point was it was a temporary order, it wasn't a (permanent) placement," Sherman said. "He said he followed all the rules of the supervised release."
Wilk has set another hearing for June 22 to review Neubecker's supervised release plan.
At that hearing, Wilk also will review his ruling that Neubecker be placed in Chippewa County. Sherman said he will be allowed to participate in that hearing; in previous hearings Chippewa County had no input in the Kenosha County matters.
"He was a little upset about the order up here, but he said he wouldn't do anything to contradict the order," Sherman said.
Sherman urged Gibbs to keep the restraining order in place, saying state statutes were changed to precisely stop this type of temporary placement from occurring.
"I consider this (Chippewa County temporary restraining) order to be appropriate, and I consider the order that Judge Wilk issued to be invalid," Sherman said. "If these orders continue to happen around the state, even temporary orders ... they need to be addressed. There needs to be an end to this, so Chippewa County isn't using resources, time and money on these."
Neubecker, 63, is housed at the Sand Ridge Treatment Center in Mauston. He had been convicted of three counts of sexual assault. Online court records state he was being held involuntarily at the treatment center because he's a "sexually violent person."
Neubecker was released from the facility in 2009, but he had three rules violations: unauthorized contact of individuals over the phone, having a person over to his house, and loaning money to a person. Those violations led to him being returned to Sand Ridge in 2013, where he has been held since.
In December 2018, Wilk ordered Kenosha County to find placement for Neubecker outside of Sand Ridge Treatment Center. However, officials there have been unable to find housing for him because of restrictions that say a sex offender cannot live within a certain distance of churches, schools, parks and day-care centers.
According to court minutes, the plan to consider the New Auburn home as a temporary placement location was discussed at an October 2019 hearing.
Sign up for our Crime & Courts newsletter
Get the latest in local public safety news with this weekly email.