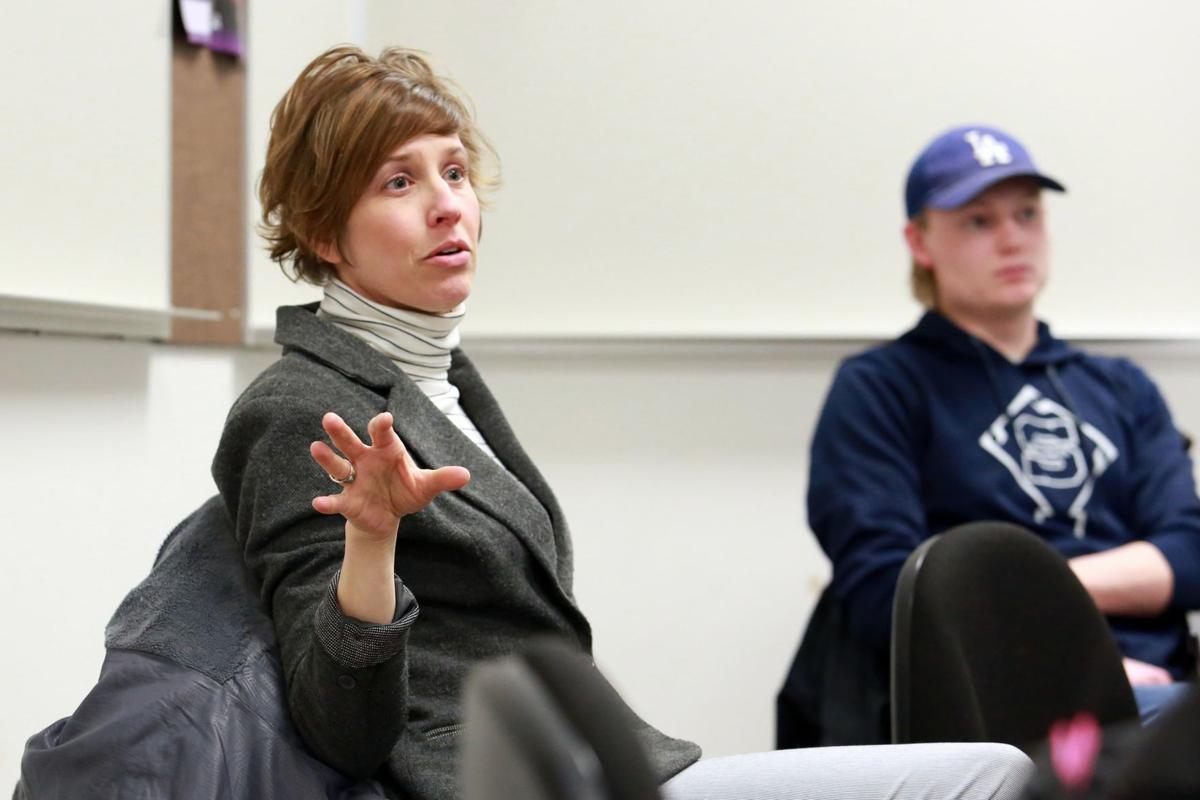 MENOMONIE — Sara Baird readily admits she knows she has white privilege.
The assistant director of the Department of Public Instruction's career and technical education division also knows that it's important to have more teachers of color to inspire students of color.
"It's not fair so few teachers of color are standing in front of students of color," Baird said.
Baird spoke at UW-Stout recently as the 2019 Career and Technical Education Executive in Residence. February was career technical education month.
Baird, a University of Wisconsin-Stout alumna, also knows there needs to be more diversity in students studying career and technical education. Seventy-seven percent of the 89,600 high school juniors and seniors participating in career and technical education classes in Wisconsin are Caucasian.
Baird acknowledges equity is a problem, citing needs for more promotion of equity and diversity; more diversification of the teaching workforce; removal of barriers to access; and recognition of implicit biases.
"Being a leader in some ways to me is about being a quiet listener," said Baird, who has two degrees from UW-Stout, a bachelor's in marketing and business education in 1997 and a master's in training and development in 2008.
You have free articles remaining.
Baird grew up in a two-parent family, with her family attending all her school events. When she was a sophomore in high school, one of her teachers encouraged her to become a teacher.
In college, she began to realize she had privileges of being white and from a two-parent household. "I wasn't aware how fortunate I was and there was a bigger world out there," she said.
After graduating, she started teaching in Beloit, then went to Kenosha and South Milwaukee, all very diverse schools. She taught marketing education for about 10 years before joining DPI in 2006 as a consultant for marketing, management and entrepreneurship.
Gov. Tony Evers is very supportive of education, Baird said. "He's very tuned in to what's going on in state education," she said. "I feel we have a friend in the next four years."
Baird encouraged others to share their stories and to have students share their educational stories. "They are great brand ambassadors," Baird said. "UW-Stout is a North Star for career and technical education teacher preparation. Most of the career and technical education teaching staff walked through these halls. That's pretty powerful. We value the work that happens at this campus. We think it's amazing. We support it."
Deanna Schultz, director of the CTE master's program, said she values DPI's partnership.
"I appreciate they recognize the work we are doing to support K-12 education by providing well-qualified teachers and leaders," Schultz said. "I appreciate Sara talking about collaboration and working together. That is what we want to do."
Professor Urs Haltinner, director of the CTE doctoral program, said UW-Stout's polytechnic education lives the spirit of career and technical education. "That's part of our story and history," he said.
UW-Stout's bachelor's, master's and doctoral CTE academic programs are outgrowths of one of the university's first majors, industrial education, dating to the early 1900s. The CTE master's program has been offered for 75 years, since the Graduate School opened in 1935. UW-Stout began offering a doctorate in CTE in 2013, the university's first doctoral program.