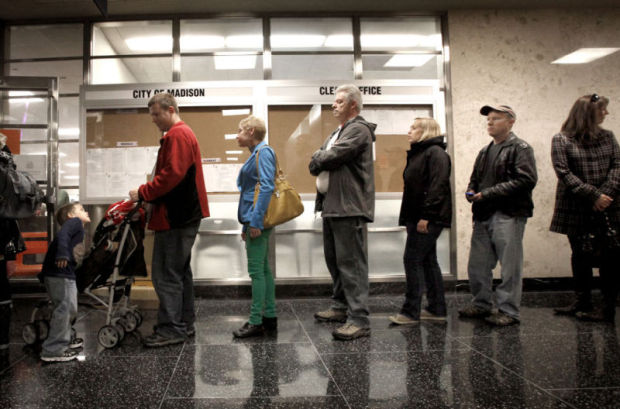 Gov. Scott Walker signed a bill Thursday limiting early voting hours and ending weekend voting, though with a few changes from what the Legislature approved.
The law limits in-person absentee voting to between 8 a.m. and 7 p.m. in the two weeks before an election.
"The legislation gives local governments the needed flexibility while maintaining fairness in our elections," said Assembly Speaker Robin Vos, R-Rochester. "Just as the voting hours on election day are standard throughout the state, early absentee voting hours will now be the same no matter where you reside and that is good for Wisconsin."
For Madison, the new law will reduce in-person absentee voting from 127 hours before statewide elections to 110, with the loss of weekend hours more likely to affect low-income voters who work two shifts during the week or lack transportation or child care to vote during the week, according to City Clerk Maribeth Witzel-Behl.
She added that voters can expect longer lines and more delays during in-person absentee voting hours because her staff will also have to take care of their regular business during the week.
"When we're open for absentee voting on the weekend, all we're doing is absentee voting," Witzel-Behl said. "We're able to be more efficient that way because we're focused on one thing."
There were 2,031 weekend votes cast in Madison before the 2012 presidential election, down from 3,065 in the 2008 presidential election. Rep. Chris Taylor, D-Madison, said the reduction reflected a previous law Walker signed that reduced the time for early voting to two weeks and one weekend before an election. In Madison there were three weekends of early voting in 2008.
"We know these tactics are to limit people's ability to vote," Taylor said.
Dane County Clerk Scott McDonell had a different take on how the new law would affect voter turnout.
"History has shown that when you try to tip the scales by trying to exclude people from the ballot box they know it is happening and become even more determined to exercise their constitutional right to vote," McDonell said. "I predict we will see that again this fall."
One Wisconsin Now executive director Scot Ross said his organization is exploring a possible lawsuit against the new law on the basis that it will make it more difficult for seniors, college students, those with disabilities and minorities in urban areas to vote.
Sen. Glenn Grothman, R-West Bend, the lead sponsor of the bill, said the process for early voting is more constitutional now.
"How in the world when we're making access more equal could you say you have any constitutional problems?" Grothman said.
Walker used his powerful veto pen to eliminate a requirement that clerks limit early voting to 45 hours per week within the 55-hour window. He also cut out matching state funds for municipal clerks to provide early voting in the upcoming fall and spring elections.
Walker's office said the funding was cut because "it would create a new state expenditure for a function historically handled by local governments."
Senate Majority Leader Scott Fitzgerald, R-Juneau, had said the funding requirement was needed to secure passage of the bill. He estimated it would cost the state $200,000.
A Marquette Law School poll released Wednesday found respondents supported more early voting, rather than less. Nearly 4 in 10 supported having three weeks and three weekends of early voting, while another 27 percent supported the amount of voting that existed in 2012. Only 12 percent supported the new rules, though 20 percent said they support no early voting.