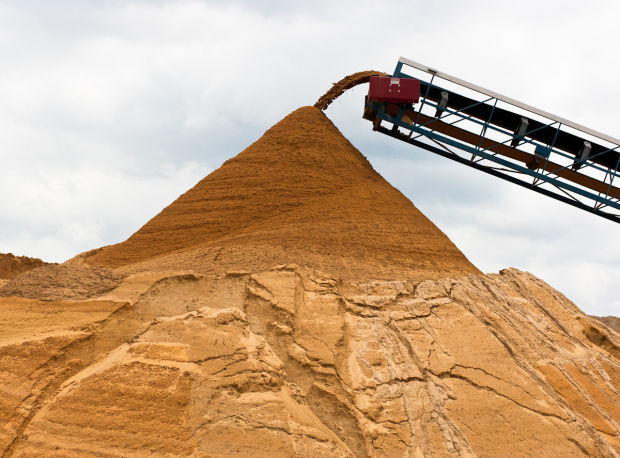 Two Republican state legislators are pushing for a far-reaching new law that would vastly diminish local government power to regulate rock blasting and frac sand mining.
If enacted, the statute would roll back local control of mine reclamation efforts, pollution monitoring and even excavation and disposal of soil and gravel by state highway contractors.
Sen. Tom Tiffany, R-Hazelhurst, on Wednesday circulated an email asking lawmakers to cosponsor the 14-page bill that he said would provide more "certainty" for mining operations.
More than 115 frac sand mines and processing plants have appeared in Wisconsin in the last two years, and some local governments are resisting, in part because of potential health hazards from silica dust and effects on wells and roads.
Tiffany and Rep. Joan Ballweg, R-Markesan, want a law that would limit the ability of towns to use health and safety ordinances to regulate mining. Instead, town officials' only option would be zoning ordinances that require approval of their county boards. But the bill also would roll back the scope of local zoning authority, according to an analysis by the Legislative Reference Bureau.
"It's really shocking," Kimberlee Wright, executive director of Midwest Environmental Advocates in Madison said Thursday. "Local people should have the right to protect the health and safety of their community."
Tiffany said the state Department of Natural Resources was best equipped to handle most regulation, but Wright noted that agency enforcement activity dropped precipitously in recent years. A DNR spokesman said the agency doesn't comment on pending legislation.
Sen. Bob Jauch, D-Poplar, said the proposal "is another in a long line of insulting power grabs that strengthen mining company control over local decision making and stifle the ability of local governments to protect their citizens."
The bill would "threaten natural resources in every corner of the state," the Sierra Club's Madison chapter said in a statement.
Tiffany said he worked on the bill with frac sand industry representatives and quarry operators who are worried about possible over-regulation. In part, the bill is aimed at a Wisconsin Supreme Court decision, Tiffany said.
In 2012, the court affirmed the right of the town of Cooks Valley, in Chippewa County north of Eau Claire, to enact a mine law that wasn't a zoning ordinance.
The decision allows a local government to restrict mining companies "under the guise of its police powers, rather than through the zoning process," Tiffany said in the email.
"Police powers" is the term for the authority state law gives to local governments to pass laws to protect residents' health and welfare. The state also grants zoning powers for regulating land use. Towns often need county approval to enact those.
"This expanded use of police powers enables local governments to duplicate, ignore or otherwise evade long-standing zoning requirements and procedures associated with the siting and operation of non-metallic mining sites," Tiffany said. "As a result, the industry is increasingly becoming subjected to a patchwork of local zoning and police power ordinances that may involve multiple layers of local government."
Wisconsin Towns Association executive director Rick Stadelman said zoning ordinances are more difficult and time-consuming than simple licensing laws many towns have set up under their "police powers."
The licensing laws clearly haven't slowed industry growth, Stadelman said, but he worried that less regulation would mean small, irresponsible "fly-by-night" operators could increase and cause more problems.
The LRB analysis of the proposal said it would:
• Prohibit a local zoning ordinance from restricting an existing mine from continuing or expanding on contiguous land.
• Repeal county authority to set water quality or air pollution standards for rock and sand mining and blasting.
• Limit liability for companies whose trucks damage roads, and prevent local governments from forcing mining companies to pay to improve roads it wants to use to haul sand. But officials could require mining companies to guarantee that they would repair damage.
• Roll back counties' ability to enforce ordinances aimed at repairing land damaged by a mine that require air or water quality monitoring or that require other permits.
• End most regulation of blasting from local governments and place it in the hands of the state Department of Safety and Professional Services.
• Prohibit local ordinances — including zoning laws — from regulating the borrowing or disposal of soil used in state highway projects.
Sen. Kathleen Vinehout, D-Alma, said her district is home to more frac mines than any other in the state, and local citizens should have a say in how the fallout is handled.
"Should mining companies blast on Sunday? Should they be able to tear up the road driving 400 trucks a day past the school? Should people have local protection so their wells don't dry up?" Vinehout asked in a statement.