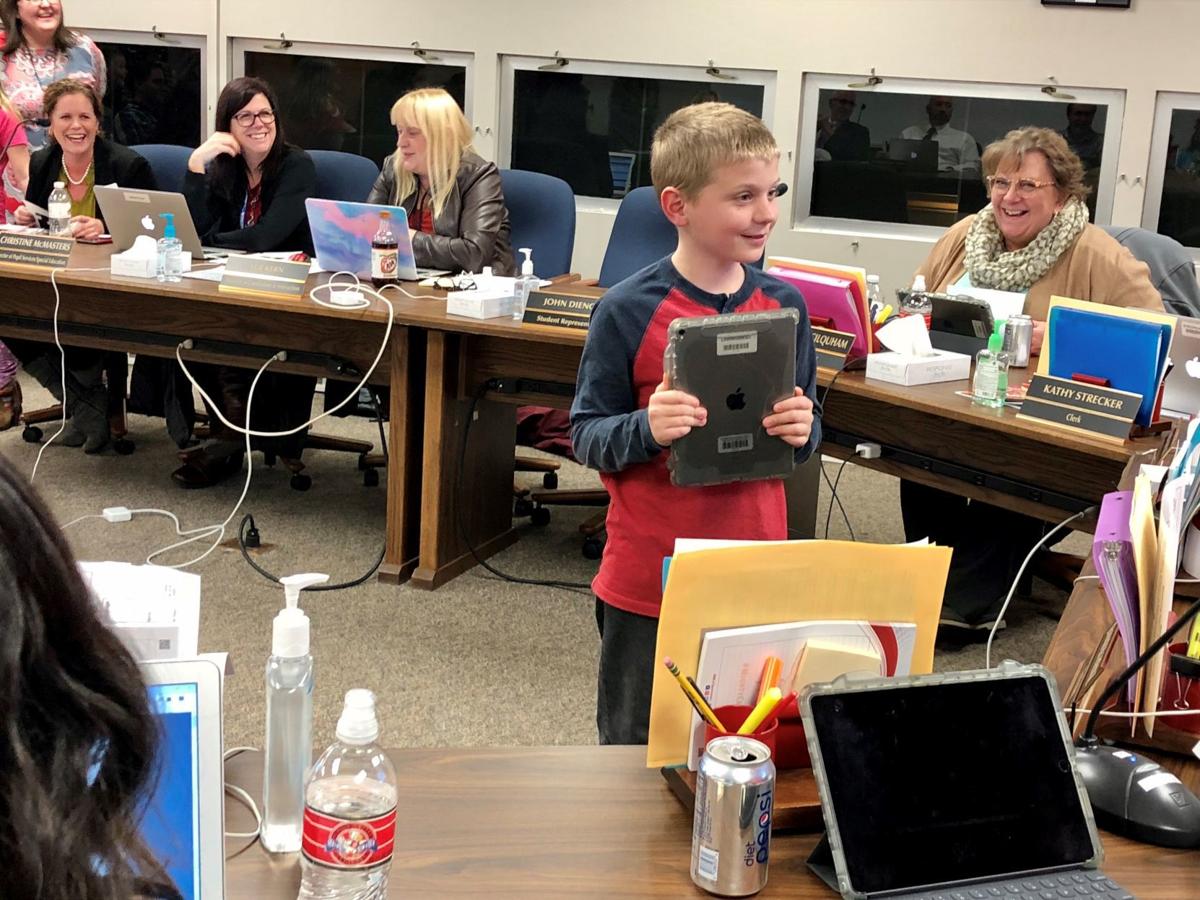 Technology is constantly becoming more and more intertwined with education, and it is helping one subject be communicated faster and more efficiently at a local elementary school.
Representatives from Hillcrest Elementary School in Chippewa Falls visited the Chippewa Falls school board meeting Tuesday night to detail how technology is being utilized in their upper grade math classes to make the lessons more efficient.
Leslie Lancette, principal at Hillcrest Elementary School, Marcie Lindbom, fourth-grade teacher at Hillcrest Elementary School and Hillcrest fourth-graders James Radcliffe and Myles Goettl presented two applications their class uses to help students learn and retain information faster in the subject.
Lindbom said the technology they use during class is incredibly efficient and allows students the ability to personalize their education and figure out solutions to problems in their own way in their own time.
"The kids learn lots of different ways to solve the same problem," Lindbom said. "The kids come up with solutions and strategies to problems that I never even thought of. It's a great way of using tools like the iPad to help kids move around the room and help use our wireless classroom to enhance our learning."
The first application math students at Hillcrest is called XtraMath.
This application sees students scrolling through and answering a variety of different multiplication and division equations using Chromebooks. The app delivers the capability of providing fact fluency for pupils, and after the lesson/problems are completed a variety of different scores and graphs present themselves and allow students the capability to see what they need to improve on and set goals for themselves for their next attempt.
You have free articles remaining.
The other application students at Hillcrest use during their math course is a program called Plickers.
Plickers allows an iPad to read answers to questions placed on cards and allow the data to be presented in real-time for the instructor. Kids can solve math problems, show how they answered it and receive quick feedback while seeing how many other kids (anonymously) got the answer right or wrong and prompt a retake of the problem or quiz if need be.
Lindbom said the technology is successful in her math class because students are mature and capable enough to use the technology respectfully and not let it disrupt the learning process.
"The technology has been invaluable to our day," Lindbom said. "They use it so respectfully, so it's really been wonderful. Sometimes they just need to move, get space or relax during a lesson and this technology helps give them that capability."
In addition to using technology to encourage math fluency at Hillcrest, Lancette said technology is used at the beginning of every school day to check in on social and emotional health as well.
Using a rating system online, pupils at the beginning of every day write their name and rate how they're feeling based on a color-coordinated system with green being the highest and indicating the student is happy and ready to learn. Based on the feedback the instructor receives, a spreadsheet and notes presents itself on the software indicating whether the child needs more encouragement, a guidance counselor or any other service to encourage a healthy day of learning.
Lancette said including technology for mental health is essential as kids are having to deal with more and more on an everyday basis and sometimes need help to get to a place where they are ready to learn.
"I think we recognize now more than ever before that kids need to be ready to learn in order to learn," Lancette said. "There is so much going on in their lives that can keep them from learning, so we're in our second year of using zones schoolwide to check in on kids' social and emotional health. Our teachers do an amazing job of teaching about feelings related to recognizing our own feelings and what tools we can use to get ready to learn."
Technology is being used more every day to help kids learn, and it is being utilized by instructors at Hillcrest Elementary to both help its students learn and live happy lives.
Get local news delivered to your inbox!
Subscribe to our Daily Headlines newsletter.