When Bill Brenner gets on an airplane Saturday morning in La Crosse for a one-day trip to Washington, D.C., his wife and four of his five children will be there to cheer him on.
Brenner, 75, is taking a Freedom Honor Flight to see the memorials and monuments in the nation's capitol. Brenner served in the U.S. Navy from 1962 to 1966. While he didn't get sent to Vietnam, his ship went toward the hostile shores of Cuba, where he vividly remembers being shot at.
Brenner's trip to Washington D.C. has been in the works for a few years, but it has been moved up, as he was recently diagnosed as having stage 4 lung and prostate cancer.
"I've been waiting to do this a long time," Brenner said. "I'm glad I'm going. I want to see the (Vietnam) wall — that's my main thing. I'm looking forward to seeing all those monuments."
His wife, Julie Brenner, is excited that Bill is getting the opportunity.
"He didn't think he'd be able to go," she said. "I don't know if he would have been (selected) to go if it wasn't for the cancer. I'm very proud. He wears a veteran's cap when we go out in public. You'd be amazed at how many handshakes he gets from strangers."
Brenner worked at a variety of jobs over his lifetime after leaving the service, including more than a decade as a custodian in the Chippewa Falls School District.
John Kinville, a Chippewa Falls social studies teacher, helped fill out the paperwork for Brenner's Freedom Honor Flight, and he worked to get Brenner's trip moved up after learning of Brenner's cancer diagnosis.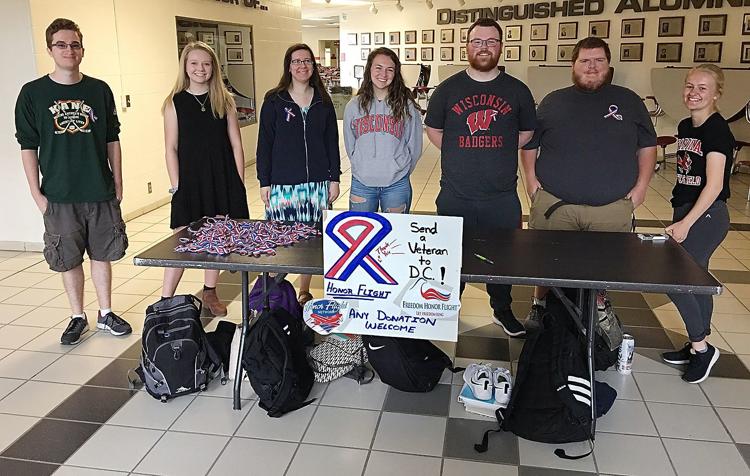 On Friday, students at the school held a fundraiser, selling ribbons, with the money going to the family to pay for Brenner's brother, Brad, to join him on the trip to Washington. Kinville said students know Brenner as the friendly custodian who always had polka music playing on his custodial cart.
You have free articles remaining.
"To me, it's a perfect merging of honoring those who served our country and honoring our capitol city, and it's a merging of community," Kinville said.
The goal was to raise $500 for the trip.
"He gets to bring an attendant, but the attendant has to pay his own way," Kinville said.
A Chippewa Falls native, Brenner graduated from Chippewa Falls High School in June 1962. He joined the military that September.
"I enlisted. My older brother was in the Navy and my next-oldest brother was in the Army," Brenner recalled. "I was a machinist. I worked in the machine shop. I did that in high school and I liked it."
While Brenner and Julie were already dating, he actually didn't tell her he had decided to join the Navy. She was initially upset, but they later married in 1965, and she lived on the East Coast with him for his final year in service.
"I didn't know he was going, but I'm glad he went," Julie Brenner said. "I'm proud he's a veteran."
Bill Brenner recalls waking up outside the Bay of Pigs in Cuba, and seeing ships as far as his eye could see. He was shot at but was uninjured. His ship was assigned to leave for Vietnam in 1966, but Brenner had fewer than six months left on duty, so he was re-assigned rather than depart with the ship.
Freedom Honor Flight serves three states with day trips to the memorials, bringing more than 200 veterans annually, according to the organization's website. More than 1,800 veterans have participated since the group was founded.