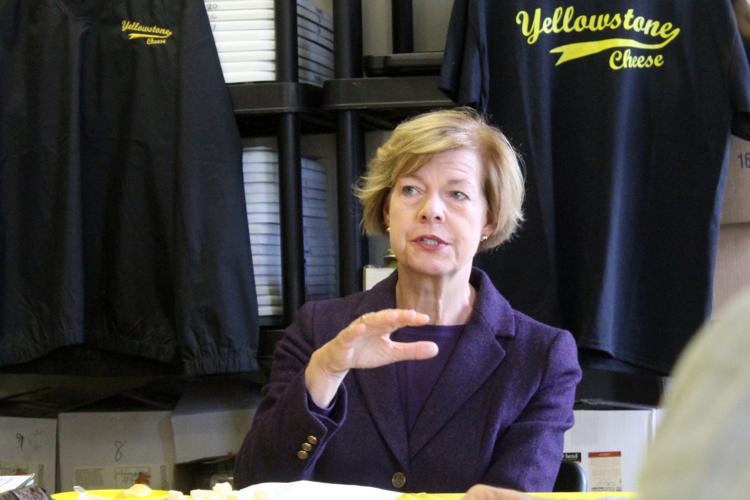 CADOTT — Farm closures are impacting more than just the farmers.
Businesses that depend on these farms are seeing the same effect.
Sen. Tammy Baldwin visited Yellowstone Cheese in Cadott on Tuesday to meet with cheese makers and dairy stakeholders to discuss the recent Dairy Business Innovation Act and how it could have an impact in keeping these businesses operating during the farm crisis.
"The way to stay in business when all these challenges are happening at the same time in many respects is to innovate," Baldwin said.
"Innovation can take many forms. It can be entirely new products that exist today dealing with milk or milk components. It can be new packaging or marketing, extending the shelf life of certain types of cheeses. It can be efficiency in the process either on the farm or in a processing facility that reduces costs and helps people make ends meet."
The act looks to create initiatives that lead to innovation in dairy businesses, look into the development of of new dairy products, and modernized dairy operations and provide support for new dairy entrepreneurs.
Passed in the 2018 Farm Bill, through the Ag Appropriations Bill Baldwin said funding for the act could see an increase to $20 million, up from $2 million in the previous year. Baldwin believes there will be support to pass the bill.
"There's a real recognition of how hard our entire U.S agricultural sector has been hit by the trade wars, and eagerness to try to lessen the pain," Baldwin said.
Low prices, weather, oversupply and trade wars have negativity impacted dairy businesses. Retaliatory tariffs have been place on cheese exports, Baldwin said.  Through the most recent farm bill, Baldwin said she has tried to work to reduce some of the issues facing these businesses.
You have free articles remaining.
It isn't just the farms that have now been hurt by the many factors leading to low commodity prices.
"You thread it through the whole community, it's tough," Sheila Nyberg, executive director of the Clark County Economic Development Corporation and Tourism Bureau, said. "You're seeing it everywhere... your manufacturers, agriculture equipment, right to the insurance person or the restaurant on the avenue, after five years of not much disposable income for farmers."
The innovation act revives what former Sen. Herb Kohl had worked on previously with the most recent farm crisis in the 1980s. Baldwin said this will try to increase the significant innovation already seen in the state.
"When times are particular difficult on our dairy farms or dairy processors, innovation to create value added products or to save money more efficiency in processes anywhere you can get an increase in value is going make a little difference, or sometimes a big difference," Baldwin said.
Previously Wisconsin was awarded one of three agriculture innovation hubs and the center's goals are to work with farmers and processors to innovate. Small grants are also available for testing innovation and providing updates to businesses.
Jerry Clark with Extension Chippewa County said the county had 350-400 farms before the crisis began and now the there are about 200 farms.
The local feed mills and other suppliers are now being impacted as well, Clark said. A lot recent extension work has been on succession plans for farmers exiting the industry, along with reducing costs for current farmers as they attempt to hold on through a long market trough.
"There's a point to where you can't get any more efficient, you need a price (increase)..." Clark said. "We're always trying to find those ways to get something started, is it a niche market, is there value added they can do something on farm."
Marieke Penterman, owner and cheese maker of Marieke Gouda in Thorp, said the cost of innovation in the U.S. isn't competitive with other countries. When their farm expanded and purchased a new milking parlor, the cost of the same parlor in Europe was one-third of what it was in the U.S. Penterman said to get more competitive in the export markets, businesses need to continue to innovate, which entails more efficient machinery.
"They kept up the end of the deal, they have to produce high quality of milk and they do that," Penterman said of farmers. "I kind of feel like we're failing as a milk plant and as consumers. We don't protect farmers enough while they kept up their end of the deal."
A belief that something positive could come out to the new act was shared by many stakeholders in attendance, although concern was felt on how long it would take to see the impacts.
"We feed the world," Nyberg said. "It's important that we keep doing that."
"There's a real recognition of how hard our entire U.S agricultural sector has been hit by the trade wars, and eagerness to try to lessen the pain."

Sen. Tammy Baldwin
"There's a point to where you can't get any more efficient, you need a price (increase)..."

Jerry Clark, Chippewa County Extension