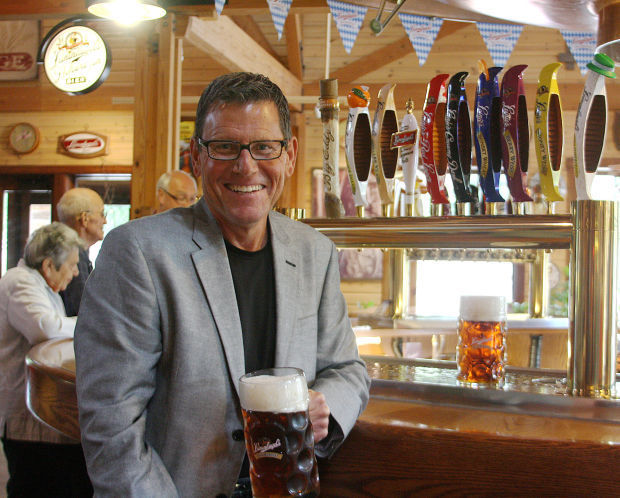 Jake Leinenkugel was born and raised in Chippewa Falls, and he works and lives here. But his future was set more than 6,000 miles away.
"The signifying point was when I was in Korea in 1981. It was about 45 degrees. It was muddy. I was reading this letter from my dad, asking me to come back to the family (business). It was like, 'Hey, we need you.' That's at least the way I felt," he recalls with a smile.
The letter prompted Jake to make what he called one of the hardest decisions of his life: resigning his commission after six years in the Marine Corps, and returning to Wisconsin in September 1982 to begin working full-time for the family brewery.
In hindsight, it was also one of his best decisions. He has spent the past 32 years working for the Jacob Leinenkugel Brewing Co., and the last quarter-century as its president.
On Tuesday, Jake, 62, announced that he will be stepping down as brewery president at the end of the year.
Jake Leinenkugel has presided over the largest growth in the company's history, taking Leinenkugel's from a small-town brewery that spilled over into only a couple of other states, to what it is today: a brewery that has become so popular it is a tourist destination, with an extremely loyal customer base and a national following, and an impeccable reputation of producing a large portfolio of top-flight beers.
Measured in any fashion except for geographical distance, he has come a long way from that boy that was raised in a home on Dwight Street on Chippewa Falls' West Hill.
Taking over for Jake will be another one of those kids raised in that Dwight Street home.
Dick Leinenkugel, 56, brother of Jake and also a great-great-grandson of brewery founder Jacob Leinenkugel, will be the next president of the famed brewing company.
Dick has worked full-time for the brewery in several capacities since 1987, except for a 19-month stint as Wisconsin commerce secretary and a run for U.S. Senate in 2010. (The Herald will profile Dick Leinenkugel in its Sunday edition.)
Jake will continue on in various capacities with Leinie's, and he can't imagine calling anyplace but Chippewa Falls his home.
"I'll still be involved in community things here in Chippewa Falls, and I'll do what I call the Jesus plan," he said. "I'm going to give 40 days and 40 nights to distributors, doing select market areas, events, being involved in the Chippewa fair, Oktoberfest, as another face of the Leinenkugel family."
Succession plan
Leinenkugel's still carries a bit of a reputation as a small-town, family-owned operation. After all, that was its identity for most of the time since it was founded in 1867. But Chippewa Falls' oldest business was purchased in 1988 by Philip Morris-owned Miller Brewing Co., the second-leading brewer in the nation.
By the 1980s, the industry was changing rapidly. By some accounts up to 90 percent of breweries had gone out of business or were in trouble, including some of the giants. Leinenkugel's was one of the great success stories, having not only survived but thrived into its second century. But the sale to an industry leader with deep pockets was a way to ensure its survival.
One of the little-known reasons behind the sale, Jake Leinenkugel said this week, was the absence of a succession plan. Then-President Paul Mayer and its previous president, Jake's father Bill Leinenkugel, were both in their 60s.
"There was never really a directional sense of when the current management is gone, who's going to run it and what's the plan," Jake said. "I first started thinking about it five years ago, and I didn't want that to happen again."
He wanted to prepare somebody to take over for him, hoping that it was someone from the Leinenkugel family because that is such a large part of what the brewery represents. Jake is the fifth generation of Leinenkugels to be in charge of the brewery, and it's doubtful even a handful of other brewers in America can match that.
It's time
It wasn't until only a couple of years ago that a plan began to crystallize.
"I turned 60 and I was getting tired," Jake said. He was still managing operations in Chippewa Falls, yet also presiding over the unprecedented move of turning the brewery into a national player with distribution in all 50 states. He was also the face of Leinenkugel's, which meant criss-crossing the country making personal appearances for the beer's adoring public and its distributors. It was all taking its toll.
"There's been so many changes in my 32 years, and they've been going on at a faster rate than I ever thought possible the last five years," he said. "We now have 4,000 breweries, give or take a couple hundred, that have started up in the United States. There was barely 100 still in existence when I came back in the early '80s. That transformation, with people brewing local beers, different styles of beer, that was a major change — for the good, for our business."
But the complexity of the brewing business was on the move, and Jake thought it was time to get the next generation in place, and find an immediate successor. His four children — Matt, Kirk, C.J. and Ellie — all have various roles with the company. And after stepping away from the company to dab his toe in the political world, Dick Leinenkugel was back in the fold.
All in the family
Jake Leinenkugel informed Tom Long, CEO of MillerCoors, and Tom Cardella, chairman of the board of directors for the Jacob Leinenkugel Brewing Co., that he was closing in on retirement, and he said they both thought Dick Leinenkugel was the logical successor.
"It's good for the Jacob Leinenkugel Brewing Co., for our employees (because) they know there's going to be another Leinenkugel who cares, for our distributors who know the same thing. And MillerCoors is very happy with it."
There were no guarantees that a Leinenkugel would still be running the brewery 26 years after the sale to Miller. But it is indicative of the way Miller and its latest ownership changes have operated.
"They said it would make a heck of a lot of sense to let a Leinenkugel continue to run the business. They were very astute," Jake said. "With all of the changes, every one of their management teams has realized the power of it. They get it. These are smart people, and they said, 'Let's make sure they have all of the resources and the capabilities to run their brewery from Chippewa Falls, Wisconsin.'"
For the past 25 years, Jake Leinenkugel has truly enjoyed being in charge of that brewery. In his early days he used to lean on his father for advice. Bill had been brewery president from 1971-86, and knew the operation inside and out. They would get together on a Friday or Saturday over a glass of Leinie's and discuss the business.
Bill Leinenkugel was 87 when he died in September 2008. What would he think of the place Leinenkugel's occupies now that his oldest son is stepping away from day-to-day operations?
"He'd probably say, 'You didn't (screw) it up,'" Jake answered, adding that is one of the things he often thinks about. "I think he would also be very proud that I kept the family together and involved in the business."