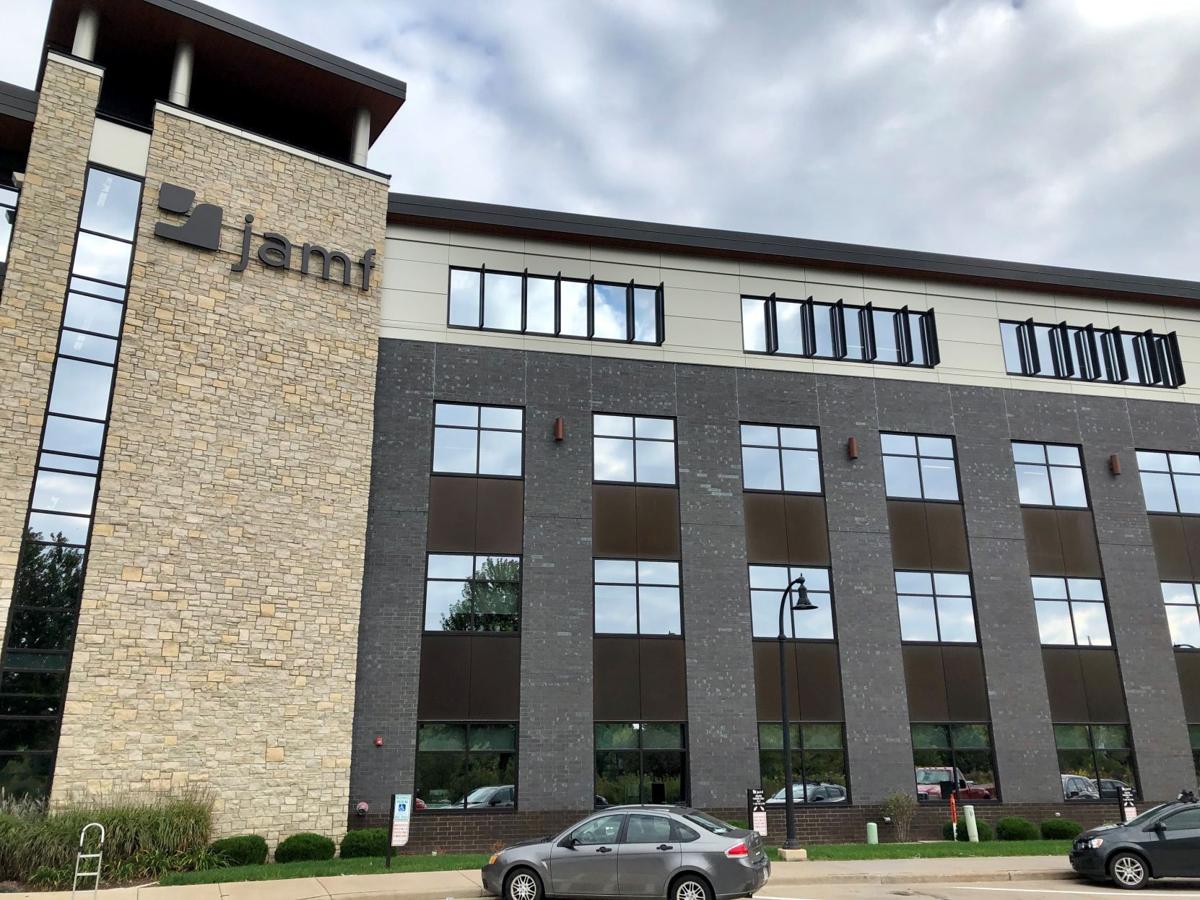 In a world of industry leaders fleeing the Midwest to the coasts in search of bigger opportunities, a Chippewa Valley-based company is doing everything it can to keep talent in Wisconsin.
The state of Wisconsin and the Department of Workforce Development recognized September as "Workforce Development Month," and state officials made their way to a large number of Wisconsin businesses and organizations to learn from private employers what their best practices are for finding talented employees and keeping them at their company and in the state.
The last stop DWD Secretary Caleb Frostman made was at Eau Claire-based international business Jamf.
"There has been word of mouth about Jamf being a quality employer, but we also wanted to hear from a community outside of metro Milwaukee or Madison who is having success," Frostman said.
"They have hundreds of employees and an international reach, so being from Eau Claire and being successful in a space like tech was attractive for us to come see and learn how they've been so successful."
Jamf is a tech and software-based company that operates in tandem with Apple to help organizations create technology, secure information and use Apple products to their highest capability.
Jamf has more than 1,100 employees worldwide, having added nearly 300 in 2019 so far, which is double the employee growth in 2018. The company is looking to add more in 2020 and beyond.
Jason Woody, chief strategist for Jamf, said the key to the company's ability to retain employees is investing in them and starting a relationship where the employee and the company can lean on each other and grow together over time.
You have free articles remaining.
"We try to pay well, but it's not just the direct deposit you get every two weeks, it's actually how you get treated and the total awards you receive during your employment," Woody said. "Throughout their time here we continue to embrace the individual. We try to support what our employees are into, whether that's allowing them to be themselves in the workplace or supporting them outside of the workplace. If you have a vision for your company that your employees can buy into, then in turn you can also buy into the vision the employee has for their career. It's mutually beneficial."
Woody said Jamf is able to retain top individuals in the tech profession by offering global reach in a calmer environment — and because they pay employees well, invest in them, fill roles internally and offer a path to career progression, people are flocking to Jamf exponentially.
In addition to what Jamf does to attract new employees, Woody said an often overlooked aspect of keeping employees in Wisconsin, and in any area in general is what the community has to offer after the employee clocks out for the day.
Woody said evaluating criteria such as arts, music, restaurants and the overall culture of a city are on the forefront of their employees' minds. He said musical festivals such as Eaux Claires and the growing national reputation Eau Claire is developing is helping the business keep employees in their office for longer than other markets are capable of.
Despite the Midwest's reputation of not being able to retain employees, Woody said he doesn't buy into the stereotype and the opposite is becoming the norm in the Chippewa Valley.
"I will go as far out as to say I do not believe we have a problem keeping people in Wisconsin," Woody said. "If someone is engaged here in Eau Claire for what we are able to compensate them and know they still have a global reach, we don't struggle to keep them here. If we can find an employee, get them here and engage them, we won't see them leave this market."
Amy Rennock, vice president of human resources for Jamf, said the company is proud to call Eau Claire home and the reputation of Eau Claire and the Chippewa Valley in general is on full display during "Workforce Development Month."
"We are living in the Chippewa Valley but working in the Silicon Valley," Rennock said. "It doesn't get any bigger from a tech perspective than working hand-in-hand with Apple. You can do that here and have a two-minute commute and work here and look at the river, or you can move out west and battle traffic and barely afford housing.
"Here you get a great quality of life and great quality of work. It's a win-win-win as long as we are able to grow people and give them additional opportunities and access to all of the wonderful things that are happening," she said.
"They have hundreds of employees and an international reach, so being from Eau Claire and being successful in a space like tech was attractive for us to come see and learn how they've been so successful." Caleb Frostman, DWD secretary